Boss Unveils New HM-2W Heavy Metal Waza Craft Pedal
The Swedish death metal (and David Gilmour) favorite is available for preorder now for $179.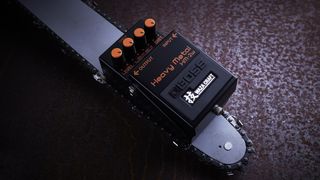 (Image credit: Boss)
Having created an enormous wave of buzz with the announcement of the project last November, Boss has finally unveiled the HM-2W Heavy Metal Waza Craft pedal.
The HM-2W is an enhanced reissue of the legendary HM-2 pedal, which was in production from 1983 to 1991 and featured a legendary "chainsaw" tone that made it a favorite not only of Swedish death metallers, but shoegaze guitarists and even David Gilmour as well.
The reissue was created with the help of a Boss HM-2W Facebook group, where fans discussed what they'd like to see in the new version of the pedal, and shared feedback with the company.
For starters, the HM-2W features a premium craft buffer – which aims to improve bypass performance – a reduced noise floor, and a maximum output level that's been increased by +3dB.
The pedal also features a mode selector switch, which allows users to choose between a Standard or Custom voice. Boss promises that the Standard mode will deliver the tones and feel of the HM-2 with "100-percent authenticity," while the Custom mode features a drive stage with increased gain, and tweaked low and high-mids, for extra sharpness, fullness, and depth.
Elsewhere, the control setup is faithful to the pedal's HM-2 roots, with Level and Distortion controls, and a Color Mix EQ section. The latter's H knob helps users tame tones at around the 1kHz frequency range, while the L knob does the same in the 100kHz range.
Image 1 of 2
Image 2 of 2
The Boss HM-2W Heavy Metal Waza Craft pedal will be available in the US starting in August for $179, with preorders going live across the brand's dealership network today.
For more info on the pedal, stop by boss.info.
Get the latest news, reviews and product advice straight to your inbox.
Thank you for signing up to GuitarPlayer. You will receive a verification email shortly.
There was a problem. Please refresh the page and try again.