46 Chord Shapes You Must Know: The Ultimate Guide to Chord Substitutions
Must know guitar chord shapes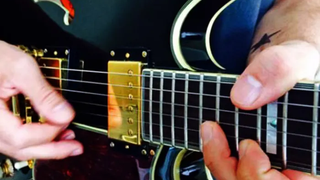 (Image credit: Future)
There are many ways to vary almost any basic chord.
But in order to do this spontaneously, you need to have a fully stocked folder in your brain's filing cabinet, one containing heaps of chord types that can be used as replacements for a basic progression's "stock" chord.
Access to these alternate voicings will allow you to experiment on the fly no matter what style you're playing.
To this end, we've cobbled together a collection of chord frames beginning with a familiar "starting" chord—an open-position C—and following it up with popular substitute voicings.
After you read this post, put the chords to work in the C–G–Am–F progression used in this lesson, grouping together chords those that share the same note on top (e.g. Cmaj7–Gsus4–A7sus4–F6/9 from FIGURES 1–4). This technique is the key ingredient for jangly modern rock sounds.
To outline C–G–Am–F changes with barre-chord variations, you'll need to transpose the C chord fingerings to fit G and F chords. Keep working like this, and you'll have an awesome arsenal of shapes in no time.
OPEN-CHORD COLORING
In FIGURES 1–4, ubiquitous chords like C, G Am and the standard F barre shape are run through the tone-coloring mill by adding suspensions (Csus4, Gsus4, A7sus4), 2nds (Cadd2, Gadd2, Am[add2]), and 6ths (C6, F6/9). In other instances, they're morphed into prettier-sounding 7th (Cmaj7, Fmaj7) and extended chords (G9, Am9, Fmaj9).

FIGURE 1
FIGURE 2
FIGURE 3
FIGURE 4
In modern/indie rock and pop, the sound of strummed or arpeggiated open-position 7th chords is fairly common. However, the "darker" sound of fully fretted 7ths is relatively rare; they're primarily reserved for R&B, blues and jazz.
By adding a #4 (among other tones) to an open major-chord shape, you're instantly rewarded with an exotic, Led Zeppelin–like voicing' such as the Csus2add#4, G5add#4 and Fmaj7#11 flavors depicted in FIGURE 5. This figure also illustrates how adding a 6th to a minor chord can create spicy sounds, like Am13.
FIGURE 5
BARRE CHORD BONANZA

In FIGURE 6, a C chord (C–E–G) with a 6th string root is jacked up with the addition of a 2nd (D) and 6th (A), yielding Cadd2/add9 (C–D–E–G) and C6 (C–E–G–A) types.
FIGURE 6
FIGURE 7 follows suit with an Am barre (A–C–E ), generating Am(add2) (A–B–C–E) and Am6 (A–C–E–F#) shapes, while FIGURE 8 explores similar sounds with root-on-5th-string voicings.
FIGURE 7
FIGURE 8
Or course, a rock chord lesson wouldn't be complete without studying movable shapes used with open strings. FIGURE 9 demonstrates what happens when the C barre shape of FIGURE 6 is unbarred (don't fret strings 1–2) and shifted along the neck to outline a C–G–Am–F progression: The ringing open E and B strings create Cmaj7, G6, Am(add2) and Fmaj7#11 chord names.
FIGURE 9
FIGURE 10 shows a similar approach with stripped-down versions of the chords used in FIGURE 8.
FIGURE 10
All the latest guitar news, interviews, lessons, reviews, deals and more, direct to your inbox!