Vintage Vault: 1965 Fender VI in Burgundy Mist Metallic
David Davidson of Well Strung Guitars shows us one of Fender's lesser-spotted models with an even lesser-spotted custom color finish.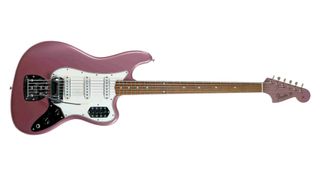 (Image credit: Maddie Patch/Well Strung Guitars)
"This is a very interesting instrument. It's a beautiful piece. It was part of a really nice collection we bought of around a dozen Fender VI guitars in all sorts of custom colors. Burgundy Mist is a DuPont Lucite acrylic color that dates back to 1959. It's not a DuPont Duco nitrocellulose color, although the Fender guitars will have a nitrocellulose clearcoat. It's a pretty rare color.
"In the 1960s, most of the electric guitar players were men, and so Burgundy Mist Metallic along with pastel shades like Shell Pink proved to be less popular. The most popular custom colors were Candy Apple Red Metallic, Olympic White and Lake Placid Blue Metallic. Fender made a lot of custom color VIs because of that whole push in the surf era. I've seen most of them in my time: Foam Green, Sonic Blue, Natural, Black, Shoreline Gold, Firemist Gold and Inca Silver to name some. But I've never had a Fender VI in Shell Pink or Surf Green.
"Right now, we also have a '62 slab-'board Roman Red, which is cool. It's darker than Fiesta [Red] but lighter than Dakota [Red], and it has a really crazy swirly Brazilian rosewood fretboard. We had a '62 slab- 'board Burgundy Mist last year with a matching headstock that was mint. This one is from '65 and has a little bit more wear, but it's honest playing wear. It has a white 'guard, as opposed to the earlier green nitrate type, and it has clay-dot fretboard markers.
"Fender made so many VI necks in advance. In fact, it's very common to find a neck that was made two years prior to the guitar being completed. I've had 1965 Fender VI guitars with necks that were made in 1963 before. I think sales weren't as brisk as they'd hoped, and parts sat around for a while until they were used.
"Most people call it a 'bass VI', but strictly speaking its model name is simply the Fender VI [pronounced 'six']. It's a bit like when people add the word 'sea' to Foam Green, as in 'sea foam green'. I bought my first Fender VI about 30 years ago and it's still the earliest one I've ever seen. Fender introduced them in '61, but this one had a neck date of November 1960. The first VIs had the Stratocaster-style pickup with the bigger surrounds and three switches, but from early '63 they changed to the Jaguar-style pickup and added a fourth switch.
"I don't think they were huge sellers right out of the gate, but they hit their peak around '63 to '64 and Fender made them all the way up until the mid-70s. We have one here at Well Strung Guitars at the moment from 1974 that has a Natural [finish] ash body with block inlays. That's pretty cool because you don't often see them from that era.
"I've seen them used in all types of music from surf rock to country to jazz. I mean, they're very versatile. They provide a pretty wide range of tonal possibilities. You can get them sounding very mushy and soupy or very bright and woody. They're great because you can play them through either a guitar amp or a bass amp, but I generally prefer them through a guitar amp as they tend to preserve the highs a little bit better.
"You can play them with reverb and tremolo, and they sound wonderful through a Fender amp like a Twin Reverb. There's no better example of that sound than Glen Campbell's solo in his [1968] hit "Wichita Lineman" [listen from 1:47]. It's not an intricate solo, but it is great. It perfectly encapsulates the sound of a Fender VI.
"The vibrato is kind of interesting, but I don't know if many people actually used it. The switching works in the same way as a Jaguar's Lead circuit in that you have an on/off switch for each pickup along with a tone switch, plus master volume and master tone knobs. Fender VIs can sound nice and focused and percussive, and they can really add support to a bassline or guitar line. John Entwistle made the thing sound like a regular guitar by playing it up in the higher registers.
"They have a 30-inch scale and are usually tuned in standard tuning but an octave lower than a regular six-string guitar. The interesting thing about these instruments is that, unlike other basses, you can easily play chords as well as single-note lines. You might not necessarily want to strum the chords as it might get a little muddy, but arpeggios and fingerstyle playing often sounds really good. A lot of well-known musicians used a 'Bass VI' back in the day and there are a lot of videos online you can watch and hear people playing them."
Vintage guitar expert David Davidson owns Well Strung Guitars in Farmingdale, New York.
All the latest guitar news, interviews, lessons, reviews, deals and more, direct to your inbox!
Rod Brakes is a music journalist with an expertise in guitars. Having spent many years at the coalface as a guitar dealer and tech, Rod's more recent work as a writer covering artists, industry pros and gear includes contributions for leading publications and websites such as Guitarist, Total Guitar, Guitar World, Guitar Player and MusicRadar in addition to specialist music books, blogs and social media. He is also a lifelong musician.