This Could Be the Funkiest Finish on a Vintage Archtop You've Ever Seen
This rare 1964 custom color Gibson Super 400 is top-of-the-line and looking fine!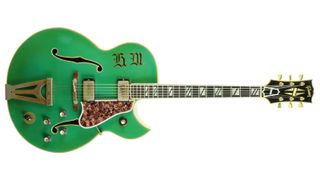 (Image credit: Paige Davidson/Well Strung Guitars)
This is not a regular Gibson custom color. It's actually an unknown color – a blue that's faded to green. There are a couple of small chips where you can see the blue. It's kind of a Foam Green now. That has a lot to do with the clear lacquer yellowing with age.
It's got two initials on the bass bout written in old calligraphy style: 'E.M.' There's a backstory to that. It belonged to a Bahamian guy who was considered to be the 'Mozart of the Bahamas'. He played many instruments, and this was one of them.
It's a cool piece, a very one-off kind of electric guitar. It's stereo and has a Varitone, so in that sense it's a Super 400CES-SV. It's from 1964 and has a solid spruce top with maple back and sides. Structurally, it's what you would expect from this era.
And it has the standard issue gold hardware with the engraved tailpiece, reflector cap knobs and celluloid pickguard. But rather than a natural or sunburst finish it's been painted a unique color.
The neck profile is rather full. It plays very, very well. It's not a slim taper neck like a 60/'61; it's more of the full-size neck. The neck has also been painted blue. In fact, the whole thing is blue, aside from the holly headstock veneer and the ebony fingerboard, obviously.
One thing I love about these higher-end archtops is that it appears only the best craftspeople were working on them. Years ago, during a conversation with ex-Gibson employee Mike McGuire, he told me that Gibson had only their best people working on these.
The binding work was one of the most difficult parts of the process. They've got to do the front and back of the body, and it's multiple ply around the fretboard and headstock, so it was a very labor-intensive process.
There's also considerably more pearl work involved because of the five-piece split diamond headstock inlays and the large split-block fingerboard inlays.
This is such an interesting color – I think of it as 'Bahamian Blue'. I don't have a match for it using the paint charts and there is no record of the actual color they used. It just says, 'Super 400 Varitone special', in the ledger.
There are times when Gibson put no tint in the clearcoat lacquer, so it would have appeared clear. But it's cellulose, so just like old celluloid tape and old celluloid photo albums can turn yellow with age, so too does the clearcoat on old guitars.
However, on some colors, the clear was actually tinted to begin with in order to change the appearance of the basecoat. Inverness Green, for example, is really Pelham Blue with a yellow-tinted lacquer. It was certainly cheaper for Gibson to do it that way, rather than using different basecoats.
You see the same kind of yellowing on old Lake Placid Blue Fender guitars. They often go green when they age because, although the color was acrylic/Lucite, the clear was still nitrocellulose and so would be subject to the same kind of ageing – yellowing and so forth.
As we know, Fender later went to a poly. And once they did, you didn't get that yellowing of the finish any more. It might get smoke-stained, but it wouldn't yellow from UV light.
In my opinion, the pointed Florentine cutaway is prettier than the round Venetian cutaway. [Super 400s changed to Florentine cutaways in 1960; the Venetian style returned in 1969.]
The rumor has always been the Florentine Super 400s from the early '60s until the late '60s usually have a veneer back and sides – as opposed to the earlier Venetian cut guitar, which have a solid back and sides. I've seen veneer-back Super 400s from as early as 1961.
The Florentine cutaway is a cool look that was inherited from the ES-175, which was always a veneer guitar. It just has that rockabilly style. A pointed cutaway on an ES-5 Switchmaster looks amazing, too.
Elvis played a Super 400CES on the NBC '68 Comeback Special – he borrowed it from Scotty Moore. Many bandleaders played them.
Back in the day, there were three 18-inch-wide guitars: the D'Angelico New Yorker, the Stromberg Master 400, and the Gibson Super 400. The big three. The D'Angelico was priced a little higher, and the Stromberg was priced way higher.
The Super 400 was Gibson's top-of-the-line guitar – it was their most expensive and most difficult to make. It had the most accoutrement of any guitar. It was their pinnacle.
You could argue the Citation was fancier, but really the Super 400 is the name that comes to mind when you think about the pinnacle of Gibson.
Vintage guitar veteran David Davidson owns Well Strung Guitars in Farmingdale, New York.
All the latest guitar news, interviews, lessons, reviews, deals and more, direct to your inbox!
Rod Brakes is a music journalist with an expertise in guitars. Having spent many years at the coalface as a guitar dealer and tech, Rod's more recent work as a writer covering artists, industry pros and gear includes contributions for leading publications and websites such as Guitarist, Total Guitar, Guitar World, Guitar Player and MusicRadar in addition to specialist music books, blogs and social media. He is also a lifelong musician.