The 1962 Fender 6G3 Deluxe Could Be All the Amp You Ever Need
Denoted by its chocolate-colored Tolex, this is one tasty tone machine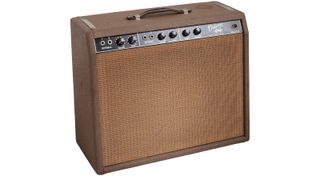 (Image credit: PHOTOS IMAGED BY HERITAGE AUCTIONS HA.COM.)
Of all the classic amplifiers produced by Fender throughout the ages, the Deluxe is at the top of the heap for many guitarists. But which Deluxe? The narrow-panel tweed 5E3 (opens in new tab) of 1955-'60 is legendary, and is still beloved today for its crisp edge-of-breakup tones and throaty roar when cranked up to 12.
Then again, the Deluxe Reverb (opens in new tab) of 1963-'67 defines for many the classic crisp, shimmering black-panel Fender sound of the '60s.
But for guitarists who are hip to what came in between, the brown-panel 6G3 of 1961-'63 is one of the tastiest tone machines of the bunch, packing best-of-both-worlds sounds that can twang, jangle, sparkle and roar, depending on how you attack it.
Billy Gibbons and Joe Bonamassa are just two of the many noteworthy artists who have discovered its glories, and there is plenty to love in this old chocolate box, for gigs and studio alike.
The brown Fender Deluxe of the early '60s is referred to by many players as a merging of tweed (opens in new tab) and black-panel sounds, and in some ways that's true. It was a significant step away from the tweed archetype of the late '50s, however, and much closer to the black-panel designs that would follow.
Yet a few key ingredients kept some elements of its sound and performance rooted in the previous era.
In the move from the tweed amps of the '50s to the Tolex-covered amps of the '60s, Fender made significant revisions to every circuit in the lineup, except for that of the diminutive Champ, which remained the same for another couple of years.
This resulted in amps that looked and sounded very different from their predecessors of just one year before. Virtually all of the revisions were made in the name of improved headroom, clarity and volume, and changes to the output stage of the 6G3 Deluxe certainly attained parts of that goal.
The retention of significant elements of the tweed-Deluxe preamp stage, however, meant that the 6G3 Deluxe got aggressive very quickly, so it's not just a louder Deluxe but also a pretty dirty one.
Where Fender's larger Tolex amps of the early '60s were moving toward more complex preamp stages that had already ushered in shades of that classic, scooped, glassy clean sound of the mid to late '60s, the 6G3 had just a single volume and tone control on each of its two channels, all wired up like something pretty close to the two volumes and shared tone of the preceding tweed Deluxe.
With a full two gain stages before the phase inverter – and those derived from a 7025 (a.k.a. 12AX7) preamp tube rather than the lower-gain 12AY7 of the tweeds – and very little signal loss from the passive tone control, this circuit was capable of pushing a hot signal into the output stage.
The amp's back end was even further altered from the tweed-Deluxe template. It included a more complex long-tailed-pair phase inverter for a higher-fidelity response, a more efficient fixed-bias setup for the two 6V6GTs and firmer rectification from a GZ34, tube (versus the 5E3's 5Y3 valve).
Put it all together, and you have meaty vintage-style overdrive from the preamp cranked to a throaty roar by the output stage, delivering lead tones that many have compared to a mini Marshall with an American twist.
In addition, the 6G3 Deluxe carries a tremolo effect that its predecessor never had. Powered by half of the second of three 12AX7s in the preamp, this "bias-modulating" circuit applies its modulation to the output tubes' bias network. It's one of the simpler tube-tremolo circuits found in amps of any era, but is known for its rich, warm sound regardless.
Even after the black-panel Deluxe and Deluxe Reverb took on the optical tremolo circuit of the bigger Fender amps from 1963 onward, bias-modulated tremolo continued to be used in the legendary Princeton Reverb (opens in new tab) (and non-reverb) combos.
Many earlier examples of the 6G3 came with highly regarded 12-inch Jensen P12Q speakers with Alnico magnets, but by the time of this Deluxe's release in '62, the Oxford 12K5 had become standard issue. This is still a good-sounding speaker and makes a crisp delivery of what the 6G3 has to offer when the amp is kept at low-to-medium volumes.
Many of them bit the dust over the years, however, when used in brown Deluxes that were routinely floored for their thick overdrive. The 12K5 is rated at 30 watts peak power handling, but that equates to something like half that amount for an RMS rating, yielding little tolerance when pushed hard by the 6G3's cooking output stage.
It's worth noting that while the brown plastic cover on the back of this speaker makes it appear to hide an Alnico magnet, there's actually a ceramic disc magnet underneath.
The upward trend in vintage guitar and amp prices of the past few years has found original 6G3 Deluxe combos soaring in value, so prime examples from the early '60s are harder and harder to come by.
Fortunately, plenty of makers offer their own re-creations of this beloved brown combo, with Cutthroat Audio's Down Brownie (opens in new tab), Suhr's Hombre (opens in new tab) and Lil Dawg's ChocoDog (opens in new tab) all receiving plenty of respect.
Essential Ingredients
Dual-6V6GT output tubes in fixed bias
Three 7025/12AX7 preamp tubes
GZ34 rectifier tube
Output 20 watts
Single 12" Oxford 12K5 speaker
Tube-driven bias-modulated tremolo
Dovetail-jointed solid-pine cabinet
All the latest guitar news, interviews, lessons, reviews, deals and more, direct to your inbox!
Dave Hunter is a writer and consulting editor for Guitar Player magazine. His prolific output as author includes Fender 75 Years (opens in new tab), The Guitar Amp Handbook (opens in new tab), The British Amp Invasion (opens in new tab), Ultimate Star Guitars (opens in new tab), Guitar Effects Pedals (opens in new tab), The Guitar Pickup Handbook (opens in new tab), The Fender Telecaster (opens in new tab) and several other titles. Hunter is a former editor of The Guitar Magazine (UK), and a contributor to Vintage Guitar, Premier Guitar, The Connoisseur and other publications. A contributing essayist to the United States Library of Congress National Recording Preservation Board's Permanent Archive, he lives in Kittery, ME, with his wife and their two children and fronts the bands A Different Engine and The Stereo Field.