Mike Dugan Walks Us Through the Wonderful World of Weird Guitars
As the caretaker for a vast collection of unusual vintage axes, blues guitarist Mike Dugan has carved out a second career in front of the camera.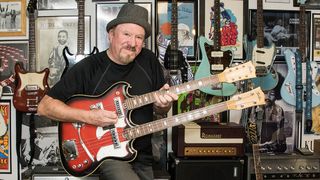 (Image credit: Future / Diane Richter)
Go searching for information about '60s-era oddball electric guitars and there's no doubt you'll stumble onto videos featuring Mike Dugan.
From U.S. and Canadian rarities to European, Asian, Russian, and Scandinavian models – Dugan has been filmed playing them all. And yet, ask him to name his favorite and, without hesitation, he names a guitar that was a first for many players of a certain age: a Sears Silvertone/Danelectro in maroon sparkle.
"I actually used to go to Sears when I was 12 years old, back when you could play the guitar in the store," he recalls. "I'd pick that baby up and plug it into the Valco-made tube amp that's built into its hard case. How can you not love that?"
While Dugan doesn't own the vast number of guitars he plays in his videos, he has the good fortune to be close friends with the man who does: Frank Meyers.
In fact, Dugan is the collection's caretaker, and he comes by the job honestly. Meyers sought him out in their hometown of Allentown, Pennsylvania, when he was looking for guitar lessons. Meyers came up as a guitarist in the late-1970 and early 1980s punk scene, but when he grew frustrated with his limitations as a player later in life, he asked around to find someone who could help him advance to the next level.
"Mike Dugan" was frequently the answer. The guitarist's band, Mike Dugan and the Blues Mission, had been an area favorite for some 20 years, during which time they typically played 200 to 300 gigs per year and recorded three albums of Dugan originals for Rave On Records. And, like many pro musicians, Dugan offers private lessons.
"I had known of Mike Dugan and knew him to be at the heart of the blues scene in those parts," Meyers says. "He was even semi-sorta famous, putting on concerts and such. But as a punk rocker, I hadn't started caring about that type of music or that style of guitar playing just yet." Meyers ended up studying with Dugan for more than 10 years, during which time he learned blues, theory, and how to improvise.
Though they came from different musical backgrounds, Meyers and Dugan shared a love of oddball vintage axes, and Meyers had the motherlode. His collection stems back to his youth in working-class Allentown. "Dad worked at the Bethlehem Steel plant, Mom was a hairdresser," he says. "We didn't have a lot of money to spend on nice stuff, so I'd look for the cheapest guitars out there."
After a while, he explains, "I found these guitars to be weird, interesting, and even artistic." After graduating college and getting "a stable and good-paying day job," he began buying up as many as he could. He reckons he acquired some 700 examples over the past 25 years. But Meyers didn't just play them. He also started tearing them apart to see what made them tick.
After opening up a couple dozen of these guitars, most of them made in Japan in the '60s, he began cataloging brand names and matching them to the pickups, pots, and bridges. It was a trek down a rabbit hole, and it led him to write an impressive tome, History of Japanese Electric Guitars (published by Centerstream).
Ten years ago, Meyers began to think he should create videos to demonstrate the guitars in his collection, but he wanted a totally legit guitarist to do the honors. Enter his guitar sensei and good friend Dugan. "Mike is like an incredible human jukebox," Meyers says. "He knows every song from the last several decades."
To date, they've shot more than 500 videos using guitars from Meyers' collection, with Dugan usually playing along to top-notch tracks that he tastefully matches to the guitar being demonstrated.
For their demo of the Teisco B.B. King 335 model, Dugan performed to B.B. King's own backing tracks. Given his deep background as a performer, it's not surprising to learn Dugan once opened for the King of the Blues. "B.B. was such a nice man," he said. "We hung out in the dressing room, shared meals. He was a real class act."
In the 1990s, Dugan also befriended Les Paul, whom he met after Paul's rhythm guitarist, Lou Pallo, shared one of Dugan's many-layered guitar demos with the original master of multitracking.
Impressed by what he heard, Les gave Dugan an open invitation to sit in with his group at the Iridium in Manhattan, where Les played every Monday night for nearly 15 years before his death in 2009. These days, Dugan performs with his partner, Jenn McCraken, in the duo Cheek2Cheek.
Dugan and Meyers kindly invited Guitar Player to see some of the vast collection, which we explore over the following pages. To view many more excellent examples, visit the YouTube account DrowningInGuitars, and be sure to check out Meyers' excellent and thorough cache of information and photos at Drowning in Guitars.
Blue Teisco K-4L, a.k.a. The Sharkfin
This is one of the more sought-after Japanese guitars of the '60s. Featuring four pickups, it offers plenty of sound combinations, thanks to all those buttons and the rotary switch.
Its skinny 22-fret maple neck plays fast, and it's a good guitar for surf-style music. With distortion, it screams in a microphonic Link Wray kind of way, and it's light and comfortable to play, thanks to the curvature of the German-style carved top and back.
Image 1 of 2
Green Meazzi Hollywood Mustang
One of Italy's lesser-known '60s offerings, the Mustang has a unique voice, thanks to its three single-coil pickups with global volume and tone knobs. The maple neck has 22 medium-jumbo frets and the feel of the larger Fender Jazzmaster, while the fully intonatable bridge has a mute that fits the palm.
This was perhaps Italy's answer to the more traditional-looking Stratocaster. The open tuners have tulip-shaped buttons, much like Hofners of the period, and the chrome whammy bar is inscribed with the guitar's name.
Tele Star Double-Neck 4 + 6
Made by Kawai in the late '60s, this high-quality guitar has a beautiful German carved top and a 22-fret neck with distinctive block inlays. It plays nicely and offers serviceable tones akin to the average two-pickup Kawai/Teisco.
The bass is a one-trick pony and, with just one pickup near the neck, doesn't offer much tonal variance, but it does have a nice, if not basic, low-end, thumpy sound.
Image 1 of 2
Green 1967 Galanti Grand Prix 3003
Made by Galanti, a well-known accordion manufacturer in Italy, this guitar is all quality. Like so many of the '60s Italian guitars, it has a bunch of accordion-style pushbuttons, but unlike EKO, Goya, and Wandre, Galanti toned down the look of the guitar while giving it fine appointments that include Van Ghent tuners, a smooth vibrato bar, and nice single-coil pickups.
Psychedelic Flower Zerosette JG SAD 2
Very much like the Goya Psychedelic guitar made expressly for one James Marshall Hendrix, this 1966 Italian beauty is as rare as a short jazz sax solo. Other than the finish, which is a stretched fabric under a thick clear lacquer, this is a seriously good guitar, with split-coil pickups and an appearance reminiscent of the Gibson ES-335.
Image 1 of 2
All the latest guitar news, interviews, lessons, reviews, deals and more, direct to your inbox!