"It's an Amazing Piece of Kit": Vintage Amp Restorer Fabio Cutolo Details the Resurrection of a 'Mark I' Mesa/Boogie
Get an in-depth look at this rare giant killer from the 1970s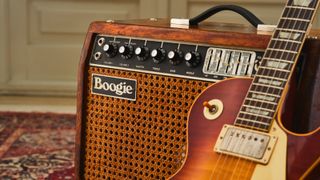 (Image credit: Future/Adam Gasson)
Every now and then, a bona fide classic amp will be plucked from a cupboard, attic or garage and shown the light of day after spending years in the dark. Many of these amps didn't retire from service in the best shape, having been heavily worked, modded and repaired over the decades, before being cast aside into the twilight confines of storage.
Years later, they blearily tumble back into the world without purpose, their owners keen to make some room and maybe a few bucks to boot. For some people, such amps are nothing but an expensive burden, although as the saying goes: one person's trash is another's treasure.
But who do you turn to when such pieces of historic hardware need expert attention? After all, this kind of project isn't standard fare for your garden-variety electronics engineer. Indeed, restoring a vintage amp properly often takes years' worth of specialist knowledge and experience.
Enter Fabio Cutolo. With over 20 years of expertise under his belt, Fabio first began learning about amplifier electronics as a teen on the job at a workshop in his native Rome, before honing his craft on the musical epicenter of London's Denmark Street. At his Tin Pan Alley workshop, Fabio soon had his hands full of electronics repairs, with around 1,000 customers a year looking to salvage anything from a pedal to a PA. He has since relocated to North Acton in West London where he continues to focus on vintage amp restoration.
"The principle of my business is to get amps back to original factory spec as closely as possible," he tells us. "I'm old-school. I don't have a website. If I had to spend time online, I'd never have my hands free to work on the amps!
"This is a Mark I Boogie, serial number A903, and it's dated to 1977. There's a handwritten date underneath the chassis indicating when the amp was finished. I understand around 3,000 of these were built in total. There weren't many imported into the U.K. in the '70s and it probably came over here with a band. On the side of the chassis is written 'EX RUSH X HG', so it could be an ex-Rush amplifier, which is pretty cool."
Needless to say, restoring this Mark I Boogie required a great deal of work, with Fabio having to completely dismantle it piece by piece.
"Cleaning this amp was a crucial part of the restoration," he says. "On the top of the cabinet are two lighter shades of grain where some gaffer tape had been stuck on for decades. The residue was deeply engrained. That alone took a couple of days to remove: no tools – just me, a cloth and some Brasso! Brasso removes a very small amount of the outer layer, a bit like how T-Cut works on cars – except T-Cut would have been too aggressive for this.
"The cabinet is made from koa wood, and I had to go easy on it. Normally, I'd let a touch of oil soak in for a few days, but this residue had really worked its way in. The solid wood construction is amazing. I reckon the whole amp weighs at least 35kg. Even with the electronics and speaker out, the cabinet on its own still weighs a fair amount.
"The kind of weave that's used for the grille was invented in Austria and is called Vienna straw. It's often seen on chairs, so it has to be strong and reliable. It was in a state when I got it, and I cleaned it up carefully with cotton buds and a brush. It needed to look great, but also if the grille is dirty, the speaker can be affected. It can take years, but a layer of grime can build up around the edge of the speaker, which prevents it from moving correctly. And if it's bad enough for long enough that can lead to breakages.
"The speaker was full of dust and needed to be cleaned entirely. It also needed some repairs; the suspension had some small cracks. It was a case of either replacing it, which would have devalued the amp, or making some small patches. It's a JBL K120 speaker. I would have expected it to come with an Electro-Voice or an Altec speaker, but on request you would have been able to get a JBL for a different type of sound.
"Although this amp doesn't have reverb, you could also order a model with a reverb circuit. With those amps, the reverb doesn't go in series, it's in parallel, so it adds the reverb to the rest of the signal in the same was as, say, a Fender Hot Rod Deluxe or Deville does."
With some of the original knobs missing, Fabio needed to get creative. "The original Rogan knobs aren't in production any more," he explains. "The old type isn't currently being made, so I needed to make some replicas. I had to re-engrave the numbers by hand and then create a mix of dry paint and edding pen to fill the engravings. They needed to look right. It wasn't easy!
Image 1 of 3
"And it was the same kind of thing for the rest of the parts, including screws, nuts and the handle. They all had to be cleaned up to a certain degree in order to match. If something looks too old or too new, it doesn't look right. It's the same idea with old guitars; when people need to replace a part, they usually want it to look like it fits with the rest of the instrument."
Although these cottage-industry amps were made at company founder Randall Smith's California home, they are well regarded for their industrial strength build.
"It's built like a tank," confirms Fabio, "but the construction – the wiring, PCB and components – is very intricate. It's an amazing piece of kit, and some parts of the amp were experimental. For example, the schematic has provisions for diodes on the preamp cathodes to work as current regulators, but they were later changed to resistors for greater tone control.
"It's naturally quite an aggressive-sounding amp, but that helps it sound like it's following you a bit more when you're playing – you don't feel as if there's any latency between notes. It sounds clearer and more articulate, particularly if you're playing fast.
"Back then, high power and low power switching was a new thing. In this case, it switches off two of the [four] power valves by disconnecting them from ground. It's a bit optimistic to say the amp has 100 watts in power; I measured the output power to be 56 watts in low mode and 73 watts in high mode. You can really tell the difference between the two.
"The original valves were four General Electric 6L6s/5881s, and three General Electric 12AX7s. I replaced them with four 6L6/5881 Philips ECG and a 12AX7WA with balanced triode for the driver valve, while retaining the other preamp valves.
Image 1 of 2
"It's a four-stage preamp. This happens on virtually every amp, but there was some previous work carried out in the past, in this case on the bias circuit, which needed to be corrected. Mesa would normally have calculated the value the resistor needed to be – the same resistor you would check every time you changed the [6L6] valves – but somewhere along the line, someone had added in a load of extra components and that meant the amp wasn't sounding right. When it was reversed to original, I tested the original GE valves, but they sounded very tired. And that's when I decided to replace them with the new old stock Philips ones."
Although the amp's preamp section is slightly different to the schematic, Fabio is sure this deviation is original, as is sometimes the way with full-scale factory products, let alone boutique builds.
"There are two inputs: 1 and 2," he points out. "With regards to this amp specifically, input 1 goes to one half of the preamp (controlled by the push-pull pot labelled Volume 1 and Gain/Boost), then into a kind of Fender-style tone control circuit (labelled Treble/Bass/Middle) then the Master volume (followed by the power amp section). Pulling the Gain/ Boost knob will bypass these tone controls and the signal then goes straight to the Master volume via a single resistor. This uses fewer components between the input jack and the speaker and gives a nice full sound with little coloration.
"Input 2 has two-stage gain and the input resistance is much lower than input 1, which has a 1meg-ohm resistor going to ground. It has the same signal path as 1 but with an extra half preamp valve, which you can mix into the circuit via the Gain/Boost pot. The Volume 2 knob also features a Bright [pull] switch. Then, of course, there is the Master volume, which gives you the ability to set high-gain sounds at lower volume. Even with a lot of gain added, however, the amp is very quiet; there is hardly any hum or noise.
"The Treble, Bass and Middle EQ knobs/controls are similar to what you might find on a Fender amp. It comes off the first preamp valve and the component values are more or less the same. It's a very well-defined EQ system, although the graphic EQ has a more extreme effect on the sound. When I turned up the 80Hz slider, my windows were shaking! It sounded like the amp had a subwoofer. That can work really well for big stages. You can switch the graphic EQ in and out of the circuit, either using a footswitch or on the front panel. I assume it was mainly intended for soloing. It works on resistors and is very precise.
Image 1 of 6
"The main problem I faced during the restoration process was the sliders. I had to dismantle the whole board, take them apart completely, clean them and then put everything back together. There is no replacement for those, and when I first saw the amp they weren't moving. The problem there is if they're stuck and you try to move them, you might damage the graphite underneath, and once that happens it will impact the resistance. I didn't use any chemicals – like switch cleaner – to clean those as that may have caused problems. I just used a cotton cloth to do the job and I managed to save them, thankfully."
Mesa/Boogie revisited its original amp in the form of the Mark I Reissue, and although these models are not exact replicas, much of the original design has been left intact.
"The amp controls are different," says Fabio. "It doesn't have the push-pull pots for Volume 1 and 2. There are differences between this '70s amp and the Mark I Reissue, although some of it is virtually identical. The power supply for this vintage Mark I is pretty much the same as the Mark I Reissue, for example. They've only changed the position of a couple of capacitors here and there, and they reproduced it almost like for like. In fact, the mains capacitors have the same model number and dimensions as the ones in recent production.
"This amp uses diodes in a two-phase solid-state rectifier circuit, which basically irons out most of the mains noise. There are two diodes in series and it gets a very clean signal. You get almost no noise whatsoever and you don't lose any harmonics. It's very stable, and when you turn the amp up you get no sag – like you might with valve rectification. What you play comes out immediately. It really suits rock and blues, particularly the American blues sound, as opposed to the classic British blues rock sounds.
"It has a big range of tone and you can drastically change the sound with the EQ. It does gain-y tones really well and can go super heavy into metal, but you can also play very clean sounds. It would work for reggae, for example, really well – particularly because of the sharp attack. Musically, this amp is incredibly versatile and you could use it in pretty much any venue."
With thanks to Andrew Raymond of Vintage 'n' Rare Guitars in Bath, U.K.
All the latest guitar news, interviews, lessons, reviews, deals and more, direct to your inbox!
Rod Brakes is a music journalist with an expertise in guitars. Having spent many years at the coalface as a guitar dealer and tech, Rod's more recent work as a writer covering artists, industry pros and gear includes contributions for leading publications and websites such as Guitarist, Total Guitar, Guitar World, Guitar Player and MusicRadar in addition to specialist music books, blogs and social media. He is also a lifelong musician.