"It Was Simply a Fine Instrument": Keith Richards Talks Boutique Guitars in this Vintage Interview
The Rolling Stone reveals his hands-off approach to ordering custom-built solidbodies in this hidden gem from the GP archive.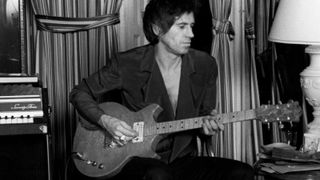 (Image credit: Ebet Roberts/Redferns)
Keith Richards is famously associated with many classic electric guitars.
His curiosity for the instrument and open-minded approach to tone has seen him play a wide variety of models over the years from popular designs like the Fender Telecaster and Gibson Les Paul Standard to some more leftfield axes like the Ampeg Dan Armstrong "Plexi" guitar.
Along the way, Richards has acquired some great custom-built guitars. And while some names like Zemaitis may sound familiar, others are decidedly more obscure.
Take the Doug Young-made solidbodies for example. Though these boutique beauties are less well known, Richards spoke very highly of them during an interview with Guitar Player back in the early '80s.
The following interview extract appeared in the April 1983 issue of Guitar Player that featured Richards on the cover holding his Doug Young custom-built double-cutaway solidbody.
How did you come about acquiring your new guitars?
"Friends of mine introduced me to Doug Young, who built them. After seeing some of his things, I knew he was capable of exceptionally fine work, so I more or less commissioned him to build me a guitar.
"He ended up making me two – the red one is a gift for my girlfriend, actually. Basically, that's the lowdown."
Did you specify exactly what you wanted?
"Not really. We didn't have to say very much about it. I was very impressed by the things I saw, and I wanted a similar guitar for myself.
"But it's also this patronage that players and builders can get involved with – Renaissance man, and all that, the old system of someone like me encouraging guys like Doug.
"His guitars are too good not to be given help."
So you didn't request a certain wood for the fingerboard, a certain pickup design?
"Not too much, no. I said, 'Make me a guitar.' I figure that's the difference between working with an artist as opposed to just anyone.
"I mean, if you want a suit made, you don't want to have to tell the tailor how to do everything. You want to find someone who doesn't need all that, you see? It's more, 'I want to see what you can build for me.'
"There are very few people like that. Most people, you have to sit on their ass and watch them: with Doug I just left him to it. I was in Paris for months, recording. I'd almost forgotten it was going on until I saw what he'd done."
Have you had a chance to play them in the studio yet?
"Not in the studio, but I went out and banged on them a bit. I'll be back in the studio soon, and then we'll beat them into shape." [laughs]
After playing hundreds of guitars, what quality in these instruments made you take notice?
"It's a recognition you develop. I think, and I'm sort of instinctive about these things – sit down and play it, feel it.
"I knew that Doug was thinking along the same lines as myself, but far ahead, because I'm not technical. Only after the event of building it when I've got it in my hands, can I know what's right.
"I can't say, 'Well, it was the magnificent electronics,' or 'the wonderful bonding of the woods,' and each specific thing.
"It was simply a fine instrument. Lovely wood!"
All the latest guitar news, interviews, lessons, reviews, deals and more, direct to your inbox!
Rod Brakes is a music journalist with an expertise in guitars. Having spent many years at the coalface as a guitar dealer and tech, Rod's more recent work as a writer covering artists, industry pros and gear includes contributions for leading publications and websites such as Guitarist, Total Guitar, Guitar World, Guitar Player and MusicRadar in addition to specialist music books, blogs and social media. He is also a lifelong musician.