"It Promises to Revolutionize the World of Music": Watch this Rare Vintage News Report on the Gizmotron
By Christopher Scapelliti published
The remarkable story of Kevin Godley & Lol Creme's innovative device that trod a fine line between madness and genius.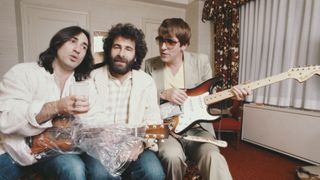 (Image credit: Michael Putland/Getty Images)
While the music world was looking to electronic means of reshaping guitar tone in the late 1960s, two young pioneering musicians were seeking a more mechanical route. Kevin Godley and Lol Creme would find fame and fortune in the 1970s as the drummer and guitarist, respectively, for the British art-rock quartet 10cc.
But in 1969, several years before they found international fame with the 10cc track "I'm Not in Love," Godley and Creme, along with future band members Graham Gouldman and Eric Stewart, were running Strawberry Studios in England, where they wrote and demoed songs for other performers.
In need of a string section for one tune, Godley and Creme pondered whether it were possible to make an electric guitar sound like an orchestral stringed instrument.
"We began thinking that maybe what we were looking for wasn't bowing in a traditional sense" Godley told Tom Avis. "So the thinking was, and it was a very spur-of-the-moment thing, 'What if we got an electric drill and we put a piece of rubber on the end of the drill bit and hold it against the strings?'"
The results were encouraging enough that they hired an engineer to create a prototype device featuring six nylon wheels, each with 48 ridges that worked like tiny guitar picks to pluck a string 100 times per second when pressed into contact with it.
The Gizmotron was born.
Unlike the EBow (opens in new tab), the handheld, monophonic string-sustaining device developed independently at the same time, the Gizmotron was mounted to the guitar and could be used on all six strings simultaneously.
Though it wasn't put into production at the time, the battery-operated hurdy-gurdy made appearances on various 10cc tracks between 1972 and 1976, the heyday of the group's original four-piece lineup.
In 1977, Godley and Creme left 10cc to focus on the Gizmotron and released the album Consequences (opens in new tab) – with contributions from comedian Peter Cook and jazz singer Sarah Vaughan – as a demonstration record for the device.
Unfortunately, the Gizmotron was temperamental.
"Some days it sounded absolutely beautiful and other days it sounded like shit," Godley said. "Sometimes it was like a chainsaw, and sometimes it sounded like a cello, and other times it varied between the two."
Musitronics, maker of the Mu-Tron III, was brought on in 1978 to take the device into production, but the company was sold to synth maker ARP the following year.
The device it brought to market was even less musical than Godley and Creme's prototype, and the spinning Delrin wheels wore down quickly in the hands of guitarists who pressed them too forcefully against the strings.
ARP recalled the Gizmotron, and by 1981, both were history.
For the next few decades, the Gizmotron was lost to the ages, its canon confined to a few cuts, like the intro of Led Zeppelin's "In the Evening," and the background pads of Paul McCartney's "I'm Carrying," as well as a handful of 10cc tracks.
Then, in 2015, Aaron Kipness brought the device to market as the Gizmotron 2.0, a re-engineered version of the original with improved design, performance and sound.
He finally got it right – and with Godley's blessing too.
Click here (opens in new tab) for more information on the Gizmotron 2.0.
Christopher Scapelliti is editor-in-chief of Guitar Player (opens in new tab) magazine, the world's longest-running guitar magazine, founded in 1967. In his extensive career, he has authored in-depth interviews with such guitarists as Pete Townshend, Slash, Billy Corgan, Jack White, Elvis Costello and Todd Rundgren, and audio professionals including Beatles engineers Geoff Emerick and Ken Scott. He is the co-author of Guitar Aficionado: The Collections: The Most Famous, Rare, and Valuable Guitars in the World (opens in new tab), a founding editor of Guitar Aficionado magazine, and a former editor with Guitar World, Guitar for the Practicing Musician and Maximum Guitar. Apart from guitars, he maintains a collection of more than 30 vintage analog synthesizers.
Get the latest news, reviews and product advice straight to your inbox.
Thank you for signing up to The Pick. You will receive a verification email shortly.
There was a problem. Please refresh the page and try again.