"I Used Solid Acoustic Guitar-Grade Wood": Grez Founder Barry Grzebik Breathes New Life Into Electric Guitar Building
Crafted using salvaged old-growth redwood and weighing just five and a half pounds, this Mendocino DCAF feels more like a top-tier steel-string acoustic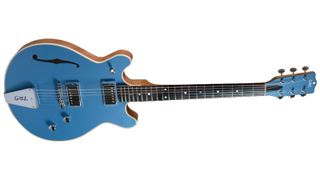 (Image credit: Grez Guitars)
Crafting fine acoustic guitars and electric guitars with redwood tops is a specialty of Grez Guitars. But while the company is located in Petaluma, California, on the cusp of wine country and sustainably managed redwood forests, Grez has a different source for this tonewood.
From the 1800s and well into the 20th century, countless stands of centuries-old trees were wantonly clear-cut for lumber. As a result, old-growth timber is now a prized commodity that has to be salvaged from old structures' such as a decommissioned bridge built in the 1920s, which provided redwood timber for Grez's Smugglers Bridge Folsom guitar.
The company recently sent us a special Mendocino DCAF semi-hollow guitar that features an old-growth redwood top (not from said bridge, however) mated to a one-piece Honduran mahogany body and a one-piece mahogany set neck, both finished in matte nitro lacquer.
The Mendocino DCAF (Double-Cutaway Kid Andersen F-hole) differs from the standard Mendocino DC by having a slightly wider body (14 inches versus 13.25 inches) as well as an f-hole to give it a slightly more pronounced acoustic voice.
It's also available without the f-hole as the Mendocino DCA (see above clip) if a looser low-end is preferred.
Founder Barry Grzebik has good reasons for designing his guitars this way. "The Mendocino is the end result of what I've learned building other instruments," he says. "I started out building acoustic guitars, and then larger semi-hollow and archtop guitars.
"As I started making my semi-hollow instruments smaller, I realized that, while laminated tops and backs are fine for larger instruments, they are too stiff for small bodies. So I used solid acoustic guitar-grade wood, and it brought a little more life back into the instruments. Basically, as the body gets smaller, it wants to resonate less, so I use more resonant materials to compensate.
"Second, as a top gets smaller – say dropping from 16 to 14 inches – it gets stiffer, because the span is less, and its resonances are pushed up in frequency too high for my taste. Because my tops and backs are solid wood, I can adjust the thickness to bring their stiffness back down to a range I like for the body size. This allows lower mid frequencies to come to life a little more."
Grez offers light customization, which is why our review guitar came with a metallic blue finish on the top and a matching headstock and wood pickup rings. Standard cosmetic touches include white binding, pearl fingerboard dots and a circular stainless-steel brass-trimmed cutout at the top of the peg head.
It all makes for a hip-looking guitar that get its share of compliments wherever it goes.
On the electronics side, there is pair of Seymour Duncan Seth Lover humbuckers with polished nickel covers (customers can specify their pickups of choice), volume and tone controls with VIPot 500K pots and an Orange Drop .022uF cap, chrome knurled knobs and a three-way selector on the upper horn.
Hardware consists of a TonePros AVR2 bridge and a Grez stainless-steel trapeze tailpiece. Nickel-plated Grover 18:1 open-back vintage-style tuners pull the Stringjoy .010–.048 strings smoothly to pitch.
Very light, at five and a half pounds, the Mendocino DCAF felt more like a top-tier steel-string acoustic when I lifted it out of its thickly padded Reunion Blues soft case. The only semi-hollow with similar proportions I had on hand to compare it with was a 2003 Gibson Johnny A. Signature, which weighs a little over seven pounds.
The comparison may be unfair, however, because to call the Mendocino design semi-hollow is a bit of a stretch. Grzebik himself calls it "very hollow," and so it follows that much of the thinking that went into this guitar is rooted in acoustic building techniques. Even glue was a factor when putting the Mendocinos together.
"My overall design has been created to have fewer glue joints," Grzebik explains. "A good guitar is the culmination of a lot of little things, so the major glue joints that influence sound in my instruments are the fretboard to neck, neck to body and top to body.
That's just three glue joints. Some will argue that the type of glue influences the sound, but my stance is to design a guitar that uses very little glue, so then the glue doesn't matter.
"I also use carbon-fiber reinforcement on both sides of the truss rod. I believe making the neck stiffer does two things: First, it absorbs less energy and drives more into the body, which is designed to resonate.
"Second, all necks have some primary resonant frequencies. When these happen to correlate to a fretted note, they interact with it, causing hot or dead spots. With a stiffer neck, the amplitude of these resonances is reduced and the frequency is pushed up. The result is a fretboard that seems more uniform, with the same liveliness everywhere."
The Mendocino DCAF is a sweet-playing guitar thanks to the comfy, medium-C neck, which sits nicely in the hand, feeling neither too girthy or slender and very accommodating when sliding over the ergonomically shaped heel to reach the high notes.
The 21 polished nickel-silver jumbo frets on a 25½-inch scale Macassar ebony board are evenly crowned and nicely worked so you can't feel the ends. The action is low and easy, and a good setup provides sweet intonation in all positions.
It's an inspiring guitar to play, and it delivered equally inspiring tones when plugged in, ranging from clear and deep on the neck setting to bright and fat on the bridge setting, with a slight twanginess in the upper mids, all of which make the Mendocino DCAF adept at styles ranging from blues, jazz and funk to the roots-rock stylings of Americana.
Through a Deluxe Reverb with pedals for varying levels of grind, the Mendocino DCAF carves out a cool sonic space, sounding crisp and shimmering when you dial it back to the edge of breakup, and fat and sustaining when you crank it for lead.
It stands up well to stage volume, although ordering it without an f-hole might be wise if you play regularly in loud situations.
Eco-minded players will appreciate that Grzebik, in collaboration with the Redwood Forest Foundation, plants a tree for every guitar he sells, and that all of the redwood he uses for tops and bodies is reclaimed.
"Unfortunately, I can't say the same for all the wood in the instrument, but I do what I can," he says.
The Mendocino DCAF is a soulful guitar that's made with great care and totally embodies the small-lot builder ethos of Northern California, and it warrants a place in any boutique guitar collection.
Visit Grez Guitars for more information.
All the latest guitar news, interviews, lessons, reviews, deals and more, direct to your inbox!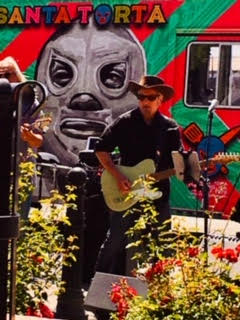 Art Thompson is Senior Editor of Guitar Player magazine. He has authored stories with numerous guitar greats including B.B. King, Prince and Scotty Moore and interviewed gear innovators such as Paul Reed Smith, Randall Smith and Gary Kramer. He also wrote the first book on vintage effects pedals, Stompbox. Art's busy performance schedule with three stylistically diverse groups provides ample opportunity to test-drive new guitars, amps and effects, many of which are featured in the pages of GP.