"I Have a Problem. I've Got to Make My Guitar Louder": Les Paul on His Eureka Moment
Learn the truth about Les Paul's first guitar in this Musicians Hall of Fame interview and discover how his tenacity and vision became Gibson's greatest success story.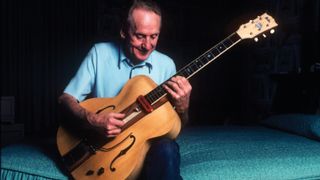 (Image credit: Neil Zlozower/atlasicons.com)
Les Paul was working as a professional guitarist in the 1930s when he turned his highly inventive mind to building a solidbody electric guitar in order to overcome feedback and other issues that plagued amplified hollowbody instruments.
In 1939, his solution took shape in the form of what he dubbed the "Log," basically a four-by-four piece of pine upon which he bolted a Gibson neck, a pair of pickups that he built, and his own bridge and vibrato tailpiece.
To make the thing look like a guitar, he sawed an Epiphone archtop body in half and glued the "wings" to the pine block.
Les proved the viability of his concept by using the Log on recordings that he and his trio made with the Andrews Sisters, Bing Crosby and others, but the hallowed guitar company, Gibson, was unimpressed when Les brought it to Kalamazoo to show to the company chiefs in 1941.
"I took the Log to Gibson and I spent 10 years trying to convince them that this was the way to go," he famously said. "But it wasn't easy. If it wasn't for Leo Fender I don't think that ever would have come off. Leo saw more in it than Gibson did."
Besides, Gibson already had the ES-150 electric-archtop (and a matching amp), introduced in 1936 and popularized by Charlie Christian and other jazz guitar players. Who needed a solidbody?
But when the Fender Telecaster detonated on the Southern California scene in the early '50s, Gibson realized they needed to get in the solidbody game, pronto.
Enter Ted McCarty, who joined Gibson in 1948 and became its president just two years later. Armed with a sharp eye for style, he wanted to make an alternative to the slab-sided Telecaster by designing his single-cutaway guitar with an arched, carved-maple top.
In 1950, he showed the guitar to Les, who approved the design and felt that it was sufficiently close to what he was going after to let Gibson put his name on it.
The Les Paul model would have a rockier start than Fender's "plank" – and, for a time, even went out of production entirely – but that all changed once players like Mike Bloomfield, Eric Clapton, Peter Green and Mick Taylor started slinging Les Pauls.
Image 1 of 2
What Les started with the Log became a success story for Gibson.
While it's true Rickenbacker's solidbody Model A-22 Electro "Frying Pan" predated Les's Log, it was a lap steel, not a Spanish-style guitar.
Les owns the solidbody concept for his vision and tenacity.
There's irony aplenty that Gibson's big hit after the Les Paul Model was the thinline ES-335, a highly popular reimagining of what Les started with his crude Log.
All the latest guitar news, interviews, lessons, reviews, deals and more, direct to your inbox!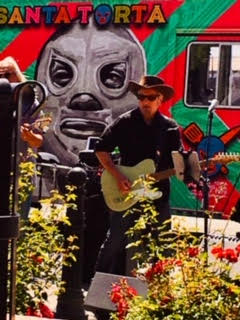 Art Thompson is Senior Editor of Guitar Player magazine. He has authored stories with numerous guitar greats including B.B. King, Prince and Scotty Moore and interviewed gear innovators such as Paul Reed Smith, Randall Smith and Gary Kramer. He also wrote the first book on vintage effects pedals, Stompbox. Art's busy performance schedule with three stylistically diverse groups provides ample opportunity to test-drive new guitars, amps and effects, many of which are featured in the pages of GP.