Are You Ashamed of Your Stand Game Too? Here's Some Inspiration (You Know You Need It!)
Up your stand game, protect your precious instruments and look good doing it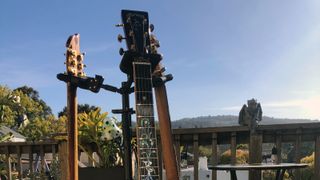 (Image credit: Jimmy Leslie)
I'm ashamed of my stand game, and from what I've seen over the years, most of us should be. We'll spend all our dough on a guitar and then set it on whatever janky stand is around, or no stand at all.
I've seen it everywhere: at nice clubs, studios, the GP offices and even in the Beatles documentary Get Back.
There are so many awesome options, from multi-guitar stands and racks, to replacing stands with hangers that clear up precious floor space.
I recently had to move into a new place with less room suitable for guitars in cases. I wound up re-evaluating everything.
Here's what I learned…
Assess Options
The first step is to take inventory. What kinds of guitars do you have, what's the primary purpose of each and therefore where should it live?
I have every kind of stringed instrument, from acoustic steel-strings and nylon-strings to electric guitars, baritones, mandolins, ukuleles and basses, so it was important to get stands and hangers that could accommodate different neck sizes and body lengths.
Some of them are pretty darn nice, so stability and protection were big concerns as well.
Form a Plan
I decided that instruments primarily for the stage should live in their cases for grab-and-go capability, and that performance stands should be geared for those.
Home instruments would go on a stand or a hanger, depending on the guitar and the room. All others needed to go in the home office/studio, which meant that everything that could hang should hang, and the few things that I'm grabbing constantly, such as a review guitar or a primary benchmark, should go on a multi-guitar rack for easy access.
Get Well Hung and Take a Stand
Hercules stands were a good option for me, because the company is well-known and makes stands in many styles. The AGS (Auto Grip System) Plus Series has a few key features that make a ton of sense, including a yoke designed to automatically grab onto a wide range of neck sizes.
Plus Series stands and hangers include Hercules' Narrow Instrument Neck Adjustment (NINA), a set of rubber cuffs you can attach to the arms to accommodate small necks, such as on ukuleles or mandolins.
The re-imagined foot pad maximizes friction to stop it from sliding around, while the Instant Height Adjustment Clutch makes raising and lowering the stand a cinch for instruments of various scale lengths. High-quality foam protects the guitar's finish.
There are over a dozen different styles of Plus stands, so I pursued what made sense, including wall hangers and a rack for the office, double and triple stand for gigs, a single stand for the baritone or a bass, and a folding travel stand designed to fit an acoustic guitar in, say, a campfire situation.
I'll bet pretty much every player has some sort of stand/hanger needs. Hopefully this inspires you to up your stand game, protect your precious instruments and look good doing it.
All the latest guitar news, interviews, lessons, reviews, deals and more, direct to your inbox!
Jimmy Leslie has been Frets editor since 2016. See many Guitar Player- and Frets-related videos on his YouTube channel, and learn about his acoustic/electric rock group at spirithustler.com.