What You Need to Know About Jumbo Frets
An overview of jumbo frets and why some players swear by 'em.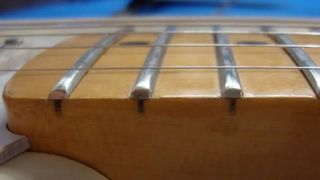 (Image credit: Future)
It should be obvious, right? Bigger frets mean bigger tone, and that sounds like something we'd all want from our guitars.
As with so many things about the guitar, however, the truth isn't necessarily that straightforward. Fret size and shape can affect a great many aspects of your guitar's sound and feel, so it's worth looking at the bigger picture before jumping to any quick conclusions.
The "fatter wire = fatter tone" equation is nothing new. Ever since jumbo frets have been available, many great players – Rory Gallagher, Stevie Ray Vaughan, Kenny Wayne Shepherd – have been known to re-fret their Fender Stratocasters in particular with jumbo wire (vintage-spec Strats arguably provide a more dramatic before and after picture than some other guitars, since they were born with narrow frets).
More metal in any fixed component usually means a greater vibrational coupling between string and wood, so there is presumably something to this theory. But what else changes with fret size?
While larger frets do seem to result in a rounder tone, perhaps with increased sustain too, they also yield a somewhat less precise note than narrower frets – at least as examined "under the microscope."
Unless it is very precisely shaped, and frequently dressed, the broad crown of that jumbo fret can "blur" your note ever so slightly, which might even be part of the sonic appeal for some players – the way, for example, a tweed Deluxe is a little blurrier or hairier at most volume settings than a blackface Deluxe. Be aware, however, that the phenomenon can work against some sonic goals too.
Since they present a finer break point at the neck end of the strings' speaking length, narrower vintage-gauge frets are generally more precise in their noting accuracy. From this, you tend to get a sharper tone, possibly with increased intonation accuracy, plus enhanced overtone clarity in some cases, which could be heard as a little more "shimmer."
If you're thinking these are all characteristics of the classic Fender sound, you'd be right - or they are, at least, until you change those vintage frets to jumbo.
But narrower frets were also used on Gibson Les Pauls prior to 1959, so their characteristics apply to these guitars as well. Does a '57 goldtop with PAFs sound thin or wimpy thanks to its narrow fret wire?
Not likely, largely because so many other factors also affect its tone – body woods, set-neck construction, scale length, pickups – and the impact of narrow-gauge frets doesn't outweigh any of them. It does, however, influence the overall sonic stew of guitars of that era, which is always the product of many different ingredients.
Fret gauge might have a bigger impact on playing feel than on tone for many guitarists. Wider frets are often attributed a smoother, more buttery playing feel, which also makes it easier to bend strings.
Ease of bending is also enhanced by taller frets, whether wide or narrow. Narrow frets shouldn't be too hard to bend on, unless they are badly worn down, and they also leave a little more finger room on the fretboard – particularly in the higher positions – which might suit some players better.
Ultimately, if you're mostly playing rock, heavier blues, or any shred or metal styles, you might prefer jumbo or medium-jumbo frets. However, for country, rockabilly, surf, or old-school '50s rock and roll, narrow frets could be the way to go.
In any case, though, if your frets are in good condition and your guitar is set up right, the size of that wire in and of itself shouldn't stop you from sounding great on whatever you play.
All the latest guitar news, interviews, lessons, reviews, deals and more, direct to your inbox!
Dave Hunter is a writer and consulting editor for Guitar Player magazine. His prolific output as author includes Fender 75 Years, The Guitar Amp Handbook, The British Amp Invasion, Ultimate Star Guitars, Guitar Effects Pedals, The Guitar Pickup Handbook, The Fender Telecaster and several other titles. Hunter is a former editor of The Guitar Magazine (UK), and a contributor to Vintage Guitar, Premier Guitar, The Connoisseur and other publications. A contributing essayist to the United States Library of Congress National Recording Preservation Board's Permanent Archive, he lives in Kittery, ME, with his wife and their two children and fronts the bands A Different Engine and The Stereo Field.