A Favorite of Jimmy Page, Don Felder and Slash, the Gibson EDS-1275 Double-Neck Solidbody Started out Here
This rare, custom-order 1957 Gibson Double 12 features six- and 12-string necks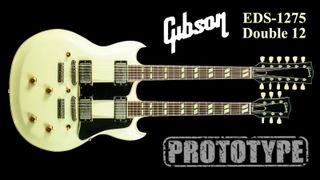 (Image credit: Paige Davidson/Well Strung Guitars)
The guitar you see here is a Gibson Double 12. Appearing as a custom-order instrument from 1957 alongside the Double Mandolin with Sunburst, Solid White and Solid Black finish options, this unique electric model features a 12-string neck and a 6-string neck. Both mahogany necks have a standard Gibson scale length of 24 3/4-inches and sport a bound rosewood fretboard with double-parallelogram inlays.
The semi-hollow Double 12 was constructed with a spruce top and laminated maple sides/back and was superseded by the SG-style EDS-1275 solidbody by 1962. Sporting a solid mahogany body and neck, this double-headed axe was famously wielded by Jimmy Page, Don Felder and Slash.
Shipping records show only 110 Double 12/EDS-1275 models were shipped between 1958 and 1967. However, following its reintroduction in the mid '70s, roughly ten times that number were shipped by the end of the decade.
Suffice it to say, early examples are very rare. But then vintage guitar veteran David Davidson specializes in such highly collectible instruments and is down to share some of the coolest guitars from the Well Strung Guitars vault with us.
"This is a pretty neat guitar," begins David. "I stumbled across it almost by accident, but it has an amazing story. This is a prototype from '57, with no serial number. It's an EDS-1275 hollowbody with a spruce top. It has a Polaris White finish and features a six-string neck and a 12-string neck. It has four PAF humbucking pickups and switchable necks. It's not so much that it's different from the regular production guitars – more that this is likely the one pictured at the 1957 Chicago NAMM Show.
"The original owner (I bought it from her son) was Jeanette Dixie Lee Fogel, and she was in a band called Dixie Lee and the Rhythm Ramblers. She got to play this double-necked Gibson after her husband backed over her Kay guitar and amplifier with his station wagon. He destroyed the instrument completely, so he went running out looking for a new guitar. This is all documented in letters from two of her sons.
"Dixie Lee was a big fan of The Collins Kids and Joe Maphis and liked the idea of having a double-necked guitar. So they went to order one and were surprised when it showed up at the music store less than a week later. They couldn't understand how Gibson made it so fast. Normally, it would have taken weeks. We can only conclude the guitar was already made.
"They thought they were going to have a custom-made guitar, and normally it would have taken way longer. But Gibson already had this EDS-1275 Double 12 built. They just needed to box it up and ship it. My reasoning is that after they had it at the NAMM Show, the order came in and they just decided to pack it up and send it out immediately.
"She played with different people like Little Jimmy Dickens, Billy Grammer, Stoney Cooper, Clyde Moody, Leon Rhodes and Larry Collins. So she was a pretty happening player and singer. She passed away in 1968, and after the guitar ended up with her family, they relocated from Charleston, South Carolina, to Nichols, South Carolina. The oldest brother, Harold, had become the caretaker of the instrument, and when his father died the sons made a decision to find the guitar a new home. I remember the phone call.
"They called me in 2016 and told me the story. Harold said, 'We used to have famous musicians at the house all the time when we were little boys – Joe Maphis and all these other people like Jimmy Bryant. It was a big deal and it's a special guitar.' But then he told me there was no serial number on it and I was like, 'Wow I've not seen a 1275 without a serial number.' But having dealt with a lot of rare guitars I know that many early first-edition Gibsons were not serial numbered. This is because they weren't sure if they wanted to sell them to the public. Interestingly, 1952 Les Paul Goldtops weren't serial numbered, either.
"This guitar is in immaculate condition except the tuner buttons had shrunk to virtually nothing. When I got it, I put period-correct repro Kluson tuners on so that it was a usable instrument. The originals are in the case. It has the original case. It looks like an Explorer case – a large, rectangular brown type with a pink lining.
"I've seen a lot of double-necks in the past and I have a lot of double-necks now because I built a collection of different types for the Songbirds museum. Now, I have many of them back, although I've sold some recently. Slash just bought a black one and the only cherry-red one that was ever made. (He posted it on Instagram, so people can see it on there.) But this guitar is very special, too. I mean, I've never seen another one with no serial number, and the pots are dated to the 16th week of 1957. They didn't introduce this model until 1958, so it's very, very early. I've owned six 1958s and they all had 1958 pots.
"I recently bought a '59, which has just landed here at Well Strung Guitars. It's a white one that is pretty beat up, but it's cool – great vibe. This '57, however, is super clean. She took incredible care of it. I laughed because when I got it there were four polishing cloths in the case. It's one of those guitars that plays really well and has been played a lot. But it's also been well taken care of. Plus, it's never been tampered with in any way. It didn't take much to set this up and get it playing. The playability is unbelievable. Both necks play incredibly well. It's wonderful to see."
Vintage guitar veteran David Davidson co-owns Well Strung Guitars in Farmingdale, New York
info@wellstrungguitars.com / 001 (516) 221-0563
All the latest guitar news, interviews, lessons, reviews, deals and more, direct to your inbox!
Rod Brakes is a music journalist with an expertise in guitars. Having spent many years at the coalface as a guitar dealer and tech, Rod's more recent work as a writer covering artists, industry pros and gear includes contributions for leading publications and websites such as Guitarist, Total Guitar, Guitar World, Guitar Player and MusicRadar in addition to specialist music books, blogs and social media. He is also a lifelong musician.