A Look Back at Jimmy Page's Gibson EDS-1275
The genesis of one of the Led Zeppelin legend's most iconic guitars.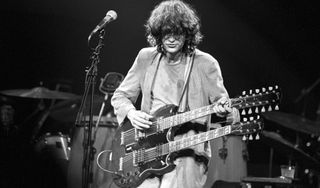 (Image credit: Graham Wiltshire/Getty Images)
On Led Zeppelin's classic "Stairway to Heaven," Jimmy Page used an acoustic Harmony guitar, a Fender Telecaster, and a Fender electric 12-string. That made it impossible to recreate the recording in live performances, where Page was limited to one guitar at a time.
However, he found a partial solution in Gibson's EDS-1275 double-neck, which allowed him to switch from six strings to 12 strings without changing guitars.
Gibson's double-neck model started off in the late 1950s with a unique hollowbody carved-top design, but when Gibson transformed the Les Paul line to the pointed-horn SG body style in 1961, the double-neck models followed suit.
The lighter body weight of the SG design made the EDS-1275 more comfortable to play than the earlier version. Due to increased popularity, what had been a custom-order model became a regular production guitar.
Page replaced the humbucking pickups on the six-string side of his EDS-1275 with coverless Seymour Duncan units, but otherwise this is the stock production model - despite the "Custom" inscription on the truss-rod covers.
Gibson stopped offering the EDS-1275 in 1969 – this guitar was special-ordered in 1971 – but thanks to its use by Page (and later by Slash of Guns N' Roses), demand for double-necks did not go away. Gibson revived the model in 1977, and it remains in production today.
All the latest guitar news, interviews, lessons, reviews, deals and more, direct to your inbox!
Rich is the co-author of the best-selling Nöthin' But a Good Time: The Uncensored History of the '80s Hard Rock Explosion. He is also a recording and performing musician, and a former editor of Guitar World magazine and executive editor of Guitar Aficionado magazine. He has authored several additional books, among them Kurt Cobain: Montage of Heck, the companion to the documentary of the same name.