The History of the Fender Duo-Sonic
A favorite of Jimi Hendrix, this petite powerhouse gives a taste of authentic pre-CBS Fender without the five-figure price tag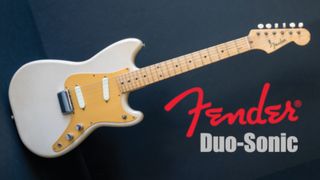 (Image credit: GUITAR AND PHOTO COURTESY OF TOM DUMONT)
Too easily dismissed as a toy or three-quarter-sized "kid's guitar," Fender's mid-1950s Duo-Sonic was something of a stealth model, taken up by scads of groundbreaking artists for decades as a "best buy" among pricier vintage Fenders.
Now recognized by many guitarists as a petite powerhouse, it's also relatively collectible for those who want a taste of authentic pre-CBS Fender without a five-figure price tag.
Fender debuted its student models in 1956, starting with the Musicmaster, which was followed by the more deluxe Duo-Sonic a few months later. While the Musicmaster had a single pickup, the Duo-Sonic had, as its name implies, two, along with a Gibson-like three-way toggle to select between them.
All in all, the Duo-Sonic is quite a different Fender, and in a fun way. If they'd given it the full traditional Fender scale length of 25.5 inches rather than a shorter 22.5 inches, it likely would have become a major classic like the Telecaster and Stratocaster.
Although the Duo-Sonic, like the Musicmaster, is actually a little over 7/8ths scale, the shorter length limited its appeal. Subtracting three inches from the Telecaster and Stratocaster scale length considerably changes both the playing feel and the guitar's inherent sound.
The lower string tension lends a certain thickness to the overall voice while it loosens up the low-end response somewhat, lending a slightly rubbery aspect to the entire package.
This can take some getting used to for those more accustomed to the 25.5-inch-scale feel and sound, but notable players who have invested time and effort into working with the Duo-Sonic have come to dig what this model offers.
Early examples, like the '57 displayed here, carry the features collectors and many players most like to see in these guitars. The '50s maple neck with an integral maple fretboard is an unusual thing on any student-model Fender, and the white plastic pickup covers and anodized aluminum pickguard present some tastefully contrasting styling.
Fender offered the Duo-Sonic only in Desert Sand finish for its first few years of production. A sunburst finish was available around 1960, by which time a rosewood fretboard had been added and the aluminum pickguard switched out for white plastic.
Like Fender's other notable guitars of the period, early Duo-Sonics had bodies made of ash and alder. In later years, particularly when the Duo-Sonic II arrived in late '64, Fender switched to poplar for most of these, including the Mustangs that would join them.
As a result, many such models from the mid '60s and after are even heavier than their larger-bodied, 25.5-inch-scale siblings. The Duo-Sonic II also gained the option of a somewhat longer 24-inch scale length, although 22.5-inch versions remained available for a few years.
In addition, the model's toggle-style pickup selector was swapped for two slider switches, one above each pickup, as found on the Mustang. Underneath those plastic pickup covers lurk single-coil pickups that are similar to Stratocaster pickups of the era, but with flush pole pieces.
Despite its diminutive status, the Duo-Sonic racked up quite a roster of pro players over the years. Jimi Hendrix was photographed playing two different late-'50s or early '60s Duo Sonics, in Desert Sand and sunburst, respectively, while backing both Curtis Knight and the Isley Brothers.
The model was also played by Mike Bloomfield with the Group in 1964, and both original and longer Duo-Sonic II models were hoisted by Rory Gallagher, Walter Becker, David Byrne, Liz Phair and Dweezil Zappa.
All the latest guitar news, interviews, lessons, reviews, deals and more, direct to your inbox!
Dave Hunter is a writer and consulting editor for Guitar Player magazine. His prolific output as author includes Fender 75 Years, The Guitar Amp Handbook, The British Amp Invasion, Ultimate Star Guitars, Guitar Effects Pedals, The Guitar Pickup Handbook, The Fender Telecaster and several other titles. Hunter is a former editor of The Guitar Magazine (UK), and a contributor to Vintage Guitar, Premier Guitar, The Connoisseur and other publications. A contributing essayist to the United States Library of Congress National Recording Preservation Board's Permanent Archive, he lives in Kittery, ME, with his wife and their two children and fronts the bands A Different Engine and The Stereo Field.