Watch Rory Gallagher's Mind-Blowing Slide Guitar Skills in Action
This heavily modded 1959 Fender Esquire was the Irish blues-rock legend's go-to slide guitar.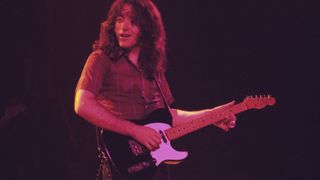 (Image credit: Tom Hill/WireImage)
Witnesses to Rory Gallagher's electrifying live shows knew what a formidable performer he was – coming back for encore after full-tilt encore, shredding with his battered '61 Strat as long as the crowd cheered and stamped their feet for more.
Though synonymous with the Strat, Gallagher also famously used this 1959 Esquire on stage – notably for slide work. And in this classic clip filmed for The Old Grey Whistle Test in 1976, the Irish bluesman uses the heavily modded Fender to close the show at London's Shepherd's Bush Empire with a supercharged rendition of "Souped-Up Ford" from his 1975 album Against the Grain.
The workhorse simplicity of this two-pickup Esquire belies its heavily modded history as one of Rory's main electric guitars for slide work. "This guitar's had so many changes," said Rory's nephew, producer Daniel Gallagher, in a recent interview. "Originally, it had a natural finish and a black pickguard – which you can see on the Beat Club Sessions – with white etchings on it from when he bought it.
"He put in the second [neck] pickup and made it a Telecaster, effectively. Then an incident happened at an airport where it fell off a loading trolley, and a van behind it with the next load of luggage drove over it. When he got it back, the body and finish were damaged. I think it was given to [English guitar luthier/designer/dealer] Chris Eccleshall to refinish.
"Rory said, 'I need it back in two weeks, because I'm going on tour again.' But in a certain light it looked green, and Rory kind of felt Chris was taking the mickey [ridiculing him] because he was Irish. Rory took it as a slight at first, but they made up and Chris painted it black.
"At a certain point, Rory put in a third pickup and turned it into a weird Esquire/Tele/Strat hybrid. He changed the pickups in that middle position a lot. You can see it on a Rockpalast [German TV] show around '77 with that third pickup in. This and his white Tele were his two main guitars for electric slide until he got his Gretsch Corvette."
Buy Rory Gallagher's Against the Grain here.
All the latest guitar news, interviews, lessons, reviews, deals and more, direct to your inbox!