b3 Guitars Delivers the Best of the Big F's Top Two Timeless Models with the Telstar
Created by ex-Fender Custom Shop senior master builder Gene Baker, this artful instrument is of fine pedigree.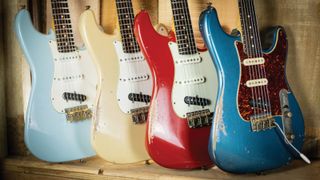 (Image credit: b3)
Gene Baker's career is the stuff of legend. After apprenticing under fabled luthier Roger Giffin, head of Gibson's West Coast Custom Shop, for two years, he moved to the Fender Custom Shop in Corona in 1993, during its "Golden Age," where he quickly rose to the position of senior master builder.
In 2003, he launched b3 Guitars, bringing his own fully custom models to players.
Through it all, Baker has continually garnered respect for blending original and forward-looking esthetics with a clear respect for classic elements in models that include his custom-grade SL, Phoenix, UltraModern and Ringmaster.
These models returned to the market with the opening of Baker's new workshop in Tehachapi, California, in January 2020, with promotional and administration support from his business partner, guitar-industry veteran Michael Brandt Rinkenberger.
Now they're joined by his latest creation: the Telstar, a clever 50/50 marriage of the Big F's two most timeless models.
First developed by Baker in 2009 for another project, and thoroughly updated and upgraded for 2022, the Telstar has a body carved to the iconic S-style curves on its bass side, with a slab-bodied T-style creation on the treble side.
The four-bolt neck attachment and 25 ½-inch scale length suit both inspirations, of course, but pickups are split between S-style single-coils in the neck and middle positions and a slightly fatter T-style in the bridge, with 10-position switching and a clever vibrato unit that blends the bridge archetypes from both models.
And for all that, as simple as the splicing might seem, the final result represents much more than the sum of its parts.
"The concept, to us, has always been that a T-style sits in your lap better for tracking at a DAW," Baker says. "Its flat bottom just stays in place well, whereas the S-style is far more comfortable on the top side. And when you look at pickups, the T bridge is meatier by design, and we feel that it's the heart of a great T model, getting close to a good P-90 vibe even. But one cannot live without the combination tones of the three pickups found on any great S model."
The idea to modify either model or both isn't revolutionary, but the possibilities available are vast.
"These models have been such a long part of hot-rodded guitar tradition that the format is rather wide open for all it can be," Baker affirms. "So for us, it was about starting with a body shape that is basically set in stone, and doing a 50/50 split. Then everything in between is 'anything goes' – from hardtail to tremolo to most any pickup configuration. And we feel what we have brought to the table combines the best of every option we could muster in one package."
If the 50/50 body shape is "set in stone," as Baker says, he has still found plenty of ways to wedge in the boutique-grade build quality that he has long been known for, and a deep reconsideration of how these electric guitars are put together can be found at virtually every turn.
The guitar in hand sports a body made of solid alder and features a lightly to medium-distressed Dakota Red finish, one of a number of Fullerton-inspired custom colors b3 is using on the series.
The neck is carved from an appealing chunk of flamed maple with a rosewood fretboard and 22 immaculately crowned and polished stainless-steel frets.
It has a beefy "V" profile that measures around .91 inches at the first fret and .98 inches at the 12th. That might sound a tad hefty to some players, but it's so comfortable in the hand that I had to double-take the measurements to be sure I wasn't off.
The two are joined by an offset neck plate engraved with the b3 logo and rounded to match the curve of the contoured heel, a nice piece of woodworking that really aids upper-fret access.
At the other end, the headstock is what we might call a "fat-T" inspired shape, with aged Kluson-style tuners and a Telstar logo that playfully adopts the iconic spaghetti font.
"I figured if we're going to release this, we have to do it in a way that makes improvements on the model, otherwise we're no better than anyone else," Baker tells us of the extra effort in evidence throughout the build.
"We make everything in-house, and to me the neck is always the soul of the guitar, because it's what you feel the most. These necks and bodies cannot be ordered from any outsourced suppliers.
"I also think a truss rod needs to be basically a 'set it and forget it' scenario, and we wanted to maintain a vintage heel-adjust look.
"We've been adding graphite to all our instruments' necks for a few beneficial reasons, one being tuning stability. They just stay in tune that much better. Another reason is that, typically, once a graphite-reinforced neck is adjusted to its intended setup, it just stays there and rarely needs adjustment."
The bridge is an ingenious hybrid tremolo by MannMade USA that marries an S-style spring cavity and bridge plate with three two-string T-style brass saddles, compensated for precise intonation. (Baker calls it "simply a work of art in its own right.")
Even when the guitar is played unplugged, the result is a ring and solidity of tone akin to the Tele thing in general, with a touch of the warmth and roundness of brass, delivering piano-like low-string notes and silky highs.
Extra effort is also in evidence in the Telstar's electronics. Lollar Blackface Strat pickups in the neck and middle, and a Special T in the bridge, are wired through the 10-position switch, which delivers the five traditional S-S-S selections in its lower position and five alternatives – including several in-series options and neck-bridge together – across its upper travel.
We tested the Telstar through a Friedman Mini Dirty Shirley amp with an 1x12 cab and a 4x10 Fender Super Reverb combo.
The design's most immediately apparent boon is that it answers the longing of so many Strat players for a more Tele-like bridge pickup, and of Tele players for a Strat-like neck pickup, in-between positions and whammy unit.
Otherwise, it's simply an extremely good-sounding guitar by any measure.
I enjoyed its tight, bold lows, its shimmering highs that bloom with harmonic overtones without ever being harsh or strident, and the outstanding clarity and articulation throughout, with enough midrange grunt from several pickup settings when you need it to slip into rock mode without breaking a sweat.
The bonus pickup combinations offer very usable tones – I'm particularly enamored of the neck-and-bridge selection – and it's difficult to think of what a player might miss here, other than a too-thin Strat bridge pickup or an anemic Tele neck pickup.
The b3 Guitars Telstar successfully blends something like 75 percent each from the S and T models to create 150 percent worth of goodness. In the process, it somehow feels like an entirely different guitar, and an extremely well-built one at that, which I'd say makes it a successful venture.
The Music Emporium is the exclusive distributor of the b3 Telstar guitar.
All the latest guitar news, interviews, lessons, reviews, deals and more, direct to your inbox!
Dave Hunter is a writer and consulting editor for Guitar Player magazine. His prolific output as author includes Fender 75 Years, The Guitar Amp Handbook, The British Amp Invasion, Ultimate Star Guitars, Guitar Effects Pedals, The Guitar Pickup Handbook, The Fender Telecaster and several other titles. Hunter is a former editor of The Guitar Magazine (UK), and a contributor to Vintage Guitar, Premier Guitar, The Connoisseur and other publications. A contributing essayist to the United States Library of Congress National Recording Preservation Board's Permanent Archive, he lives in Kittery, ME, with his wife and their two children and fronts the bands A Different Engine and The Stereo Field.