10 New Gain Pedals You Need to Know About
We dig the dirt on the latest from Vertex, Boss, TC Electronic, Blackstar, Walrus, JHS and Wampler.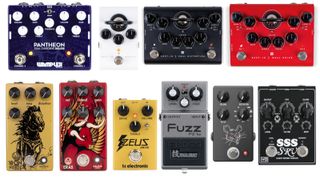 (Image credit: Walrus Audio, TC Electronic, Blackstar, Boss, JHS, Wampler, Vertex Effects)
If you're looking for the latest takes on fuzz, boost and distortion then look no further.
Here are 10 of the finest gain pedals to recently hit the market…
Vertex Effects – Steel String Supreme SRV Preamp
If you love the Dumble-derived tones of Stevie Ray Vaughan, Eric Johnson or John Mayer, the Steel String Supreme SRV preamp pedal from Vertex Effects should be on your list.
Designed to function as a preamp, it inherits the level, gain, filter and jazz/rock controls from the Vertex Steel String MkII, and goes even further.
The output knob determines your first gain-stage level, and fat shapes the lower midrange for extra thickness and body. Clean offers a parallel blend of your clean and effected signal, and the three-way Bright/Deep mode switch delivers a treble boost in the up position, a bass boost in the down position, and is neutral in the middle.
Boss – FZ-1W Waza Craft Fuzz
Boss analyzed several vintage fuzz circuits, including vintage Sola Sound Tone Bender units, to create the FZ-1W, a pedal that puts Waza craftsmanship and premium components to work in a classic-sounding fuzz.
The FZ-1W has controls for level, fuzz and tone, plus a Vintage/Modern mode switch that selects between the aggressive tone, dynamic touch response and extreme sensitivity to input volume of classic fuzz units and the fatter and more mid-focused tones associated with contemporary music styles.
The tone control is designed for deep sculpting, allowing you to get the most out of both modes and making the FZ-1W a wonderfully versatile device for fuzz lovers.
TC Electronic – Zeus Drive Overdrive
The all-analog Zeus pedal delivers thunderous overdrive, giving your electric guitar signal a boost without affecting its dynamic range. The result is thick, warm distortion, with an outstanding dynamic response.
The drive control progressively blends overdrive with a buffered clean signal to deliver transparent, amp-like tone and response. The Zeus pedal forgoes the standard tone control for a treble attenuator that lets you dial in your highs without thinning the lower frequencies. Better still, engaging the Fat switch induces luxuriously warm and enveloping bottom end.
TC Electronic stepped up the Zeus's internal voltage, giving it a huge dynamic range and output power via the volume control. An internal DIP switch toggles true bypass and discrete buffered bypass, allowing you to choose the option that's best for your setup.
Blackstar – Dept. 10 Dual Drive, Dual Distortion and Boost
Blackstar's new Dept. 10 Series Dual Drive and Dual Distortion pedals both pack an ECC83 (12AX7) tube and have been designed to run at amp-level internal voltages to really get those lightbulbs cooking.
But there's a digital twist in the form of Blackstar's new Cab Rig emulation, which, combined with the new Architect software, gives you deep, flexible editing of a virtual cabinet, including choice of speaker and mic, placement and EQ, making it a portable, valve-powered solution for live and recording applications.
Both pedals feature regular and dedicated emulated outputs, three-band EQ, Blackstar's ISF control, an effects loop, and USB for use as an audio interface.
Blackstar's new series also includes the Dept. 10 Boost, which sets itself apart from the Dual pedals by being aimed at a more traditional pedalboard setup.
You won't find any digital wizardry here. Instead, this pedal aims to give your board a bump that Blackstar says is akin to adding two hot gain stages to your chain.
The Peter Baxandall-style EQ circuit is known for its smooth, wide-sweeping tonality and delivers rich second-order harmonics and natural compression.
Walrus Audio – Eras Five-State Distortion & Iron Horse LM308 Distortion
Walrus Audio's two new distortion pedals provide varying flavors of the effect via clipping from silicon diodes, LEDs or both together.
However, each takes a different route to dialing it in. The Eras Five-State Distortion has five hard-clipping options, gain and volume knobs, and very effective tone controls – the treble knob is especially adept at dialing in cutting presence. There's a great variety of dirt on offer, from crunchy drive to high-gain metal tones, and all the clipping modes have something different to offer.
The main delineation is between the three Tight modes and the two Rhythm modes, where the scooped mids offer a notably different sonic landscape to the Tight modes' slight mid cut.
The cherry on the top is the blend knob, which allows you to mix your dry sound with the distortion for hybrid layered sounds or, more subtly, extra clarity and definition as you roll it back from fully wet.
The Iron Horse LM308 Distortion is the third iteration of the Iron Horse pedal, and it's had quite a revamp over its predecessors.
There's now more pedalboard-friendly positioning of the I/Os and a soft-relay true bypass on/off. Significantly, the new version allows continuous morphing from silicon diode to LED clipping.
The Iron Horse LM308 Distortion offers distortion based around a LM308 chip as found in a Pro Co Rat, and the sonic similarities are immediately apparent. The tone knob even has that same huge range rolling back from fully bright to dark and woofy. The gain range is very versatile, taking you from a tonally targeted clean boost right through to full-on distortion.
JHS – PackRat Distortion
JHS founder Josh Scott examined 45 versions of famous Rat stompbox and authentically reproduced their circuits, accounting for drift from the aging components. The result is the PackRat, a pedal that offers nine vintage and hard-to-find replications – not emulations – of the iconic Rat distortion pedal.
The PackRat uses a proprietary digital runway system to direct the paths of 261 components through 40 individual switches, giving you the exact same circuitry as the original pedals in a purely analog signal path.
Wampler – Pantheon Dual Overdrive Deluxe
The Wampler Pantheon's interpretation of a "Blues Breaker" stomp box captured all the tonal nuance of the original, but with added flexibility and style. The new Pantheon Deluxe lets you dial in two channels of organic creamy gain, gritty overdrive or heavy distortion.
Channel 1 delivers a classic Blues Breaker tone, while Channel 2 is a recreation of the original Pantheon, a similar circuit to the Blues Breaker but with a modern boutique feel.
Independent side-mounted voicing and gain level switches allow you to further shape your tone to perfection. The Dual Pantheon offers a staggering 200 combinations of gain settings, features dual inputs and outputs, and – a first for Wampler – includes MIDI channel switching.
All the latest guitar news, interviews, lessons, reviews, deals and more, direct to your inbox!
Guitar Player is the world's most comprehensive, trusted and insightful guitar publication for passionate guitarists and active musicians of all ages. Guitar Player magazine is published 13 times a year in print and digital formats. The magazine was established in 1967 and is the world's oldest guitar magazine.
When "Guitar Player Staff" is credited as the author, it's usually because more than one author on the team has created the story.