The SE Hollowbody II Piezo is an exquisite instrument that's all the more exciting for the musical possibilities it opens up, with so much potential for great tone hiding in the unchartered territory between the piezo and PAF-style humbuckers. It's inspiring.
Pros
+

Rich and dimensional tones.

+

The blend of magnetic and piezo signals is fun to explore. Excellent playability.

+

Incredible build.
Cons
-

None, but Wide/Fat neck may be chunky for small hands.
You can trust Guitar Player. Our expert reviewers spend hours testing and comparing guitar products so you can choose the best for you. Find out more about how we test.
The latest addition to the PRS Guitars' SE Hollowbody II line features a piezo-equipped adjustable stoptail bridge that gives what is already a sweet electric guitar more tonal dimension by combining the magnetic and piezo signals.
The concept isn't new, of course, but PRS's stealthy design has no additional switches or controls to give away the technology involved. In fact, all that outwardly differentiates this model from other SE Hollowbody II guitars is the Piezo inscription on the truss rod cover.
A closer look reveals dual output jacks (mix/piezo and mag), a hatch for the nine-volt battery, and a small connector under the adjustable stoptail bridge that links the six piezo saddles to the electronics inside the body, but it's all so well integrated on this guitar that nothing gets in the way.
Operationally speaking, you can either plug into the mix/piezo output and adjust the blend of the humbuckers and piezo transducers using the two volume controls (the forward one adjusts the 58/15 pickups), or the outputs can be fed into separate electric and acoustic amps.
Routing the piezo signal direct to the console is another option for recording or stage, and an advantage of using the separate outs is the humbuckers are isolated from the battery-powered electronics, which is a good fail-safe in the event of a battery issue.
The PRS SE Hollowbody II Piezo we received for review is a great-looking guitar, with its gloss-finished Black Gold Burst body constructed of laminated mahogany sides with laminated maple for the beveled top and back. Exposed maple around the edges and f-holes bring an upscale touch to it all.
The wide/fat mahogany set neck feels excellent in the hand, and I like how the slightly V profile in the lower positions morphs into a rounder shape as you move up the neck.
It's topped with a 10-inch radius ebony fingerboard carrying 22 well-finished frets - nicely beveled and smoothed on the ends, I might add - abalone "old-school" birds inlays and maple binding that extends all the way around the ebony-faced headstock.
Playability is awesome, thanks to a great factory setup that keeps the strings low and free of buzzes and provides sweet intonation, while the deep cutaway makes it easy to reach the highest positions. This lightweight guitar has a resonant and sustaining sound, and volume is abundant.
The hollow body and chunky neck certainly contribute to the acoustic performance, and the vibrations transmitted throughout make it feel alive and energized when you start playing.
Image 1 of 5
The dual-sound aspect of the Hollowbody II Piezo is interesting because of how the magnetic and piezo sounds layer to enhance the overall dimension and presentation. It's sort of like hearing an amplified acoustic and an electric guitar playing side by side, and the tones have cool textures that are very expressive as you vary the balance toward the electric side when playing solos and heavier grooves, and then blend in more acoustic when backing off the volume for clean rhythm.
It's fun to play around with the pickup and tone control settings, and being able to put a little acoustic-like shimmer on the neck or both positions yields tones that simply aren't available from a standard dual-humbucker guitar.
With some grind added from pedals or the amp (a Fender Deluxe Reverb and Champ 12, a Vox AC10C1 and a Mesa/Boogie Mark 5:25 were used for testing), it was a blast to explore all the sounds the Hollowbody II Piezo is capable of - from potent overdriven tones to the pristine acoustic-electric sounds that the L.R. Baggs/PRS system delivers.
It is cool, however, to be able to plug into the mag output if you just want to run with the low-wind PAF-style humbuckers, both of which have great presence and sound fat and clear when driving into distortion.
PRS has definitely nailed the PAF formula, and it's great that the SE line is taking full advantage of all the R&D that Paul Reed Smith has devoted to it. The SE Hollowbody II Piezo is an exciting new addition to the series and an inspiring guitar that offers some cool twists for recording and performing. Well done all around, it gets an Editors' Pick Award.
Specifications
PRICE: $1,549, hard case included
NUT WIDTH: 1.7"
NECK: Mahogany, glued-in, wide/fat shape
FRETBOARD: Ebony, 25" scale, 10" radius
FRETS: 22
TUNERS: PRS Designed, nickel plated
BODY: Laminated mahogany sides with beveled maple top and back, both with flame-maple veneer
BRIDGE: PRS Adjustable Stoptail Piezo, nickel-plated
PICKUPS: Two PRS 58/15 "S" humbuckers, L.R. Baggs/PRS piezo system
CONTROLS: Magnetic volume, piezo volume, tone, 3-way selector. Mix/piezo and magnetic outputs
FACTORY STRINGS: .010—.046
WEIGHT: 5.44 lbs (as tested)
BUILT: China
CONTACT: PRS Guitars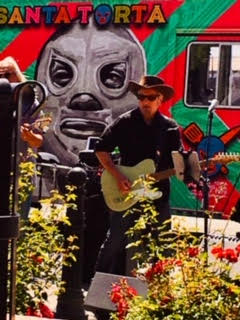 Art Thompson is Senior Editor of Guitar Player magazine. He has authored stories with numerous guitar greats including B.B. King, Prince and Scotty Moore and interviewed gear innovators such as Paul Reed Smith, Randall Smith and Gary Kramer. He also wrote the first book on vintage effects pedals, Stompbox. Art's busy performance schedule with three stylistically diverse groups provides ample opportunity to test-drive new guitars, amps and effects, many of which are featured in the pages of GP.