An interesting analog overdrive pedal that provides myriad shades of grind
Pros
+

Wide spectrum of tones, from clean boosting to heavily overdriven

+

Controllable via MIDI or optional expression pedal
You can trust Guitar Player. Our expert reviewers spend hours testing and comparing guitar products so you can choose the best for you. Find out more about how we test.
Touted as the "million moods overdrive," the Ridge is carving out a niche as the world's first augmented-analog pedal, with the underscore that it contains technology that allows the player to control in real time the behavior of key internal components.
If this sounds like an echo of something that draws people to pedals in the first place, the clean-looking Ridge, with its custom housing and six matching knobs, doesn't trumpet that there's more going on than meets the eye.
But that's before you start exploring it in depth.
The unit's controls consist of volume, post tone (it works after the clipping stage to vary the sound from fat and heavy to slim and chiming), pre tone (it works before the clipping stage to affect how the pedal reacts to guitar signal), drive, mid and the unique Mood control, which alters the clipping from high headroom zero-to-soft-clipping to compressed hard clipping.
There are also two lighted foot switches: one for on/off, and another labeled preset, which lets you save and recall a custom preset as well as toggle between it and the sound represented by the knob settings.
On the rear of the unit are the input and output jacks (the former adjustable for instrument or line level, the latter with Normal and Punishing Voltage modes).
Lastly there's an expression pedal input (optional, and a stereo cable is required), MIDI in/out type-A TRS mini jacks and a 2.1mm jack for a nine-volt power adapter (not included).
Key to the million moods story is, of course, the Mood control which is divided into five distinct-sounding zones that the manual describes as follows:
Zone 1: Very clean and open sounding, with zero to light clipping
Zone 2: A transparent and highly dynamic overdrive
Zone 3: A more pronounced overdrive, with coloration
Zone 4: A high-gain monster
Zone 5: Almost fuzz-like, characterful sounds
These are general descriptions, because Mood is continuously variable and provides a wide variety of tones as you sweep though its rotation.
Kernom refers to Ridge as having "hundreds of analog overdrives in one box with a seamless and clutter-free interface," which is where the term augmented analog comes from.
It also means that no digital modeling is involved.
Combining Mood settings with the other controls dramatically increases the sonic possibilities that this pedal offers, which is why programmability is available.
It starts with a quick and convenient way to save and recall a favorite sound, which is done by pressing and holding the preset foot switch until its LED blinks to confirm that the sound is saved. Now you can use the switch to toggle between a custom preset and a different sound that reflects the actual knob positions. (Presets are adjustable too, though some foot-switching is involved.)
You can also plug in an expression pedal to morph between the two sounds, and even specify different toe-down and heel-down sounds when used in conjunction with Ridge's MIDI functionality, which includes access to 128 presets and the ability to control the pedal's internal settings.
I tested Ridge using electric guitars loaded with humbucking and single-coil pickups, and running it into Fender Deluxe Reverb and Vibro-Champ combo amps.
Used on a studio session and set up for different levels of overdrive – one toward the upper reaches of Zone 3 and the other near the top of Zone 4 – Ridge delivered touch-responsive tones that were easy to EQ for different guitars.
For a G&L ASAT Classic fitted with a Duncan Billy Gibbons bridge pickup, setting the mid knob around nine o'clock, post tone at three o'clock and pre tone all the way down produced a fat bridge-pickup sound that cut through well and remained smooth and non-harsh when pushing gobs of grind.
Settings changed a bit with a Les Paul, with both tone knobs moving closer to their center positions to elicit ballsy lead tones that sustained beautifully and were very responsive to guitar volume changes and adjustments in picking.
Ridge also offers a palette of clean-boost options in Zone 1, where the tones range from pristine to slightly gritty textures that are like playing through a small tube amp – and this is with the drive knob dimed.
So by design this is all about using Ridge's powerful output to drive an amplifier set on the edge of breakup into roaring distortion – and that's before deploying the aforementioned Punishing Voltage mode if you want to take boosting to the extreme.
At the far end of the dial, the tones in Zone 5 can be massively overdriven when you crank up the drive knob, but setting it closer to halfway produced tones with a certain amp-like compression and feel that sounded cool for slide and other things.
The tonalities that emerge at the far end of Zone 5 assume some compressed, fuzz-like character that works great for lead, and they morph nicely into dirty-rhythm flavors when you roll back on the guitar volume.
The Ridge is an interesting overdrive pedal that provides myriad shades of grind. It could be a good candidate if you're looking for a do-it-all box that offers expanded controllability via expression pedal or MIDI.
A lot of pedals don't offer this much flexibility, and it's cool that Ridge opens up the spectrum of tones so broadly while keeping it all in the analog realm, which is one of the main benefits of Kernom's augmented-analog technology.
Specifications
CONTROLS: Drive, volume, mid, post tone, pre tone, Mood I/O Input and output, expression pedal input, MIDI in/thru using TRS type A mini jacks
FOOT SWITCHES: On/off, preset
EXTRAS: True bypass. Can store one preset for instant recall or 128 presets via MIDI. Expression pedal input. 9VDC adapter jack (250mA minimum, adapter not included)
SIZE: 4.4" deep x 6.5" wide x 2" tall
WEIGHT: 1.8 lbs
BUILT: France
Visit Kernom for more information.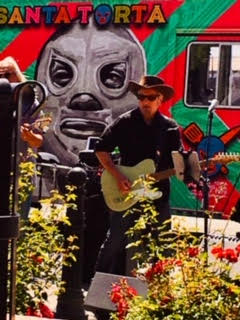 Art Thompson is Senior Editor of Guitar Player magazine. He has authored stories with numerous guitar greats including B.B. King, Prince and Scotty Moore and interviewed gear innovators such as Paul Reed Smith, Randall Smith and Gary Kramer. He also wrote the first book on vintage effects pedals, Stompbox. Art's busy performance schedule with three stylistically diverse groups provides ample opportunity to test-drive new guitars, amps and effects, many of which are featured in the pages of GP.