Brent Mason is the quintessential Nashville player and his signature Tele feels like the quintessential session guitar, its clever pickup configuration and Joe Glaser bender making for a sensational all-purpose electric.
Pros
+

Delivers wide palette of tones.

+

Excellent Glaser B/G string bender.
Cons
-

Control knobs' close arrangement may hinder pinkie volume swells.
You can trust Guitar Player. Our expert reviewers spend hours testing and comparing guitar products so you can choose the best for you. Find out more about how we test.
Ask many Telecaster players to think of a "Nashville Tele" and chances are the first guitar that will pop into their minds is the famous primer-grey '67 Fender Telecaster that Grammy-winning studio legend Brent Mason has played on so many hit records.
That iconic custom instrument is the blueprint for Fender's new Stories Collection Brent Mason Telecaster. Visually, the most obvious "Nashville" mod on the new Brent Mason is the addition of a middle pickup, a practice Mason and renowned guitar builder Joe Glaser helped pioneer decades ago.
But the most dramatic custom feature on this guitar is one you'll probably notice more with your ears than your eyes: the onboard Glaser string bender.
"I love using the bender to do my fake steel licks," says Mason, who uses the Glaser as a B bender. (Thanks to the clever reversible dual-string saddle that's included, it can easily be converted to a G bender.) "I have tried to play real pedal steels, but every time I do, I think, I could learn to fly a plane quicker than learning to play this."
The moment I pulled the new Brent Mason guitar from its case, it felt heavier to me than typical Teles. The extra weight must be due to the Glaser, I thought, picturing a large contraption of metal levers and springs installed on the guitar's backside. Wrong.
Taking the guitar apart, I discovered that the Glaser bender — an ingeniously simple cable-plus-spring apparatus — is minimally invasive and requires little more routing than a narrow hole drilled lengthwise through the guitar's body. That extra mass is simply a result of the body being cut from a particularly dense and great-sounding hunk of ash. (With wood that dense, the Glaser may actually provide a few grams of weight relief.)
Image 1 of 2
To bend with the Glaser, attach the included Dunlop Straplok locking pins to your guitar strap, throw the strap over your shoulder, click one pin into the Dunlop strap button on the tail end of the guitar and the other into the small steel arm protruding from the neck plate.
Push the guitar's neck toward the floor, and voilà! Instant bend. I had a fun finding cool ways to implement Glaser bends into everything from clean, twangy licks to overdriven rock riffs. The Glaser can bend as high as a minor third, but, like most players who use benders, I set it to a whole step, as this interval can be applied in five places in major and minor scales.
Cranking the Mason through either a Dr. Z EMS head and cab or a Fender Vibroverb, the three pickups put a deliciously wide range of sonic flavors at my fingertips — flutey rock and jazz mini-humbucker sounds, spanky bridge-plus-mini timbres, aggressive bridge-alone lead sounds and, courtesy of the middle Duncan and its dedicated volume knob, Strat-like sparkle in any amount.
Having gotten used to the wider fretboard radii and fatter frets common on modern guitars, I found digging into the Mason's more rounded '60s-spec 'board — with its thin, well-intonating, low-friction frets — was like returning to an old friend.
Though it may require higher action on the high strings to keep monster bends from fretting out, this shape gives riffs and strums a satisfying, meaty feel you can't get on flatter fretboards.
Anyone who wants a great-sounding, fun-to-play sonic amusement park of classic and modern Tele tones won't go wrong with the Stories Collection Brent Mason.
And if you're a well-heeled Tele hound with an additional $10K to throw at your habit, consider Fender's Masterbuilt Custom Shop Limited Edition Brent Mason. Built by Kyle McMillin, this replica of Mason's '67 features paint scratches, paint chips, fret heights, grime buildups and electronic measurements closely matched to the original.
"Honestly, it's hard to tell the Custom Shop version apart from my '67," Mason confirms. "It's like they inlayed all those years of cigarette smoke. And, in certain ways, it actually sounds a little better than the original."
Specifications
PRICE: $2,499
NUT: Bone, 1.625" (41.3 mm) width
NECK: Maple, satin urethane finish
FRETBOARD: Maple, 25.5" scale, 7.25" radius
FRETS: 21 vintage tall
TUNERS: Sperzel locking
BODY: Ash, satin urethane finish
BRIDGE: 5-saddle string-through-body with Glaser Bender System
PICKUPS: Seymour Duncan Vintage Stack Tele STK-T3B (bridge), Seymour Duncan Hot Stack Strat STK-S2 (middle), Seymour Duncan Vintage Mini HB (neck)
CONTROLS: Master volume, middle pickup Volume, push/pull Master tone (pulling defeats middle pickup), 3-way blade selector
FACTORY STRINGS: Fender USA 250R nickel-plated steel (.010-.046)
EXTRAS: Hardshell case, Dunlop Straplok strap retention system
WEIGHT: 8 lbs, 12 oz
BUILT: USA
CONTACT: Fender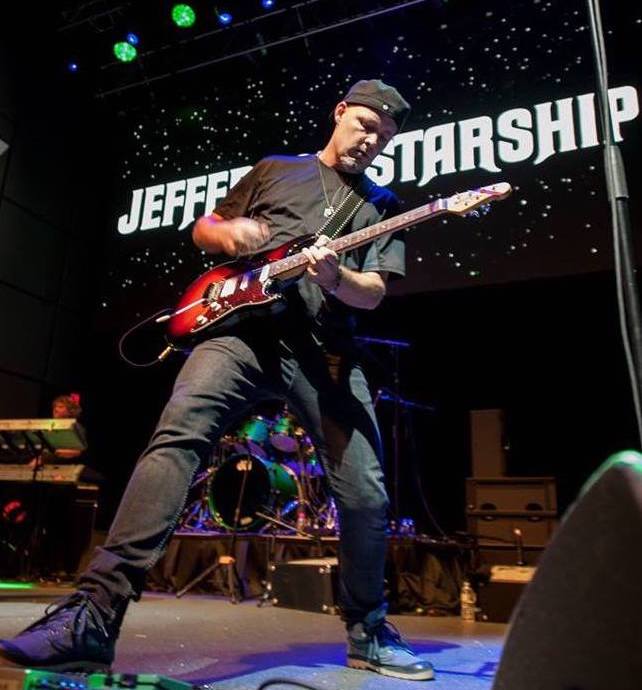 Los Angeles Editor, Guitar Player
Whether he's interviewing great guitarists for Guitar Player magazine or on his respected podcast, No Guitar Is Safe – "The guitar show where guitar heroes plug in" – Jude Gold has been a passionate guitar journalist since 2001, when he became a full-time Guitar Player staff editor. In 2012, Jude became lead guitarist for iconic rock band Jefferson Starship, yet still has, in his role as Los Angeles Editor, continued to contribute regularly to all things Guitar Player.
Watch Jude play guitar here.