Brent Mason on Nailing Nashville Twang, the Magic of a Session and the Story Behind His New Fender Signature Tele
When Nashville needs licks, it calls Brent Mason. Here the platinum session player talks Teles, tone, teaching and more.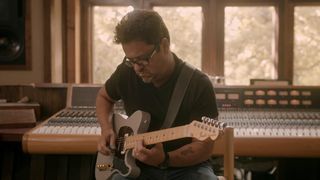 (Image credit: Fender)
Maybe this should be the journalistic protocol whenever a guitarist is being interviewed. Here we've got Brent Mason, cradling a petrol gray Fender Telecaster, casually playing some faux pedal-steel licks on its B-Bender, and even over the buzzkill of a Skype connection we've got to say it sounds incredible.
And for his part, Mason couldn't look happier. He looks proud as punch, because what he is holding is one of the most storied Telecasters in Nashville, or rather, it's a forensically accurate doppelgänger of it - a Fender Custom Shop Brent Mason Signature Telecaster made by Fender Master Builder Kyle McMillin.
It's a super-premium limited edition repro of Mason's much-loved and heavily modded '67/68 Tele, and it will soon be joined by the release of the Fender Stories Collection Brent Mason Telecaster, which hits stores on September 15.
This is not just another Tele. There's a touch of the Frankenstein about it. There's the auto primer gray finish, the funky controls and the three-pickup setup. It's a guitar that has evolved as Mason's career has blossomed, the demands of the session player being writ large on the guitar's build.
As Mason explains, his signature Tele has a unique three-pickup setup. It's fitted with a trio of Seymour Duncan pickups, with a mini-humbucker in the neck, a Hot Stack in the middle and a Vintage Stack Tele pickup in the bridge position. The independent volume control for the middle pickup makes for a real tone chameleon.
Both guitars are also equipped with a Joe Glaser B-Bender. The Custom Shop Brent Mason retails for $12,500, and with that you get the heavy relic finish, the custom hard case and candy, and all the detail you could want, right down to the nicotine stains from all the club shows Mason's played through the years.
"It freaked me out when I got it," laughs Mason. "It was kinda embarrassing when they were getting the specs from it because they took it apart and it was like taking my clothes off in public! I thought, 'Oh, they're gonna find some cigarette butts in there or something.'"
The Stories Collection Tele retails for $2,499.99, and has the same vibe, the Sperzel locking tuners and the potential to pretty much handle anything. After all, as a session player you've got to have one guitar in the boat that'll do it all.
And as Mason can attest to now, if you're gonna make it in Nashville, you're going to need a Fender Telecaster...
This guitar has got a story behind it, but it doesn't begin with Fender. You were playing a Hagstrom Swede back then, right?
The first electric guitar that I got was a Hagstrom Swede. My dad bought it for my birthday when I was about 15, and I still have it. It still plays well.
It was Don Kelley who told you that you needed a Tele.
You've got to have a Telecaster for Nashville, right? I mean, a Strat? Sure. But a Tele… When I was about 20, 21, I joined this band with Don Kelley and I was playing a Hagstrom.
I have nothing against the Hagstrom. I think Bob Seger played a Hagstrom and it was a great-sounding guitar. But Don said, "Y'know, you need to get a Telecaster. You're in Nashville now." So he took me out one day and we bought Telecasters.
Where did you pick it up?
We went to this store – it's not there any more, at least not in the area – Hewgley's Music Shop. And they had the gray Telecaster hanging on the wall, with car primer on it. Somebody had brought it in to trade.
They had stripped the original finish off and they were going to relacquer it or repaint it themselves and they put car primer on it. Don bought that one. I bought a Butterscotch one.
And you swapped them?
We went to play at the gig, and I said to Don, "Can I play that one? It sounds really good." He said, "Keep it. I like this one." He is known for buying them and trading them the next week, so that's how it happened with the Telecaster.
He was right though. You need a Tele in Nashville?
I noticed everybody was playing Telecasters, all kinds of players. Fred Newell was a studio player down here who used to have a Telecaster. Jerry Reed was playing them.
I loved Merle Haggards' band, the Strangers; there was a guitar player, Roy Nichols, who I was a big fan of. He played a Telecaster. Even though he might have played a little western swing or jazz with it, it was a Telecaster. So I finally got one. It took a little time.
You then modded it considerably. Was that just to meet demands of the sessions?
When I got it, of course it didn't have any of this extra stuff on it, the middle pickup and all that, and at the time I was about 21 years old and I couldn't afford to have more than one guitar so I thought this would be great.
I saw players like Steve Morse and Peter Green - God rest his soul - and they put extra pickups in there sometimes. Steve Morse had a whole array of them, and I thought that, maybe if I put one of them in there it will give me a Strat tone, and [I could] use it like a Strat, and put a humbucker in the neck so it's got that Les Paul sound - make it an all-purpose guitar.
Tell us about the controls.
Joe Glaser put the string bender in here but he also put the middle pickup in with an extra volume knob on it. It's just a three-way switch with an added volume pot to turn the middle pickup on at any position on the three-way.
It came pretty close to an out-of-phase Strat sound, but I began to use it more like an EQ where I would dial it in a little bit. I would dial the volume in and sort of find the sweet spot, because sometimes the back pickup, the bridge pickup, can get a little harsh on the top end and this seemed to scoop it out a little bit.
When did the B-bender come in? Was that later?
Yeah, I was doing a session with Emory Gordy Jr. His wife, Patty Loveless, was great. She was a great country singer. And we were doing a record with her and he said, "Gimme some of that B-Bender thing. You've got a B-Bender. That would be cool." And I said, "Yeah."
I did not have a B-Bender! [Laughs] So I was doing all sorts of things, y'know pulling down on the third string. And he'd go, "That B-Bender, that's great." All day he has me playing two, or three songs in a row that had all of these parts and my fingers were like bloodied stubs! [Laughs] On the way home I went, "I've got to get a B-Bender!"
Well you fooled him.
I fooled him for a while. But maybe he was in there laughing away. This guy doesn't have a B-Bender so we're gonna request B-Bender licks for the rest of the session! So I had to get one, and it was a cool thing.
Do you use it a lot?
I like it. I like to use it a lot because I love steel guitars and I can be a fake steel-guitar player. Y'know, Albert Lee, there are so many guys. John Jorgenson would do some great stuff with B-Benders. They were becoming the signature sound of the country thing - and I have always loved Clarence White. I am not a real gymnastic G-Bender and B-Bender. I just used it for strategic things.
We guitar players are all cork sniffers. You've always had a thing for the swamp ash body. What is it about it you like?
The swamp ash was, obviously, wood that'd been floating about in a swamp for a while but was cured, dried out, and there is a perforation in the wood all over it, and Joe Glaser came up to me with the thought of that giving it more of an acoustic quality, just because it was perforated once it was dried out and cured. And it made sense to me - I know that's a profound thought but it really made sense that it gave it a little beefier sound.
It's like the BBQ rub for wood. Has this guitar always been your number one for sessions?
You've got to have a bunch of different guitars to go to in the studio but the Tele, I remember leaving home and having 20 to 25 guitars ready there at the studio. But if I forgot my Tele I would run back home and get it – that's how much I depended on it! When I am getting sounds right off the bat with the engineer, I always start off with a Tele.
A lot of records that I have played on have the gray Tele. Obviously, when you are playing on different records they request different guitars and I had those as well. But this is my baby right here.
Talk to us about that sweet Nashville tone. What amps work best with the Tele?
Well we did records like Alan Jackson, George Strait, Brooks and Dunn especially. It was very Tele-based stuff, especially in the '90s and 2000s. It is a very versatile guitar - depending on what amps you use with it. I have a blackface Bassman. Or a Deluxe '67 blackface is good.
Then I'll have different amp heads like Matchless or Marshall. The guitar always married up good to all of those amps, but the Deluxe was a great amp for the Tele. It really spoke to that music.
What about compression. How important is it?
Well way back in country music, way back with Reggie Young and those guys, Grady Martin, they would use the [MXR] Dyna Comp, but a lot of guys were playing, like, Peavey amps or something, transistor amps - let's say that. It was hard to turn a transistor amp way up.
They have technology to simulate the breakup of an amp in the transistor chassis now but back then it would stay clean, but you would want the sustain, and it seemed like the Dyna Comp would give it a squeeze, a sustain that was kind of cool. That was a signature sound.
Right, the Dyna Comp was synonymous with that sound. You've used the Wampler Ego on your 'board but how often does that go on?
Tube amps like the Twin or the Deluxe automatically compress anyway, so the Dyna Comp was a little too extreme. I liked when Brian [Wampler] was speaking to me and saying we've got to put a clean boost in there as well, and that way it doesn't shave off that high-end.
You can add that feeling with the clean boost in with the compression and use different combinations. So anytime there is something with the single-coil, a Strat or a Tele, I might use a compression unless I kick on a distortion or overdrive pedal. But if I want something clean but with sustain, then I will use it.
Sometimes with the gain up a little bit, the sustain up a little bit and just a slight compression, it'll have that little squeeze. It gives it a little pop. It's nice. But it's still clean. Even when you drive it and it attacks the amp a little bit, it's kind of a crunchy sound and yet you can play harmony on it and stuff like that.
You don't need it with humbucker guitars as much. If I am using a guitar with a humbucker on it I don't use compression, not from a pedal – unless they do it with some outboard gear inside the studio or whatever.
What are you working on at the moment?
This pandemic thing has pretty much put a stranglehold on the music business. The Covid thing has really put a chokehold on the music business, on the entertainment business in general, so we are just getting back to the sessions.
I get stuff sent to me, music files, I'll add something to it, send it back as a wav file. I haven't done that many. I have only done about 20 sessions in the studio, and we are wearing masks and have to be really mindful. The next thing I've got coming up is Reba McEntire. We are going to do an album with her.
You've got some teaching coming up, too.
I've got a guitar camp which is supposed to be a socially distanced guitar camp. It's called Woodshed Guitar Experience. It's out in a park, by a lake, and it is supposed to really comply with the CDC guidelines and all of that stuff, but all outside. I'm a little apprehensive about it but Joe Bonamassa is doing it, Andy Timmons, Greg Koch, a lot of great guitar players.
Do you enjoy teaching?
I do. I like the one-on-one teaching because it is almost like you are in with a buddy, having a pint, having a laugh and a talk, and just playing. It's the person-to-person interaction. There are some guys who will do lessons and release them every month, and that's cool too, but I am sticking with the one-on-one lessons. I have done a good few of them in the past few years and - especially now - it's perfect.
What is the biggest thing you've learned from playing sessions?
Yeah, well, sessions in general, there are some of the best musicians on the planet in doing the record, and that's why they are in doing the record. I've been to Muscle Shoals and I have played with those guys, and some of my predecessors, Barry Beckett, and all those guys. And I'll be like, "Oh, I see what they are doing, laying it back with the groove."
When you are in amongst Muscle Shoals you see how it is a little bit different from Nashville. But it is all about the dynamics and the timing and being savvy about all this stuff, making music, and you can imagine it when you are sitting in the studio. Every little brush of a string is apparent. It is magnified.
It's that focus on detail.
You really hone in on your technique. Creativity becomes an important factor – especially in Nashville. A lot of times we'll create an intro, or an ending, or something like that, rather than being written out for us. All of those aspects clumped together really start to season you as a player as you go. You learn all the little tricks of the trade.
It builds up emotional intelligence, being able to read the room.
You bob and weave with the other players. When not to play is just as important as playing. You are making a record and the creativity of it is exploring all of the different dynamics and understanding that music is not just grabbing a guitar and playing and never stopping.
It is about playing for the artist and what this artist wants, and how to mold this artist's music into what they are looking for. It's what you need to do to make this artist's record. You come up with some things that are going to make the record jump out.
Was there any one session that was really magical?
There are so many of them, Jonathan, so many. Working with Mutt Lange was a great experience, on the Shania albums. The way he had everything in his mind, how he wanted it to go, and how he was able to create the record in his own way. He's done a lot a lot of great pop records and was doing Shania's country records.
Working with George Strait at Jimmy Buffett's studio in Key West, too. And I'll wrap it up with this: when we are in there and we are having a good time, laughing, all comfortable and not being shy about throwing out ideas, it makes for a better record. We want to have that fun atmosphere, always, and be able to create.
See Fender for more on the Brent Mason Signature Telecasters.
All the latest guitar news, interviews, lessons, reviews, deals and more, direct to your inbox!