If you're seeking to expand your amp's OD capabilities the Sexyboost2 works great. Its tube circuitry maintains excellent headroom while the feel under the fingers is dynamic and expressive.
Pros
+

Foot-switchable transparent boost and mids-forward boost

+

Effective Cut control

+

High-headroom tube circuit
Cons
-

12VDC adapter not included
You can trust Guitar Player. Our expert reviewers spend hours testing and comparing guitar products so you can choose the best for you. Find out more about how we test.
Distributed by Godlyke, this hand-built, tube-powered boost pedal from Italy's Cicognani Engineering takes a dual-channel approach by featuring foot-switchable clean boost and mid-boost controls, a global cut knob and a bypass foot switch. A single LED indicates which circuit is active – green is clean boost and red is mid boost – and bypass (or "on" actually) is indicated with a blue LED. The switches are click-on/click-off mechanical types, and the unit appears to be well made and features high-quality components – at least judging by what is viewable, since the PC board inside obscures much of the actual circuit.
However, the all-important 12AU7 tube is visible under a triangular plexiglass cover mounted to the die-cast metal housing, which is also covered with a panel of clear plexiglass. Power is supplied by a 12-volt DC adapter (not included) rated at a minimum 250mA. The unit measures approximately 5.5 x 4.5 x 1.25 inches and weighs a little under a pound.
The Sexyboost2 works great to boost an amp that's on the edge of breakup into full-on distortion. Plugged into a Deluxe Reverb or a Victoria Double Deluxe (both with volume set to around halfway), the Clean Boost side sounded very transparent and allowed us to dial in just the right amount of level to overdrive the amps for beefier and more sustaining tones.
Alternately, we could set it to about two o' clock for a lesser amount of boost and then toggle the mid boost with the knob fully cranked or thereabouts for a high-gain lead tone that had more midrange presence – but also less treble – which can be further tweaked to taste with the cut control, which trims highs as you turn it clockwise.
The tube circuitry also maintains excellent headroom, so there's no feeling of compression when you kick on the pedal (other than what the hotter signal is doing to the amp itself), and the feel under the fingers is dynamic and expressive.
The Sexyboost2 basically turns a single-channel amp into a three-channeler with two voicing choices and two variable gain levels, and that's reason enough to give it a close look if you're seeking to expand your amp's OD capabilities.
Specifications:
CONTROLS Clean boost, mid boost, cut
FOOT SWITCHES Boost, bypass
TUBES One 12AU7
POWER SUPPLY 12VDC adapter
BUILT Italy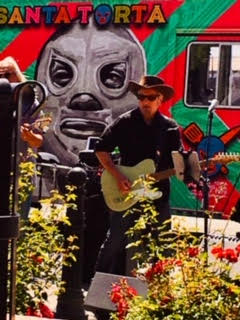 Art Thompson is Senior Editor of Guitar Player magazine. He has authored stories with numerous guitar greats including B.B. King, Prince and Scotty Moore and interviewed gear innovators such as Paul Reed Smith, Randall Smith and Gary Kramer. He also wrote the first book on vintage effects pedals, Stompbox. Art's busy performance schedule with three stylistically diverse groups provides ample opportunity to test-drive new guitars, amps and effects, many of which are featured in the pages of GP.