"What You Hear Is Basically a Bar Band Playing Together": Jim Keller Tells the Story of Tommy Tutone's Top Ten Hit "867-5309/Jenny"
The guitarist reveals how he helped dial in the band's 1982 smash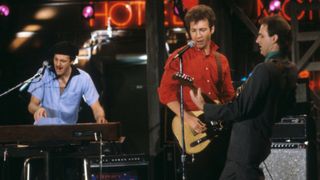 (Image credit: BC Photo Archives/Disney General Entertainment Content via Getty Images)
"After all these years, I still love the song," guitarist Jim Keller says about "867-5309/Jenny," the hook-filled rocker that his band, Tommy Tutone, turned into a radio hit in 1982.
"Any time I hear it, it sounds amazing. It always feels pure."
Underscoring that point, Keller has seen many bar bands perform the song over the years, and never once did he think it sounded bad.
"It's a song that's impossible to mess up," he says. "It's like 'Louie Louie' – is there ever a bad version of that? '867' has the same charm. It's always fun."
Numbers Game
Since the song's release, stories about its origins have floated around, namely that the band members knew a girl named Jenny who wrote her phone number on a men's room wall.
Keller sets the record straight. "There was never a real Jenny, and none of us saw that number anywhere," he says. "Our label thought we should make up a good story about it, so we went with it. It took on a life of its own."
As Keller explains, one night in 1981 he went to his band's rehearsal space in San Francisco to work with songwriter Alex Call, who had penned cuts for Pat Benatar and Huey Lewis. Call had a new number sketched out.
"It was pretty much there already," Keller recalls. "He played me what he had, and I went, 'Wow, that's fantastic!'"
Call had written an opening arpeggiated guitar line, which Keller immediately sparked to. "Alex insinuated the part on an acoustic guitar, but I took it and dumbed it down on an electric. I made it more rock and roll," he says.
"Then I tried making up some off-color storylines for the song, but they didn't fit. We toned it down and made it more subtle."
Keller and Tommy Tutone singer/rhythm guitarist Tommy Heath worked several days to prune the song and craft its arrangement. Once they played it for the band, the reaction was unanimous.
"Everybody jumped onboard right away," Keller says. "There was no hesitation that it was a really great song that we had to record."
Side One, Song One
Tommy Tutone (which at this point included bass player Jon Lyons and drummer Victor Carberry) were already deep into recording their second album, Tommy Tutone 2, at Clover Studios in Los Angeles.
Rather than demo the song, they went straight to tracking it as a priority. "We all said, 'Side one, song one,'" Keller relates. "It blew everything else out of the way."
The band's producer, Chuck Plotkin, was unavailable, so Keller and Heath guided the recording, which flew by after a few takes.
"There were no gated snares, no synths, no artificial 'boosh' sounds – none of that awful stuff that started happening in the '80s," he notes. "What you hear is basically a bar band playing together."
On the track, Heath played a Fender Telecaster and Keller used his main black Strat. "We went through small Fenders," Keller recalls. "For my solo, I played through a Marshall. I did a few passes, and then we comped them. After that, I recorded another solo pass straight through."
"Can I Speak to Jenny?"
The band's record label, Columbia, shared the band's enthusiasm and released the song in late 1981. Despite the push, it was a slow builder, gaining airplay on the West Coast before fanning through the States.
Gradually, the song inched upward on the charts. As Keller recalls, Tommy Tutone were on tour opening for Cheap Trick when their manager came backstage to deliver the news: "He said, 'We're in the top five!' He was so happy."
Soon, the song hit number four on the Billboard Hot 100. "Once it hit, it hit really hard and stayed on the charts," Keller says.
The song's popularity – and notoriety – was aided by the fact that numerous people across the States had the phone number 867-5309 and were besieged with unwanted calls.
"People would phone up in the middle of the night and ask, 'Can I speak to Jenny?' It became crazy," Keller says. "Naturally, the PR people loved it."
Years later, Bruce Springsteen's song "Radio Nowhere" began with a riff that some listeners thought sounded similar to Keller's opening lines of "867-5309/Jenny." Keller laughs. "I mean, c'mon, he's Bruce. He can have whatever he wants.
"Hey, did I cop a lot of my stuff from other songs? Sure. If Bruce gave a nod to our song, I consider it an honor."
All the latest guitar news, interviews, lessons, reviews, deals and more, direct to your inbox!
Joe is a freelance journalist who has, over the past few decades, interviewed hundreds of guitarists for Guitar World, Guitar Player, MusicRadar and Classic Rock. He is also a former editor of Guitar World, contributing writer for Guitar Aficionado and VP of A&R for Island Records. He's an enthusiastic guitarist, but he's nowhere near the likes of the people he interviews. Surprisingly, his skills are more suited to the drums. If you need a drummer for your Beatles tribute band, look him up.