"We've Been On a Very Long Encore": Rudolf Schenker and Matthias Jabs Testify to the Power of Electric Guitar
The king of riffs is back in town! After a seven-year absence, Scorpions return to form with 'Rock Believer.'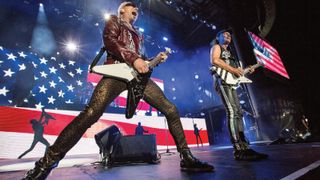 (Image credit: Daniel Knighton/Getty Images)
Rock Believer, Scorpions' new album, has been a long time coming. It's their first release in seven years, since 2015's Return to Forever, and, happily, it is exactly the record Scorpions fans would want, bringing elements of their most successful albums, 1979's Lovedrive and 1984's Love at First Sting.
As it happens, that was no accident. The band deliberately set out to channel the forces that were at work back then, even resorting to using the same guitars and amps that were used on those landmark Scorpions albums.
With estimated total album sales of around 100 million, Scorpions are a huge live draw around the globe.
Just ask rhythm guitarist Rudolf Schenker. "We've played in 88 countries," the founder of the German hard-rock group notes.
"I remember James Hetfield being asked by an interviewer how many countries Metallica had played in, and he replied that he wasn't sure, but he knew it wasn't as many as Scorpions."
Schenker and Scorpions singer Klaus Meine may be well into their 70s, but they are showing no signs of slowing down the pace of their live work.
The band were in the middle of intensive rehearsals when Guitar Player tracked down Schenker and lead guitarist Matthias Jabs to discuss the new album. They were in fine spirits, overflowing with enthusiasm for the record and the chance to get back onstage.
Rock Believer is one of the strongest records in your catalog. What accounts for that?
Matthias Jabs I'm really delighted with the result. The circumstances were different from how we recorded in the past, because the pandemic forced us to work by ourselves, as the producer that we'd chosen couldn't come to Germany, and we couldn't go to L.A.
We decided that we'd have to produce it ourselves, but that turned out to be the right move, because we had no outside influence and could really concentrate on doing exactly what we wanted to do.
Rudolf Schenker Yes, we were in our own bubble in the studio, and we could work on it as long as we wanted – but without overworking it, which can sometimes be a problem. We knew exactly what we wanted though, which was to capture the DNA of [1982's] Blackout and Love at First Sting.
It's very much the record every Scorpions fan would want to hear.
Schenker We wanted to make a rock album that was not too polished. We wanted to go back into the center of what Scorpions should be, because sometimes we have been a bit too polished. We wanted to make a rock album for the rock community.
Jabs I think so too. Looking back, I think we found our signature sound in the early '80s, and you can hear, without any outside influence and advice from producers, that is still what we sound like.
The production is very raw, and also live sounding.
Schenker I think the fact that we played live in the studio contributed a lot to that raw sound.
Jabs I agree. I think the way that we recorded it is the best way to do it. Bands tend to use programmed drums and fly things in, and we've done the same things ourselves on recent albums.
But the fans told us that it doesn't have the liveliness of older records when we record that way. We made Rock Believer like we made Love at First Sting, where we were all standing in the room, all playing the basic tracks live.
This is the first studio album that you've recorded with Mikkey Dee behind the drums. How did he affect the band's sound?
Schenker I think Mikkey plays very slightly in front of the beat, like me, and this gives a very live feeling to the songs, because there it feels like the beat is almost being pushed. When everything is perfect, it is boring. [laughs]
Mikkey has a special kind of attack, and I think we bring the same feeling, which sounds very natural for Scorpions.
Jabs He's a really good drummer, which helps recording everything live. He has a really positive personality and he's great to hang with, so he brings a great vibe to the recording process. He has a lot of energy. You can play for eight hours, and he never tires out.
What was the songwriting process like?
Schenker We wanted to make the album without any outside writers. Greg Silverman, who was originally scheduled to produce before the pandemic hit, made suggestions for a couple of songs, so we gave him a credit, but otherwise everything – the writing, playing and producing – was done by the band.
The good thing with this album is that Klaus wrote the lyrics first, which we've never done before. The lyrics were very inspiring. I was living in Thailand when he was sending me the lyrics, and I would drive around, picturing how the songs should sound, remembering the way we would feel when we were playing live and touring.
Jabs Rudolf will prepare a basic demo – the chord changes and sometimes a riff – and then we all work on them to turn them into the final song. I will come up with guitar arrangements and some riffs as well.
When we are all standing together working on the songs, it's easy to come up with ideas and try them out right away. We know immediately what works.
Mikkey always insists that we have proper endings to the songs, so that is something we also have to work on.
The opening track, "Gas in the Tank" is really hard hitting, yet very commercial. There's a great line in there: "The king of riffs is back in town." The solo really lifts the track even further.
Schenker Yes that is a great line. [laughs] It is so positive, everything is like it was in the '80s for us musically at the moment. We are so positive and enthusiastic.
Jabs I wrote the riff for the solo part first, then I worked on the solo. The sound you can hear at the beginning is a battery-powered drill. [laughs]
Several of your solos feature harmonized parts. How will you do those parts live?
Jabs I will play the solo, as I've done on previous harmonized solos, and our front-of-house mixer will bring in a harmonizer on key parts of the solo, at peak spots, so it gives the impression that the whole thing is in harmony.
The title track, "Rock Believer," looks like it will be a live anthem.
Schenker Yes, because we are rock believers. I've been a rock believer for over 60 years. [laughs] We've got three generations of rock believers now around the world. A large percentage of our fans are under 28.
Jabs Actually, the demo for this was very mellow, a little like the first verse, but for the whole song. I thought if we're going to call it "Rock Believer," then it should rock. I changed the intro, the riff and the riff under the solo. I think it gave the song a totally different sound.
"Seventh Sun" has an interesting mix of guitar sounds. There is a hint of "Kashmir" about it.
Schenker There is. "Kashmir" is a fantastic song. When a song goes really deep inside you, sometimes some elements of it will come out in something that you write years later. I think "Seventh Sun" shares some of that great atmosphere of "Kashmir."
In 2016 I was onstage in Tokyo with Jimmy Page and Jeff Beck, and I said to Jimmy afterward that he inspired me to write "Still Loving You" because of "Stairway to Heaven."
Jabs There is a hint of "Kashmir" and also a song we did in the '80s called "China White."
"Seventh Sun" is like a collage of slide guitar and regular playing. It's important that you find the right stuff to keep the momentum and the atmosphere when you're creating guitar parts. Sometimes a regular guitar solo doesn't really cut it, so you have to find something different to lift the song. It was important to keep the mysterious feel of the track.
We'll definitely be playing this song live. It has a very heavy feel. The new songs sit so well with our classics that we've ended up adding six songs from the album to our live set while we've been rehearsing.
What did you use to record the album?
Schenker I mostly used the electric guitars and amps that I used in the early '80s – 50-watt Marshalls, the '58 Flying V that I've used for years. It's an unbelievable-sounding guitar.
Jabs Guitar-wise, I used my old Les Pauls. I have a '58 and a '59, and I also use a '55 Junior with P-90s for rhythms. I also used my old Explorers and Strats that I used on the '80s records, plus all the old amps and cabs as well, like my old Soldano amp and a Fender Tone-Master.
I also used a '61 Vox AC30, which I bought during the recording because I wanted something super clean.
I think the way that you get to the point with your solos, without overstaying your welcome, keeps a lot of the vitality and the urgency of the songs.
Jabs Exactly. It was always my goal that the guitar solo should give the feeling of the song continuing, even if it's on a different level, rather than it sounding like it's gone into an instrumental phase. The solo should be part of the music, and that's what I always end up going for.
There should be some melody that is a reminder of the main melody of the song. It is much harder to play a great guitar solo in eight bars than it is if you've got three minutes.
You announced the farewell tour in 2012, yet here we are 10 years later. What was the reason for that?
Jabs When we announced it, we were serious about it, but a couple of weeks into the tour – I think it was at the airport in Lisbon – I asked Klaus, "Who thought of the idea to call this the farewell tour?"
He told me he didn't know. I was so surprised because I thought it was him, as he is the oldest of us.It turned out nobody in the band knew – everyone I asked thought it was someone else in the band. [laughs]
Turns out it was the management, who were thinking that, with Klaus and Rudolf in their mid '60s, they'd want to stop by the time the tour ended a couple of years later.
As soon as we played the "last" show, we got the call to do MTV Unplugged. I went to Stockholm several times to arrange the Unplugged concert, and that kicked us back into things.
Schenker Sting in the Tail was a great album, but our management thought maybe we couldn't top it. As Matthias said, the MTV Unplugged invitation really made us have a think about our music. We'd always wanted to do it for years but had never been able to fit it into our touring schedule. I think it made it seem obvious that we should carry on.
Michael Schenker attacks the band, and you, Rudolf, on a frequent basis in interviews. Does that bother you much?
Schenker I tell you one thing: I love my brother. He can say whatever he wants to say. He's an amazing guitar player, an amazing person – whatever he wants to say, why not say it? [laughs] If that is what makes him happy, then okay. I wish him all the best.
I think, sooner or later, we will all be friends again and we will play together again. My life is too happy to put myself into a dustbin over it. I want to live in the sky. I am so happy for my life. [laughs]
Jabs That's fine for you, but I think it's pretty dumb of him to keep doing that. It's not smart at all. I feel that airing whatever you might think or feel about your family in public just shows a complete lack of style. You don't do that. And as a band, we don't care.
I always had a good relationship with Michael, but when I hear things like this, I don't really want to have a relationship with him.
It's been 50 years since the first Scorpions album, Lonesome Crow. I'm sure you didn't think you'd still be discussing your music 50 years later.
Schenker I always believed in myself, the band and the future of rock – always. People in Germany would say to me that I was crazy, I was stupid to think that I'd be able to make a living doing this. People told me that I should get a real job, or else what would I do for a living when I was 40.
I used to just say, "Fuck you." [laughs] I live for music, I love music. I never want to be part of a system, or a puppet. I was looking for the right chemistry, the right people, and when I found them I knew that we would be successful.
We wanted to be like the Rolling Stones, traveling around the world and making music.
It is interesting, and a sign of your ambition, that you recorded all the songs in English from the start, with the clear intention of reaching a worldwide audience.
Schenker Exactly. The reason why I picked Scorpions for our name was because it was a good name that would be understandable in Germany – where we had to start – but also all around the world.
That was why I didn't spell it with a K, which is how it is spelled in Germany, but with a C. It was not easy at first – we wanted to go outside of Germany, to the world. We played everywhere we could, every continent, every country, to show the world who we were and what we had.
I always wanted to play in America. I remember telling [producer] Conny Plank, who wanted to sign us very early on in Germany, that we wanted to play in America, and Conny laughed, saying, "Don't you know how many great musicians there are in America?"
I just said, "Fuck it! We're going to play there." [laughs] It took seven years before we did our first American shows in Cleveland, supporting AC/DC, Thin Lizzy and Ted Nugent.
What keeps everything fresh after so many years?
Jabs We enjoy what we're doing, and we have no plan B. [laughs] This is all we know. Now, after two years without concerts, I feel so desperate to get back out onstage again.
We're definitely not tired, physically or mentally, and we really want to get back on tour and to play the new songs as well. It's great to get a chance to refresh the set list. We played the last set for over four years, so it's exciting to change things up.
Schenker And I would add, I enjoy my life; I enjoy my music; I am thankful for everything that I've got.
If you make your life positive, it stops you getting old. If you are miserable, you will get old too fast. We have an amazing new live set, we are fit enough, we've got a full tank of gas, and we will rock you like a hurricane. [laughs]
There was a long gap between the last album and this one. Do you anticipate the next record coming out over a shorter interval?
Schenker I don't know. To be surprised by life is the best thing that you can do. I think routine and too much planning breaks the feeling of surprise. I'm just going to be open to what happens.
Jabs I don't know when we'll do another one at this stage, but I do know that we won't make the same mistake again of announcing our last show or our last album. It's better to keep quiet. As far as I'm concerned, we've been on a very long encore.
Order Scorpions' Rock Believer here.
All the latest guitar news, interviews, lessons, reviews, deals and more, direct to your inbox!
Mark is a freelance writer with particular expertise in the fields of '70s glam, punk, rockabilly and classic '50s rock and roll. He sings and plays guitar in his own musical project, Star Studded Sham, which has been described as sounding like the hits of T. Rex and Slade as played by Johnny Thunders. He had several indie hits with his band, Private Sector and has worked with a host of UK punk luminaries. Mark also presents themed radio shows for Generating Steam Heat. He has just completed his first novel, The Bulletproof Truth, and is currently working on the sequel.