Watch St. Vincent's Mesmerizing "Down" Performance on Austin City Limits
Here's why Grammy winner Annie Clark remains at the cutting-edge of guitar playing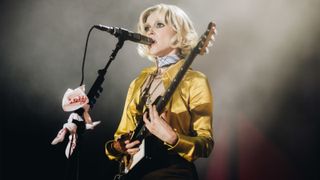 (Image credit: Rich Fury/Getty Images)
Annie Clark, A.K.A. St. Vincent, is one of the most well-known and commercially successful artists at the forefront of cutting-edge guitar today.
The Oklahoman singer-songwriter already has three Grammy awards to her name and has performed at the ceremony onstage with pop sensation Dua Lipa.
But despite having one foot in the mainstream, Clark's unorthodox approach to guitar fully embraces the avant-garde.
St. Vincent's 2017 LP, Masseduction, cracked the top 10 in both the U.S. and the U.K., and its electro-pop sound saw Clark rethinking the tonal palette of her guitar rather than abandoning it in favor of synths, something more typical of the genre's core sound.
Masseduction's title track features heavy, fuzz-centric riffing that sounds far closer to a saw-wave synth than an electric guitar, or anything obviously played by a human for that matter.
Clark uses a slide to allow a continuous glide between notes that gives the riffs a pitch-bending quality, and her use of the extremely obscure AAAAAE tuning allows her to hit multiple octaves at once for a thick, robotic sound.
Clark's most recent album, Daddy's Home, channels 1970s downtown New York City through soul-inspired vocals and a heavy use of a wah.
The album highlight, "Down," features Clark on both guitar and electric sitar-guitar, layering variant riffs atop one another before coming together for a harmonized dual-guitar solo that pays homage to psychedelia while sounding inventive and unique.
Not just content to stretch the boundaries of her music, Clark's penchant for a bold, original idea is on full display with her signature Ernie Ball six-string, too.
The model's light weight and ergonomic shape was designed with female players in mind, while still being tonally beefy enough for fellow fuzz abuser Jack White to use it onstage.
As St. Vincent continues to re-write her own guitar rulebook she broadens the minds of many a mainstream pop fan in the process, proving that there is life in our beloved instrument yet.
All the latest guitar news, interviews, lessons, reviews, deals and more, direct to your inbox!
Guitar Player is the world's most comprehensive, trusted and insightful guitar publication for passionate guitarists and active musicians of all ages. Guitar Player magazine is published 13 times a year in print and digital formats. The magazine was established in 1967 and is the world's oldest guitar magazine.
When "Guitar Player Staff" is credited as the author, it's usually because more than one author on the team has created the story.