Watch Mateus Asato's Virtuosic Solo Rendition of the Beatles' "Let It Be"
The quintessential 21st century guitar hero teeters between the restrained and the spectacular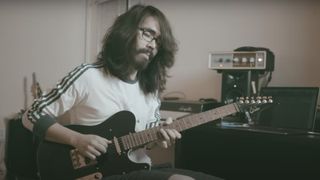 (Image credit: Mateus Asato/YouTube)
With so much of social media's guitar virtuosity concentrated on hot-as-hell shredding, Mateus Asato is like a cool drink of water on a summer day.
Sure, what he does with the instrument is technically virtuosic. He can take a track by a pop group like the Beatles and reinterpret it for solo guitar in a way that somehow, magically, amplifies the original work's melody like never before.
But it is his gift for combining technicality within an approachable neo-soul sound that gives his music its organic vibrancy, something that had led artists like Bruno Mars to secure his services.
Asato is both book-smart and street-smart. He studied at the Musicians Institute in Los Angeles in 2013, where he got a firm grip of the fundamentals. But he understood the power of social media, and how to use it to document his progress as a player and artist.
In a sense, this makes him the quintessential 21st century guitar hero, evolving in real-time, and in full view of the audience.
What they'll see and hear is a dynamic player whose all-around game makes him just as comfortable with fingerstyle and hybrid picking as he is switching between alternate and economy picking, and a sensibility that teeters between the restrained and the spectacular.
Boutique tones and hot musical tube drive spiced with the three-dimensional depth of reverb and delay are all hallmarks of Asato's sound.
Once upon a time, his lodestar was shred – the big dogs, Petrucci, et al. But in September 2022, he named Slash, John Mayer and Steve Vai as three guitarists who he considers to be guitar's latter-day champions.
"These are the last heroes imo," he wrote on Instagram. "Make sure to go and watch these ones LIVE!"
Asato is that rare thing these days, a player whose sound evades easy categorization. He is stylistically omnivorous, but with a taste for the finer things.
All the latest guitar news, interviews, lessons, reviews, deals and more, direct to your inbox!
Guitar Player is the world's most comprehensive, trusted and insightful guitar publication for passionate guitarists and active musicians of all ages. Guitar Player magazine is published 13 times a year in print and digital formats. The magazine was established in 1967 and is the world's oldest guitar magazine.
When "Guitar Player Staff" is credited as the author, it's usually because more than one author on the team has created the story.