Here's Why the Beatles' 'Let It Be... Naked' Is a Must-Have Album
The Fab Four's 1970 swan song finds its groove in this 2003 redux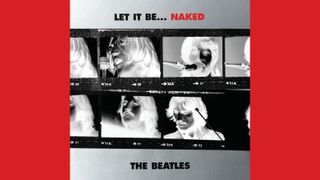 (Image credit: Apple)
Yes, I am a Beatles maniac, but I've usually steered clear of Beatles bootlegs that contain subpar performances, or recordings that demonstrate the evolution of their material.
Same with Hendrix. I don't need to hear the private first stirrings of a song's development…kind of like how I don't feel a need to see Marilyn Monroe waking up with a hangover.
That said, after hearing Let It Be... Naked, I knew I had to own it, because in many ways this 2003 release is obviously, and sometimes inexplicably, a far superior record to the original 1970 album release.
As the story goes, the Beatles handed off the Let It Be tapes to producer Phil Spector in the hope that he could eke out an album from what the group perceived as an uneven collection of recordings.
There were some good songs among the tracks, but the basic order was, "Phil, have a go and make it nice." I suppose Let It Be has been my least favorite Beatles album, despite the curious greatness of "Dig a Pony" (what the heck is that song about?) and Paul's and John's youthful spirit as they revisit "One After 909," one of the earliest songs credited to their world-beating partnership.
Other strong cuts included "Across the Universe," a first-rate Lennon composition recorded as far back as early 1968 but included here because the group performed it in the Let It Be film that accompanied the album's release – plus of course the title track "Let it Be" with Paul McCartney being great at being Paul McCartney.
Yes, there are other good tracks too, but pound for pound, 1970's Let It Be never felt to me like a great Beatles album in the context of their other timeless releases.
Let It Be... Naked goes a long way to remedy that. The production is better overall: The drum sound is enhanced throughout, and the guitars are clearer, if not raunchier.
Likewise, smart decisions were made in compiling its tracks. The omission of "Maggie Mae" and "Dig It" is benign (no tears from me there), and the addition of "Don't Let Me Down" is significant.
This is one of my all-time favorite Beatles songs. Billy Preston's gospel-style playing is lovely, and the song, the vocals, everything about this track brings up the real estate significantly.
When I hear the bridge, "I'm in love for the first time," I am amazed by the Beatles' clever and imaginative arranging skills.
Let it Be... Naked also has a different take of "The Long and Winding Road," on which Phil Spector's notoriously bombastic production is minimized, making this lovely ballad something more than "Yesterday" lite.
The version of "I've Got a Feeling" used here is a composite of the two takes recorded on Apple Corps' rooftop on January 30, 1969.
It rocks hypnotically, and John's "Everybody had a hard year" section remains the same, with his nasal Dylan-esque vocal stylings captivating and magical.
What was good from the original release is left intact. The new song order, however, makes Let It Be... Naked a much smoother ride than the original LP.
While I can't prove that in music court, I know that when I listen to the album in its entirety, it feels and sounds undeniably improved.
If, like me, you feel that 1970's Let It Be had some moments but is basically the Beatles on an off day, I strongly recommend Let It Be... Naked as a must-have.
It's a vast refinement of the original, and a worthy addition to the Fab Four's great catalog.
I'd recommend the 2021 documentary Get Back too, but I am getting ahead of myself.
As for the Beatles versus the Rolling Stones? Ha!
Browse the Beatles catalog here.
All the latest guitar news, interviews, lessons, reviews, deals and more, direct to your inbox!
Jim Campilongo has 14 critically acclaimed instrumental records available on vinyl, CD and digital download here.