Molly Miller on Why She Is an Evangelist for Hybrid-Picking, and the Importance of Improv's Creative Energy
On 'St. George,' Miller drives the music with her stunning pick-and-fingers technique.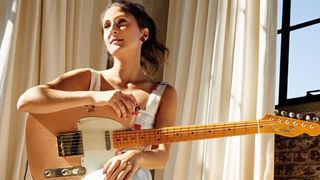 (Image credit: Anna Azarov)
Molly Miller's dance card is usually full. When she's not touring or recording with artists such as Jason Mraz or the Black Eyed Peas, she's leading her own outfit called – not coincidentally – the Molly Miller Trio. And that's on top of her day job running the guitar department at the Los Angeles College of Music.
When the coronavirus pandemic put the brakes on live shows and in-person learning, Miller took the opportunity to do something she'd been meaning to do for far too long: practice the guitar.
"I play something like 200 dates a year, so it was great to settle down and just practice on my own," she says. "I love what I do – sessions and touring. All of that stuff makes me a well-rounded guitarist and educator. But sometimes you just need to refocus your energy."
However, Miller hasn't spent the past year in total self-practice mode. She's gotten together with her drummer brother, Sammy, for impromptu jams. "That's been a lot of fun, playing as a duo. It really changes how you act and react," she says.
She also took part in Disney's Peaceful Guitar series by recording videos of her exquisite acoustic interpretations of three beloved classics: "The Rainbow Connection (from The Muppet Movie), "Chim Chim Cher-ee" (Mary Poppins), and "The Bare Necessities" (The Jungle Book).
Each clip bursts with humor and beauty as Miller, utilizing her supple hybrid-picking style, navigates familiar melodies with moments of fanciful improvisation.
Once she gets the all-clear to resume live dates, Miller is excited to hit the road with her trio (which also includes bassist Jennifer Condos and drummer Jay Bellerose).
With the release of their second album, the all-electric St. George, they'll have a whole batch of new music to play. Recorded live, the album is a brisk and engaging set of originals that blends elements of surf rock, traditional jazz, country swing, and '60s lounge music.
"We like to say we're bringing the instrumental back," Miller says. "Coming from a jazz and improvisational background, I love to stretch out, but I didn't want to make some sort of a wank-fest record. The focus is on the song. It's storytelling. You're going to hear three people breathing together with melodies and songs in mind."
You mentioned storytelling, which you do so remarkably on the Disney Peaceful Guitar series. How did you approach such well-known, highly orchestrated songs on an acoustic guitar?
That was a lot of fun. So much of that was about asking, "Who's the target audience?" It's not really guitar players, so it wasn't about showing off my hot licks or whatever. These are songs that are so emotional for me, because I've been listening to them since I was a little kid.
The approach was melody, storytelling, and arrangement. There's such drama and dynamics in those Disney songs, but because there's no lyrics, you have to be very thoughtful with the subtlety of every phrase, because that's what's telling the story.
You strip the songs down to their bare essentials, so to speak, yet each one feels like a full-bodied performance.
I try to treat the guitar as an orchestra, but yes, I break down the songs into harmony and melody. Also, I play in different ranges of my guitar, trying to find the one that will allow the melody to sing the best. From there, I think about what the bass and percussions would do – how to have accompaniment and pull all those elements from just one instrument.
Your hybrid picking is really something on those songs.
I am the biggest proponent and saleswoman for hybrid picking. It gives me the most versatility and warmth, and it allows me to access to some of my faster licks along with various two- and three-note voicings. Hybrid picking allows me to do all that.
You're a Taylor acoustic player, right?
Absolutely. I have two that I play: a Builder's Edition 912ce and a Grand Pacific 317. I love their playability and sustain. You get this big round sound without hurting yourself. Because 90 percent of what I do is on an electric, when I get on an acoustic I don't want to strain my fingers. I want to have that same ease as when I play an electric guitar.
And for electric playing, you're all about your Gibson ES-335.
The 1978 335 is my baby, for sure. I have a couple of electrics that I'm fond of, like my Fender 1952 Tele reissue. But the 335 just feels like it's one of my limbs. The neck is perfect, and the sound has a warmth to it that a lot of semi-hollowbodies just don't get. I've spent a lot of time with it, and it's part of my sound. I feel like we've grown together.
You have a very unaffected electric sound on the new album, but it feels full. You don't seem to need a lot of effects.
I think it has to do with my fingers. We spend so much time focusing on gear, but we don't seem to think about pulling sound from our fingers. I used to have horrible tone when I was focused on notes and other things. Maybe I've just matured. All I know is that I can dig my fingers in or I can touch the strings softly, and I can get more subtlety than if I were trying to color the sound with effects.
On the new record, there's a cool '60s retro vibe to songs like "Spry," "Rapids," and "Hear It Calling." Were you intentionally trying to harken back to that sound?
Oh, yeah. I'm a huge fan of that stuff. Someone described the record as "Dick Dale meets Bill Frisell," and I was like, "Yes, you got it." I'm a California girl. I was born and raised in L.A., in a beach city, and I'm still partial to the feeling of the sun hitting me. But I also studied jazz guitar, so I embrace the more serious side.
All the guitar solos improvised?
They were all improvised, and some were first takes. Some songs we ran down a few times; maybe the most was five times. If you keep playing something, you get diminishing returns.
I just love improvisation. It can be scary, but it's the fun kind of scary. I've played with Jay and Jen a lot, so I have a sense of where they're going to go musically. We improvise at a very high level. Sometimes it's as if we're breathing together. But it doesn't just happen; it takes practice.
You've done a lot of side-person work on tour and in the studio. What's the secret to being a good side person?
Just wanting to be there. It's about supporting someone else, but you can still be yourself. Like my work with Jason Mraz – he didn't hire me to fit some preconceived notion of what he needs exactly. So I get to be me, even though I'm playing his music. Other times, what is expected of me is more defined. I always tell my students, "Know your parts, show up on time, and be pleasant." If you can do those things, it's going to be great.
All the latest guitar news, interviews, lessons, reviews, deals and more, direct to your inbox!
Joe is a freelance journalist who has, over the past few decades, interviewed hundreds of guitarists for Guitar World, Guitar Player, MusicRadar and Classic Rock. He is also a former editor of Guitar World, contributing writer for Guitar Aficionado and VP of A&R for Island Records. He's an enthusiastic guitarist, but he's nowhere near the likes of the people he interviews. Surprisingly, his skills are more suited to the drums. If you need a drummer for your Beatles tribute band, look him up.