Watch Jeff Beck Blow TV Host Away with Jimi Hendrix's "Little Wing"
By Rod Brakes
Presenter left speechless by masterful rendition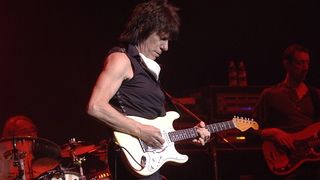 (Image credit: Tim Mosenfelder/Getty Images)
'Awesome' is an everyday word. But to see someone struck with genuine awe by something out of the ordinary is different.
That's exactly what happens in this video clip when Jeff Beck gives TV host Malcolm Gerrie a taster of what the Fender Stratocaster is capable of doing in the right hands.
Up close and personal, Beck unleashes a sequence of mind-blowing techniques while demonstrating the Strat's expansive tonal range – from mellow jazz to searing leads – before launching into a rendition of Jimi Hendrix's "Little Wing".
The Sky Arts presenter is left dumbfounded.
Rather than just being a display of guitar gymnastics, Beck's matchless technique is equalled by an impassioned style that appears to leave the entire studio audience in a state of reverence and wonder. Indeed, 'awesome' is the word!
Get the latest news, reviews and product advice straight to your inbox.
Thank you for signing up to The Pick. You will receive a verification email shortly.
There was a problem. Please refresh the page and try again.