Watch Jazz Guitar Scholar Tom Misch Produce a Track in Ten Minutes
This fun video shows that being enthralled by technology doesn't have to limit your musical expression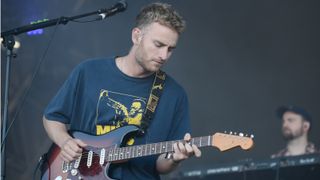 (Image credit: Andy Sheppard/Redferns)
London-born Tom Misch is something of a modern-day renaissance man, whose talents include DJ-ing, playing the piano and violin and having impressive vocal chops.
But what separates the 27-year-old singer-songwriter-producer from his peers is his dexterity with the electric guitar, from which he effortlessly blends contemporary jazz, neo-soul, funk and R&B, his chameleonic style supplying an organic feel to his otherwise beat-focussed sound.
Misch studied jazz guitar at London's Trinity Laban Conservatoire, and his fingerstyle approach of using alternating chords spliced with short licks has formed the basis of some of his most well-loved compositions.
A superfan of iconic crate-digging producer J Dilla, Misch uses modern tech to create lush worlds of texture, often multi-tracking his guitar atop washed-out synth pads and string drones.
He frequently pulls from his affection for hip-hop by creating beds of loops and samples for his improvisational noodling, and his love of R&B gives his lead phrasing a strong melodic quality.
His understanding of funk often finds him purposefully playing behind the beat, a technique that's easy to identify but harder to emulate.
A good example of Misch's sonic world building through layered guitar parts comes from his appearance in this Fact magazine video, where he has 10 minutes on the clock to create a beat from scratch on a digital audio workstation.
Armed with a Gibson ES-330, he first records a funky bassline across the lower frets, which he pitches an octave down using a plug-in.
He then adds clean, jazzy chord inversions on top, which he pitches up to emulate the sound of an electric piano.
He finishes the track with an improvised solo, using his signature envelope-filter lead sound.
Although that effect is created with a Logic plug-in in this example, Misch has been seen with an Aguilar Filter Twin on his pedalboard.
Significantly, he demonstrates that being enthralled by technology doesn't have to limit your musical expression.
All the latest guitar news, interviews, lessons, reviews, deals and more, direct to your inbox!
Guitar Player is the world's most comprehensive, trusted and insightful guitar publication for passionate guitarists and active musicians of all ages. Guitar Player magazine is published 13 times a year in print and digital formats. The magazine was established in 1967 and is the world's oldest guitar magazine.
When "Guitar Player Staff" is credited as the author, it's usually because more than one author on the team has created the story.