Vinyl Treasures: Kenny Burrell's 'Midnight Blue'
Burrell and his band work the power of nuance on his 1963 jazz guitar tour de force.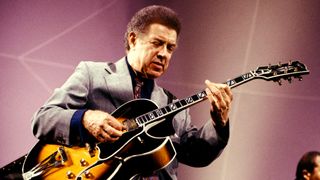 (Image credit: David Redfern/Redferns)
Released in 1963 on the Blue Note label, Kenny Burrell's Midnight Blue remains one of my all-time favorite jazz guitar LPs to this day. The music exudes a vibey simplicity as Burrell and company thread the needle between sounding blue and grooving introspectively.
Kenny Burrell was born in Detroit in 1931 and started playing guitar at 12 years old. Inspired by Charlie Christian, Django Reinhardt, and Oscar Moore, he went on to study composition, theory, and classical guitar before working with John Coltrane, Billie Holiday, and Lena Horne, to name a few of the many artists with whom he collaborated.
The great Duke Ellington called Burrell his favorite guitarist. On Midnight Blue, he delivers one of the greatest guitar sounds in the history of recorded music. (I assume it's his Gibson Super 400 archtop through a Fender Deluxe.) Burrell's supporting cast features Stanley Turrentine on tenor sax, Major Holley on bass, Bill English on drums, and Ray Barretto on congas.
Given his fluency in many guitar languages, it's amazing how perfectly simple Burrell's playing sounds on Midnight Blue. When I listen to it, I never think, I can do that, but rather, How does he make that sound so damn good?
Occasionally, he and Turrentine spell out beautiful lines over ii - V's, tritone substitutions, pedal tones, and so on, but mostly he explores the full potential of simple pentatonic lines and blues scales. I love it when Burrell answers his simple melodies with electrifyingly hip dominant-seventh chords, and I'm never left wanting more.
"Chitlins Con Carne," the album opener, has a sexy, "sneaking up on you in a dark alley" vibe. Burrell's solo is a study in craftsmanship, and I love how he allows one bar of silence between his lines, as if he's having a dialog with the groove.
"Kenny's Sound" is the most aggressive track here, and while he rips over the changes, he makes it feel relaxed and charming. Less mature artists might make this tune a snowball in a coal bin, but Burrell and his band make it fit the record perfectly.
Among the album's nine tracks, I particularly love "Mule" and "Gee Baby, Ain't I Good to You." On "Mule," both Burrell and Turrentine branch out to play jazz changes, but never flippantly or on autopilot. Their playing is about staying in the groove and committing to the song's storyline, which is always understated.
And despite the absence of a vocalist, the performance on "Gee Baby, Ain't I Good to You" expresses the amorous, sweet longing of its original lyrics. The groove and teamwork of the entire group creates an arena of deep listening, where what is implied is as poignant as something that is boldly stated.
Midnight Blue is much like an acting performance by Steve McQueen or Gary Cooper, where the strength of the work comes from the subtlety and nuance of the players practicing the magic of their craft.
When my students learn that familiar pentatonic scale we all discovered on guitar lesson three or four, I tell them that they now have enough knowledge to become a great artist (see Link Wray), and I'll play them a track from Midnight Blue, where we can witness how Kenny Burrell uses his Nobel laureate guitar chops to serve up a satisfying portion of the blues.
More than a virtuoso guitar player, Kenny Burrell is a communicator.
Look for Jim Campilongo and Luca Benedetti's new release, Two Guitars, available now at City Hall Records on CD and vinyl.
All the latest guitar news, interviews, lessons, reviews, deals and more, direct to your inbox!
Jim Campilongo has 14 critically acclaimed instrumental records available on vinyl, CD and digital download here.