Trey Anastasio: "During a Lot of Phish Jams, I'll Land on a Simple Phrase, Almost Childlike, and Then Run with it"
The Phish frontman talks all things acoustic – his expressive new solo album, 'Mercy,' the guitar that completely changed his music landscape, and his "holy grail" Martin.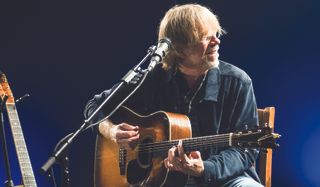 (Image credit: Jake Silco)
It's rare to get Trey Anastasio acoustic or alone, let alone both. He's traditionally a social creature, one who is most at home jamming with his rock quartet, Phish, or leading his long-standing Trey Anastasio Band, which features a full horn section.
It's even more exceptional to get him on the phone. Anastasio eschews interviews and hasn't been in these pages for ages. Over nearly four decades, we've enjoyed his playful, graceful musicality in myriad contexts, in which the lion's share of his guitar work has been performed on electric guitar. But Trey's times have been a-changin'.
In 2017, he began delving into the essence of his songs on short solo acoustic tours, and in 2019 he opened up about his creative process in the documentary Between Me and My Mind and played a pair of sold-out acoustic shows at Carnegie Hall. An acoustic run in fall 2021 included a pair of inspirational performances at New York City's Beacon Theatre.
The coup de grace came when Phish keyboardist Page McConnell gifted his bandmate a custom koa dreadnought that became Anastasio's main home companion in his New York City apartment (along with his beloved cat Joey).
Just a few months ago, Anastasio used the instrument to cut his debut solo acoustic album, Mercy (Rubber Jungle). The song template is double-tracked guitar with vocals, and the result is intimate, immediate, and profound. Throughout the album, the guitarist's playing is clever, concise, and solid.
The bluesy, syncopated "Hey Stranger" is irresistibly groovy, "Blazing Down the Twisted Wire" is fabulous Phishy fun, and "Arc" takes the listener on an intricate adventure in 10/8 time, with Anastasio incorporating many open-string suspensions, or what he refers to as "rubs."
Meanwhile, the title track is hauntingly arpeggiated in 6/8. All the while, Anastasio's voice is right in your ear, singing timely lyrics straight from the heart. "The music and lyrics came together," he explains. "Mercy is about swinging back and forth between hopelessness and hope."
Anastasio starts by pleading for "A Little More Time" and ends up begging for help to understand the "Ever Changing Tide." The Phish spearhead sounds so in his element here that one wonders how much the acoustic has informed his music all along. He took time to tell us after rocking out on Earth Day at Madison Square Garden, where Phish seemed to magically manifest dazzling aquatic holograms during an inspired jam on "Waves/Sand."
With the internet still buzzing about the group's live show, and Anastasio being interviewed about his acoustic side for what he revealed to be the very first time, he seemed truly amazed to realize the connection.
How does the acoustic factor into your epic guitar story?
"My guitar-playing journey started with classical guitar. I think it was my fifth-grade music teacher, Frank Jacobson, who suggested two local teachers for me when I mentioned wanting to play guitar and drums. The first guy was a 90-year-old Dixieland drummer. He taught me the rudiments of snare drum, which is about dividing rhythm.
"The first thing my guitar teacher had me learn were Bach gavottes. They're very simple, sort of like Bach's preludes and fugues. I love rock guitar, but I played fingerstyle classical guitar for a year before I even got an electric, so I started on acoustic in a big way.
"I was a huge fan of Guitar Player and Frets magazines, and I'm honored to do this interview. I remember listening to Segovia, and I recall that Frets had Segovia on the cover. I always thought it was so cool that Frets interviewed people like Segovia and Leo Kottke, who could actually play guitar, not just pose with one. I'm a fan of so many different kinds of guitarists, and we're all like tiny leaves on the end of the tree."
How did your early classical training inform your compositional and improvisational style?
"Modern harmony started with Bach. It's the fundamentals of counterpoint, which is about taking a theme and developing it. Bach would do them backward and forward, and stretch them out. I'm grateful to have started with that, because it had a huge effect on the way I wrote, which was so much about theme and variation.
"I still play that way in every single Phish jam. I'm searching for a theme, and that's the essence of a lot of the compositions. 'My Friend, My Friend' takes a theme and runs with it. The middle of 'Stash' sounds heavily composed, but it's really a simple phrase that goes through different key changes. The middle part of 'The Squirming Coil' is another example of a Phish song that takes a little piece of the melody, stretches it out and then divides it.
"That's so valuable later on as a guitarist when you become an improviser. During a lot of Phish jams, I'll land on a simple phrase, almost childlike, and then run with it. Some of my favorite improvisers work that way. The best example would probably be [saxophonist] Sonny Rollins. He would do these long improvisations building on a theme that was very childlike, but not childish."
That's the whole essence of Phish, isn't it?
"It's the whole essence. It's fascinating, because I've never done an acoustic interview before, and when I thought about it, I was like, Oh, my god, that's where it all started, on the nylon-string guitar."
And yet, ironically, the acoustic isn't a huge part of the Phish experience. What would you consider the signature tunes?
"There aren't very many, but there are a few, and 'The Inlaw Josie Wales' is a good one, because it's an instrumental based on an acoustic in DADGAD that wound up on a Phish record [2000's Farmhouse].
"Sometimes when I'm writing, I take an open tuning and mess with one string by just a half or a whole step. Then it's not familiar. It's a fun game that I would recommend to any guitar player. Try starting in DADGAD and lowering the third string to F to get DADFAD. Now you're in minor. You may wind up writing in major, but the main thing is that you use your ear first instead of your fingers.
"It's satisfying because it makes writing so fun. I wrote 'Time Turns Elastic,' which Phish does on Joy [2009], on solo acoustic guitar in four or five open tunings. Every section was a different tuning. I had to pick one and relearn the whole thing so that I could play it live. It took, like, a year, but the fact that I was in jail at the time probably helped. [laughs]
"I wrote 'Harry Hood' on the beach – all that music in the middle. A lot of Billy Breathes [1996] was written on acoustic, including 'Bliss,' 'Waste,' and 'Taste.' I would write sections of 'Fluffhead' on acoustic and then transfer it over to electric. That happened with a lot of Phish songs because I don't like changing guitars onstage. I like getting used to the sound.
"There are a few acoustic tunes peppered into my solo albums that are worth checking out as well. 'Ray Dawn Balloon' is an instrumental fingerstyle guitar piece from my first album [2002's Trey Anastasio]. Seis de Mayo [2004] has three songs that I wrote on fingerstyle acoustic guitar, and then I orchestrated them by assigning the guitar notes to horns and strings.
"Check out 'Andre the Giant,' 'Prologue,' and 'Discern.'" [An orchestrated version of "The Inlaw Josie Wales" appears on this 2004 album as well.]
It appears that you approach most of your modern acoustic plucking similar to your electric style, with a flatpick.
"You're right about that. I love playing fingerstyle acoustic, and even at this age I feel like I'm on the border of a breakthrough using the pick and fingers. It's the frontier I'm working on right now. When the pandemic started, I swore that I was going to come out of it using pick and fingers, but it's a nightmare compared to full fingerpicking because you've got to change the fingerings for every pattern you've ever done.
"It's all flatpicking on the new album, but I'll switch to fingerpicking for certain things during the show."
Acoustic sets are super rare in Phish history, but over the past five years you seem to have embraced solo shows.
"It's gone from feeling almost like diving into the deep end of a pool and not knowing how to swim, to 'Oh, my god, I love this,' to 'I don't just love this – this is the greatest!' Segovia said something in Frets magazine to the effect of, 'When I look at the guitar, I'm looking at an orchestra through a backward telescope.' I started realizing he was right. It's all in there."
What was the concept behind your decision to double-track the guitars on Mercy?
"The guitar playing was mostly flatpicked and double tracked. It's like an art-lived-by-limitation thing, where it would spread out in stereo if you listen through headphones. I love the sound of two guitars, and for this album I decided that was going to be the limitation of the interplay. I tracked to a click first and then jammed along with myself with the click muted. It all happened very fast, and I only used one microphone for everything, including the vocals.
"It's a Chandler REDD large-diaphragm tube mic [with a preamp] that's modeled after the classic Abbey Road mixing board. That's the only microphone I own. I used it and a Spire [Spire Studio by Izotope] to record my first pandemic album, Lonely Trip [2020].
"The Spire is a cool, affordable digital connector that turns your phone into an eight-track recorder. For Mercy, we used the Chandler through some sort of interface and into the computer of my vocal coach, RAab [sic] Stevenson, at his home in Atlanta."
The guitar sounds rich and pristine, and somehow modern yet vintage.
"It's a new guitar made from very old woods. Page and I made an acoustic guitar–and-piano record during COVID [December, released December 2020]. It was so much fun, and, god, we cried. It was so wonderful to see each other and just play our old songs. It was so important.
"Spurred on by that, Page commissioned his friend Adam Buchwald, who is a luthier at Circle Strings in Burlington, Vermont, to build a guitar for me as a birthday gift. He gave it to me when I was at the Barn [Phish's studio] working on Sci-fi Soldier [the band's Halloween 2021 set]. This is my first chance to talk about it, so I've got to geek out.
"It's a dreadnought made from koa, which he calls the Mother of Curl, with a 100-year-old German spruce top. I've never been in love with a guitar like this before. I have an old Martin that I also love, but I've never had an experience like this, where I just fell for a guitar. It completely changed my music landscape. There would be no Mercy if he hadn't given me that guitar. It's so balanced and stunningly beautiful. The low end sounds so good, and it plays so well.
"He used a Plek machine. I'd never played a Pleked guitar neck before. Every note up and down it is spot on and rings out. There's no buzz. So the guitar is old and new. Me and [producer] Vance Powell used to have this joke where we'd say, 'A guitar doesn't play well until it's old enough to forget that it's a tree and accept that it's a guitar.'"
Is your favorite old guitar a 1943 Martin D-28?
"Yes, and I play it onstage all the time at solo shows. That's like the holy grail. I walk around hugging that guitar. I have five guitars that I use to play songs in different tunings on stage. I use a 1933 Martin triple-0 for fingerstyle songs, like 'The Inlaw Josie Wales.' I also have a 1968 Martin D-35, which has a three-piece back, like my Martin signature model. That's the only one with a cutaway, so I use that for songs where I play high on the neck.
"I'm embarrassed to be able to play such great guitars. But what's so great about the Circle Strings dreadnought is it has the vibe of those old Martins with the playability of the Pleked neck that's great for everything from fingerpicking to strumming and anything in between, like the kind of hybrid picking on '6 and 1/2 Minutes.' I cannot wait to do acoustic shows and play the Circle Strings for the first time live. It's going to sound great through the sound system."
What's your amplification strategy?
"I copied it from Michael Hedges. It's two FRAPs [flat-response audio pickups] in stereo and a Sunrise in the middle. The Sunrise is a magnetic sound-hole pickup, and that signal runs through an op-amp [operational amplifier] into a pedalboard, with expression pedals to control echo with tap tempo, octave up, octave down, and a looper.
"I'll use that on a tune like 'Twist' when I want to go into la-la land, which I like to do. There's a Victoria Reverberato tube vibrato reverb unit at the end of that signal, which is set dead center in the room. FRAPs are contact pickups under the bridge. The one under the left side captures more of the low end, and the one on the right captures more of the high end.
"That provides a very natural sense of motion from left to right because, theoretically, the low strings come out of one speaker and the high strings come out of the other. All three signals feed through a special cord that sends the Sunrise to the pedalboard and the FRAPs to the house. Adam put all that into the Circle Strings guitar, but not all of my guitars have the full system. Sometimes we'll incorporate a microphone onstage as well for a less processed, more organic sound."
Will you need to switch guitars to cover any songs in open tunings from Mercy?
"There are no open tunings on the new record; there are tons of open strings rubbing against the fretted notes. 'Arc' is full of rubs. It sounds hard, or like it might be in an open tuning, but it's not. There are some great voicings in 'A Little More Time' that I found using DADFAD and then transferred to standard, like the half-step rub with the F# against the open G when I play that version of E minor [Emin add 9].
"That's what I love to hear all day long when I listen to David Rawlings play with Gillian Welch – rubs to the end of the Earth. I love him, and if he were here he'd say, 'That's the whole thing.' I like to do that as well, and it's one of the two main reasons why I like a solo acoustic song performance. It focuses on the vocals and lyrics, and opens up worlds that would get stomped over if played with a band."
All the latest guitar news, interviews, lessons, reviews, deals and more, direct to your inbox!
Jimmy Leslie has been Frets editor since 2016. See many Guitar Player- and Frets-related videos on his YouTube channel, and learn about his acoustic/electric rock group at spirithustler.com.