"The Fire of Youth is the Fuel for Rock and Roll": Luther Dickinson Talks Tone, Inspiration, and the Future of Roots Rock
The North Mississippi Allstars frontman gives a tour of the band's existential party cruise on 'Set Sail.'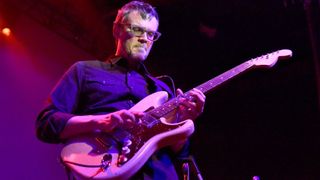 (Image credit: Tim Mosenfelder/Getty Images)
Luther Dickinson is always inspirational as a player and as a person. Listening to him makes you want to play better, sound better and be kinder. His benevolent spirit shines through in the music, lyrics, and vocals, regardless of the project.
Constantly sought out, he has been consistently prolific like few others since his primary vessel, the North Mississippi Allstars, started tearing up juke joints a quarter century ago.
Dickinson is an eager collaborator. He teamed up with Robert Randolph for The Word, and spent a few years soaring with Rich Robinson in the Black Crowes. He's produced Samantha Fish, Otha Turner and the Honey Island Swamp Band.
Wherever he goes, the tones are true and he sounds truly authentic playing an array of roots music, from Creole funk to his forte, Hill Country blues guitar.
Dickinson's got chops boucoup, but the heart of his appeal is a boatful of soul in every note, and it's in full effect on the Allstars' lucky 13th album, Set Sail (New West).
Co-captain Cody Dickinson provides a steady keel on the skins as always, and the other half of the crew is new since 2019's Grammy-nominated Up and Rolling. Bassist Jesse Williams succeeds Carl Dufrene, who passed away in 2020. Lamar Williams Jr., son of Allman Brothers bassist Lamar Williams, hopped aboard to lend his expressive voice to the chorus that also includes Memphis R&B legend William Bell.
Dickinson delivers some of the slinkiest slide playing of his fruitful career on the epic title track, which sets a mystical course from the get go.
Laced with lovely strings and horns, "Set Sail Part II" takes the journey further out midway through the album's seamless flow.
The angelic centerpiece "Didn't We Have a Time" has an introduction of cascading guitar-peggios that sounds like opening heaven's gate. Listen to its soothing pulse, wistful lyrics and melody and try not to get misty.
The counterbalance to all the soul searching is a gang of bangin' house parties taking place along the Allstars' adventure.
Multi-talented Cody contributes the entire rhythm section, including Nile Rodgers–like funk guitar on "See the Moon."
Luther brings a Crescent City flare to the syncopated staccato riff bouncing throughout "Juicy Juice."
The tribal tale "Rabbit Foot" summons a spooky cosmic swamp vibe that brings Papa Mali's version of Isaac Hayes' "Do Your Thing" to mind.
Luther brought mostly new instruments onboard for what he described as a "transitional record." He spoke to us upon an early return from another family affair, the Allman Family Revival tour, which had its last four West Coast dates rescheduled to late February due to health and safety protocols.
How did you wind up with such a soulful sound on Set Sail?
It's hard to know where you stand when the world is constantly moving underneath your feet. We've all had time to do some evaluation, and I wanted to leave a message in the music for my daughters in case they ever want to understand where I stood.
Cody, Jesse and I got zoned in on tour right before the pandemic hit. We were hot, and we kept stoking that fire by working on instrumental stuff, flipping files back and forth during quarantine.
Lamar had joined us on the very last night in Atlanta, so Set Sail is a cool extension of where our road trip had ended. I was listening hard to Prince and James Brown, as well as Daft Punk and Tame Impala. Lamar's vocals accentuated the soul and took it to a whole new level. Luckily, the lyrics were almost done. I'd been working on them for years.
I was also writing the score for a documentary about American terrorist Eric Robert Rudolph called Onward Christian Soldier. That's where I learned how to improvise to a click track and let the music sort of shape itself until there was something happening.
I grew up trying to write songs, so this way of creating music for film into Apple Logic made my eyes open wide.
How did you develop the two-part title track?
Another big influence was the live footage on YouTube of Bill Withers where he's on acoustic guitar and the backing band is playing super quiet, but funky and intense. That inspired me, and I got a Baxendale-converted Harmony nylon-string that literally took my breath away when I opened the box.
Playing nylon-string is new to me, and that's now my favorite guitar. It's on almost every song and was the genesis of each song. I sat with that Harmony and the lyric book and worked out the arrangements, singing a scratch vocal along to a click track.
On the electric side, I came to a realization. After a lifetime of trying to match amp tremolos to the timing of the track, I recorded direct so I could set the tremolo in Logic to match the tempo. Now it sits right in the groove.
I re-amped the guitar signal by sending it out to my Category 5 amps to get tube tones. We developed a combo called the LD20 and another one that's more like a little Champ. I use the larger one for cleaner tones and push the smaller one for dirtier tones. Onstage I'll split the signal to both, often using bigger amps.
There's a more powerful Cat 5 LD50 head that has an expression pedal for dialing in the tremolo speed, plus an even more powerful LD100, as well as a Lizzys 100-watter that I'll use in a large venue. I'm done with half-stacks and use 2x12 cabinets now.
In the studio, I used a Coles 4038 ribbon mic on the Harmony nylon-string most of the time, and I'd use Coles to mic amps as well. The electric guitar story on "Set Sail" is kind of hilarious.
How so?
Well for starters, the song is in the key of Bb, which is great for vocals but can be weird on guitar. I didn't feel like using a capo, so I grabbed my cheap Hondo black Strat-style guitar, like the one Ad-Rock [Adam Horovitz] uses in the Beastie Boys, put it in Spanish G tuning and raised everything a step and a half.
I didn't want to tune any other guitars up that high. I figured I'd throw a scratch track down to fill up some space, but I was so inspired doing that slide solo and the outro on "Part II."
My daughter was running around behind me, and following the flow of her spirit always helps me out creatively. It's my favorite solo I've ever recorded.
Cutting that slide track was so casual, quick and fun, but it took me a week to clean up the signal from those cheap single-coil pickups full of buzzing and clicking. Those swells aren't from a volume pedal, those are all the fades I had to edit in because the attack was so noisy.
The playing is wonderfully out of the box, with lots of interesting phrases and some slippery slide glissandos.
Thinking about the guitar fretboard horizontally can be hipper than thinking about it vertically, because the melody is there. It gives the phrasing a vocal quality like Sacred Steel, as well as players like Fred McDowell, Blind Willie Johnson, George Harrison and like-minded fingerstylist Robby Krieger.
If you can connect your ear and your mind with your heart and your hand playing intervals on one or two strings, then the whole guitar just kind of unlocks itself. It's easy to think in terms of chords and inversions, scales and positions, but really, it's all on one string, be it slide or fretting with fingers.
And I'm not sure if there's much on "Set Sail," but I'm addicted to playing behind the slide, letting fretted notes pop out to provide something solid you can hang your hat on amidst all the squirrelly slide microtones.
How'd you create the howling swells on the lead guitar track for "Outside"?
I'm actually just playing with feedback. That's from a guitar I helped design with Gibson that they call a 330L, which is a fully hollow, long-scale guitar with humbuckers.
It's a bad mofo for feedback, man. I'm just leaning into the amp, playing very soft and letting the swells blossom not quite all the way, right on the edge. I've developed that hollowbody slide sound over my whole career. It's like Fred McDowell doing Jimi Hendrix whammy bar.
But that throaty, midrange neck pickup sound has literally turned on me. I've played loud so long, with so much sustained feedback around 200Hz, that it literally hurts my ears. I can't take that frequency anymore.
I've been changing up my tone for that and other reasons. A lot of the other tones on the record stem from the fact that I've fallen in love with the sound of Lollar's Regal pickups. Those wide-range-style pickups are so clean, chimey, and bell-like that you can hear each note in every chord. It's such a pretty tone, like a gold foil, but a little more civilized. That is my new sound.
How'd you get so into this new tone?
Steve Selvidge, who plays with the Hold Steady, gave me a Strat-style guitar we call the Godson that he designed using a pair of Lollar Regals, and it turned me out! It's all over Set Sail.
During quarantine, my friend Chris Roberts and I started making instruments we call Vibratone Guitars with those Lollar Regals. That wide-range sound is based on Fender's big, beautiful humbucker [from the '72 Tele Deluxe].
I had a Mexican Fender Thinline that I put Regals in as well, and that's the platform for one of the Vibratone guitars we're making. I'll be taking these guitars on the road as well.
Set Sail represents the transition from my former sound of a hollow Gibson with either P-90s or humbuckers, to this cleaner, chimey tone heard on tunes like "Didn't We Have a Time."
That's in Spanish Bb tuning as well. The way Paul Westerberg uses open G tuning is genius, and that intro was definitely inspired by him. Being tuned up to Bb is similar to when Keith Richards or Robert Johnson would tune to Spanish G and capo up a few frets.
Your father [Jim Dickinson] produced Westerberg, worked with Richards, and introduced you to so many fantastic musicians that schooled you on guitar. You mention on the album how you're now of similar age to many of them then, and the importance of handing wisdom down. How are you doing that, and who are your favorite young players picking it up?
I'll start with peers that are a few years younger than me. Colonel Bruce Hampton used to say that Derek Trucks was of the angel race, and my dad would say that [Muscle Shoals keyboardist] Spooner Oldham is an angel.
So I'm a believer in the angel race of humans. But if Derek is an angel, then Duane Betts is a king among men. He knows his dad's [Dickey Betts] style, he knows Duane [Allman]'s style, and he's my favorite player to hear do the Jerry Garcia style as well. When he goes into a Dead thing, he's got such beautiful touch that makes it all his own.
I'd like to mention that this year marks the 10th anniversary of the Roots Rock Revival camp we started with [the late Allman Brothers Band drummer] Butch Trucks. That's where Brandon "Taz" Niederauer was discovered. He's got an old soul. He was young when he started, but he's like a founding member, and I'd be happy if he went on to teach there and carry on that legacy.
Lara Cwass, David Sessions and William Bartumioli are fantastic young players from Roots Rock Revival that have taught me a thing or two. The fire of youth is the fuel for rock and roll, and playing multigenerational music helps keep the fire under your ass.
Asher Belsky is another promising teenage player coming up out on the West Coast. There are so many great guitar players in the younger generation.
It's exciting! The future of roots rock is in good hands.
Purchase Set Sail here.
All the latest guitar news, interviews, lessons, reviews, deals and more, direct to your inbox!
Jimmy Leslie has been Frets editor since 2016. See many Guitar Player- and Frets-related videos on his YouTube channel, and learn about his acoustic/electric rock group at spirithustler.com.