The 12 Most Influential Guitarists of All Time—and Their Signature Styles
These dozen guitarists shaped music in the 20th century and forever changed the guitar's role.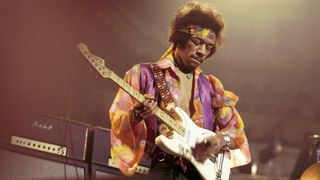 (Image credit: Getty/David Redfern )
Anytime you draw up a list of the "greatest" guitarists of all time—or in this case "most influential"—passions are bound to be ignited one way or the other.
After all, we each have our own favorites, whether it be a particular player, style or era. However, that doesn't mean such a list can't be based on some element of objective reasoning. To some extent, the proof is in all of us: anyone who picks up the instrument borrows at least a handful of techniques and stylistic tendencies that someone else brought to the table. The key is determining which guitarists have had the most impact among the larger number of players—in other words, who has contributed most across the board to the way we approach the instrument.
One thing is for certain: if the following musicians are not the 12 most influential guitarists of all time, they are certainly 12 of the most influential.
Regardless of their respective styles, all are players who have excited the imagination and kindled the flame to pick up the instrument in countless individuals. By singling them out, we honor their contributions and, at the same time, bring to mind great guitar music we have treasured.
ROBERT JOHNSON
Robert Johnson is the greatest blues guitarist of all time and one of rock's founding fathers from the pre-World War II Delta blues era. While his haunting and suggestive lyrics have inspired singers in all genres, it's his virtuoso and innovative solo guitar playing that places him on this list.
Three recording sessions between 1936 and 1937 produced 29 songs, including the verifiable classics "(I Believe I'll) Dust My Broom," "Sweet Home Chicago,'" "Walkin' Blues," "Love in Vain" and "Crossroad Blues." His popularization of cut boogie patterns presaged electric Chicago blues and rock and roll, while his fretted and slide guitar licks are so timeless that they still show up in contemporary music.
The first guitar hero, Johnson had the attitude to go with the chops. His tragic death in 1938 at the age of 27 has made him an icon for those who also mourn Jimi Hendrix, Janis Joplin and Jim Morrison.
In the style of Robert Johnson:
CHARLIE CHRISTIAN
When Charlie Christian got on the bandstand with Benny Goodman in 1939, he single-handedly propelled the electric guitar into the mainstream. Though he wasn't the first guitarist to plug in and play electrified, Christian's performances as a soloist on Goodman tracks like "Flying Home" and "Honeysuckle Rose" document the first instances that the electric guitar was used effectively as a lead instrument in a Big Band setting.
The increased volume and sustain that amplification offered put the guitar on a level playing field with customary soloing instruments like the trumpet and saxophone, and Christian's participation in early bebop jam sessions alongside such luminaries as Thelonius Monk and Dizzy Gillespie also makes him one of the founding fathers of the genre.
Sadly, Christian died from tuberculosis at 26. HIs body of work inspired a generation of jazz guitar giants, including Barney Kessel, Herb Ellis, Wes Montgomery, Tal Farlow and Jim Hall.
In the style of Charlie Christian:
B.B. KING
Every guitarist who bends or vibratoes a string to make it sing owes a debt to B.B. King. With influences as diverse as T-Bone Walker, Charlie Christian and Django Reinhardt, the late guitarist turned the blues world upside down in 1952 with "3 O'Clock Blues." Almost overnight, the harmonica was supplanted as the primary solo instrument in blues, as guitarists scrambled to imitate B.B.'s soloing style, especially in Chicago.
In 1970, B.B. crossed over to the white rock audience with "The Thrill Is Gone." In 1988, he virtually repeated the trick when he recorded "When Love Comes to Town" with U2. Always the humble student of the instrument, B.B. King became jazzier and better than ever as his life and career continued well into the new century. His loss earlier this year was deeply felt by the music community and, particularly, by the guitarist he influenced.
In the style of B.B. King:
CHET ATKINS
Chet Atkins made countless recordings as a studio musician and solo artist, beginning in the Forties. In fact, much of the session work he recorded and/or produced in Nashville with artists like Elvis Presley, Roy Orbison and the Everly Brothers laid the foundation for early rock and roll.
Though comfortable playing many styles, Atkins was most often associated with country music and the acoustic guitar. By using a combination of his fingers and a thumb pick, he created his signature "fingerpicking" sound—a style somewhat inspired by fellow guitarist Merle Travis. Atkins even recorded a duo album with Travis, as well as with other respected guitarist like Doc Watson, Les Paul, Jerry Reed and Mark Knopfler.
A guitar legend, Atkins was elected to the Country Music Hal of Fame in 1973. His musical contributions inspired artists ranging from Eric Johnson to the late Lenny Breau. In virtually any high-end music store, you can still find Chet Atkins signature model guitars, which Gibson and Gretsch designed to his specifications.
In the style of Chet Atkins:
CHUCK BERRY
The first popular performer to sing, play and write his own material, Chuck Berry roared into rock and roll in 1955 with the country two-beat rhythms of "Maybellene" and claimed the genre for his own. His influences were similar to those of B.B. King but also include jump blues and country-and-western music.
It was Berry's songs from the late Fifties with cut boogie patterns—like "Roll Over Beethoven," "Johnny B. Goode" and "Carol"—that realized electrically the guitar ambitions first dreamt by Robert Johnson. Berry's tone—courtesy of a hollow-body Gibson through a tweed Fender amp—was raw and loud. This, along with his duckwalk, ringing double-stops and songs about cars and girls, grabbed the youth market. Tall and handsome, he brought the guitar as the "cool" instruments to a ready audience via appearances on TV and in movies, in a way that the Beatles would repeat in the early Sixties.
In the style of Chuck Berry:
WES MONTGOMERY
John Leslie "Wes" Montgomery first picked up the guitar in 1943, at the relatively late age of 19. He honed his chops by emulating his hero, Charlie Christian, and got his first paying gig by playing Christian's solos note for note.
Unlike Christian, however, Montgomery used his thumb instead of a pick to create the percussive-yet-warm tone associated with his style. (According to interviews, Wes learned to play with his thumb because it created a softer sound, appeasing his neighbors.) With his phenomenal ear, Wes quickly grew beyond his influences and developed a style all his own. His knack for melody, groundbreaking use of octaves in a soloing context and intricate chord solos—as demonstrated in his devastating interpretations of standards like "Round Midnight" and "Days of Wine and Roses"—broadened the range of guitar, pushing the instrument into unchartered territory.
Montgomery died in 1968 at the pinnacle of his career. his musicality has inspired a broad range of jazz guitarists, including George Benson, Joe Diorio and Pat Metheny.
In the style of Wes Montgomery:
ERIC CLAPTON
Bluesy British bloke Eric Clapton has been a household name since his recording debut with the Yardbirds in 1963. During the mid Sixties, his legendary performances with John Mayall's Bluesbreakers and Cream established him as a pioneer of the modern electric blues and rock guitar.
In the Seventies, Clapton's work with Derek and the Dominos and his first solo albums added a slew of masterpieces like "Layla" and "Lay Down Sally" to classic rock's repertoire. The Eighties also saw Clapton's music featured in movies (The Hit in 1984 and Lethal Weapon in 1987) and commercials ("After Midnight" for Michelob in 1987), while a string of albums produced by Phil Collins established Clapton as a pop/rock icon.
After championing the "unplugged" phenomenon in the early Nineties with his MTV Unplugged concert, Clapton returned to his roots with From the Cradle. He has since helped keep the blues alive with his annual three-day Crossroads festival, which features both Clapton and a host of established and upcoming blues guitarists.
Regardless of the musical format, Eric Clapton has always kept his brilliant blues-inspired guitar playing in the forefront, influencing the likes of Eddie Van Halen, Steve Lukather, Joe Satriani, Jonny Lang and countless others.
In the style of Eric Clapton:
JIMI HENDRIX
In his early days, Jimmy James, as he was then known, played in rhythm sections, backing artists like Little Richard, B.B. King and Ike and Tina Turner. It isn't until 1966, when he moved to London and formed the Experience, that Jimi Hendrix was able to cut loose and start getting the attention he deserved for his magnificent guitar work. Alarmingly, Hendrix was virtually unknown in the U.S. until he played at the Monterey Pop Festival in 1967—the legendary performance in which he doused his Fender Stratocaster with lighter fluid and set it on fire.
Though he was influenced by everyone from B.B. King to Muddy Waters to Chuck Berry and Bob Dylan, Hendrix's complete artistic vision included elements of blues, funk, rock, psychedelia and utter chaos. His frequent use of effects like the wah and Octavia pedal, pioneering studio effects like "backward" guitar and flanging, and use of controlled feedback and the tremolo bar added another dimension to his music.
Hendrix also had a beautifully subtle side, as depicted in tracks like "Little Wing," "Bold As Love" and "Castles Made of Sand." He died on September 18, 1970. During his brief stay on this planet, he had a profound impact on musicians ranging from Miles Davis to Eric Johnson to Stevie Ray Vaughan.
In the style of Jimi Hendrix:
JIMMY PAGE
Jimmy Page is one of rock music's ultimate riff masters, guitar orchestrators and studio revolutionaries. His vast body of work with the Yardbirds and Led Zeppelin exhibits the type of wild abandon often associated with Jimi Hendrix, the passion and grit of a seasoned bluesman, and the sensitivity of a folk musician.
Extremely eclectic, Page has a diverse array of guitaristic influences, which includes blues guitarists Otis Rush, Buddy Guy and Hubert Sumlin as well as early rockabilly guitarists Cliff Gallup and Scotty Moore. He combined these influences with a strong interest in the occult and plenty of his own studio savvy to paint a musical landscape within every Led Zeppelin song. Page's landmark use of echo effects in tracks like "How Many More Times" and "You Shook Me," bizarre tunings in cuts like "Friends" and "Bron-Y-Aur Stomp," and excursions with a violin bow in songs like "Dazed and Confused" yielded textures that were unparalleled at the time.
Although Led Zeppelin disbanded in 1980 after drummer John Bonham's death, they have reunited on a few occasions, most recently in 2007 for a tribute concert in memory of Ahmet Ertegun, who had signed them to Atlantic and launched their career. Page continues to go strong. After reissuing the band's catalog in 2014 and 2015, he's promised a new project to come in 2016. We couldn't be happier, and more eager to hear what he has.
In the style of Jimmy Page:
EDDIE VAN HALEN
Believe it or not, Eddie Van Halen hadn't even heard rock music until he and his family moved from the Netherlands to Pasadena California in 1967. After hearing Cream, he quickly abandoned piano and drums for the guitar, learning the instrument by picking licks off records by Eric Clapton, Led Zeppelin, Jimi Hendrix and Jeff Beck. These influences were merely a springboard, though. Eddie was quickly able to put his own mark on everything he played.
Today, Van Halen is one of rock's most influential and imitated innovators. As unpredictable and flamboyant as Hendrix, Van Halen has had an unmeasurable impact on the guitar community. By the mid Eighties, his self-described "brown" sound, over-the-top techniques (including two-handed tapping), and revolutionary trem-bar effects inspired a generation of aspiring guitarists who bought the one-pickup, one-volume-knob, Floyd Rose–equipped Strat-style guitars that Van Halen made famous.
For a taste of Ed at his most smoking, check out "Eruption," "Spanish Fly," "Cathedral" and the intros to "Mean Street" and "Little Guitars."
In the style of Eddie Van Halen:
STEVIE RAY VAUGHAN
Stevie Ray Vaughan played blues like a man possessed. The perfect combination of chops, taste, conviction, tone and showmanship, Vaughan and his '59 Fender Stratocaster exposed a whole new generation of listeners to the blues and, in turn, Stevie's own influences: Albert King, Jimi Hendrix, B.B. King, Otis Rush and Buddy Guy.
Initially inspired by his older brother Jimmie, Stevie picked up the guitar at an early age and was playing in bands by the time he was 12. By the time he formed his legendary trio Double Trouble in 1980, Stevie Ray Vaughan was already a legend in his adopted hometown of Austin, Texas. After hearing and seeing Vaughan playing at Switzerland's Montreux Jazz Festival, pop icon David Bowie invited Stevie to play on his Let's Dance album. Vaughan's career took off form there.
His first solo album, Texas Flood, was released in 1983 and featured blistering renditions of "Testify" and "Texas Flood" as well as now-classic originals like "Pride and Joy" and "Lenny." Several other successful solo albums followed. On August 27, 190, Vaughan perished in a helicopter crash while returning form a gig he shared with Eric Clapton, Buddy Guy, Jimmie Vaughan and Robert Cray.
In the style of Stevie Ray Vaughan:
YNGWIE J. MALMSTEEN
An import from Sweden, Yngwie J. Malmsteen specializes in what many regard as "Bach and Roll," or neoclassical rock—a style of music that features furiously fast scalar and arpeggiated sequences reminiscent of the Bach and Paganini virtuoso organ and violin works written in the 18th century.
After moving to the U.S. for brief stints with the group's Steeler and Alcatrazz, Malmsteen flew his old Swedish bandmates out to the states and reformed Yngwie J. Malmsteen's Rising Force, releasing the band's self-titled debut in 1984.
Yngwie's staggering virtuosity, as exemplified on the track "Far Beyond the Sun," inspired countless guitarists to refine their alternate-picking and sweep-picking chops. Some even went as far as to scallop their fretboards, carving out the wood between the frets in a crescent, as Malmsteen does, to facilitate playing with a lighter touch.
The mass appeal that Yngwie achieved among guitarists in the mid-to-late Eighties opened up the market for other burning shredders like Vinnie Moore, Tony MacAlpine, Paul Gilbert and Jason Becker, among others.
In the style of Yngwie Malmsteen:
All the latest guitar news, interviews, lessons, reviews, deals and more, direct to your inbox!