Nels Cline Shares His Top 3 Lesser-Known Guitar Solos
The Wilco guitarist offers few tasteful tips for your playlist.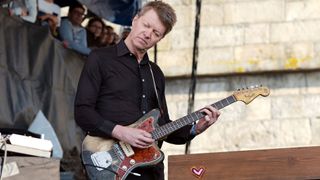 (Image credit: Taylor Hill/WireImage)
We recently asked some of the world's top guitar players to choose their favorite solos, albeit with one catch: They had to refrain from the obvious. No Hendrix. No Clapton. No Gilmour, et cetera.
Here's what Wilco's electric guitar hero Nels Cline had to say…
1) Clarence "Gatemouth" Brown | "Boogie Uproar" single
GUITARIST: Clarence "Gatemouth" Brown
"Maybe this is cheating, because the phenomenal jump blues wizard plays something like three solos here, and each one is amazing. Obviously coming out of the T-Bone Walker vocabulary, and recorded well before the blues was imitated/subsumed by some of the biggies, Gatemouth infuses his playing with extra fire and facility while adding a dollop of humor along the way (throwing in the 'Wedding March,' for example). He seems to be rather overlooked, so here he is in his youthful glory."
2) Otis Rush | "All Your Love (I Miss Loving)" single
GUITARIST: Otis Rush
"Another blues great who seems overlooked to me at this point in time and whose searing, riveting style obviously had a major impact on the biggies, left-handed wonder Otis Rush, on this monster classic from 1958, stuns me in the very first seconds of this song. Is the intro a solo? Could be. It is still some of the boldest, most stunning guitar I have ever heard.
"Then there is the instrumental break — the classic minor triad arpeggios that could also be one of the greatest solo/riff moments in musical history. But then Otis Rush actually solos, and one can hear the template for blues-based electric guitar for pretty much the entire '60s to early '70s and beyond. Like a kind and knowing blow to the heart, Otis Rush captivates me every time I hear this, embodying both the memory of joy and the immediacy of pain."
3) Tedeschi Trucks Band | "Until You Remember" from 'Revelator'
GUITARIST: Derek Trucks
"This track also has more than one guitar solo. The first one is guitar prodigy Derek Trucks assaying the song's melody in his inimitable and always astonishing slide style, and the second comes during the song's coda. I can't think of many (any?) guitar solos that give me gooseflesh and bring tears to my eyes as often as Derek Trucks' slide solos do, and every time I hear his playing during the coda of this song, I lose it. Sure, Derek has done a lot of such mind-bending/heart-rending solos, and we all know that he is one of the all-time greats. But this solo just slays me, makes me glad to be alive and able to feel."
Get Clarence "Gatemouth" Brown's Boogie Uproar – The Complete Aladdin / Peacock Singles As & Bs 1947-1961 here.
Get the Otis Rush Singles Collection here.
Get the Revelator album by the Tedeschi Trucks Band here.
All the latest guitar news, interviews, lessons, reviews, deals and more, direct to your inbox!
Guitar Player is the world's most comprehensive, trusted and insightful guitar publication for passionate guitarists and active musicians of all ages. Guitar Player magazine is published 13 times a year in print and digital formats. The magazine was established in 1967 and is the world's oldest guitar magazine.
When "Guitar Player Staff" is credited as the author, it's usually because more than one author on the team has created the story.