Nancy Wilson: My Career in 5 Songs
The Heart guitarist looks back on the group's essential classic cuts.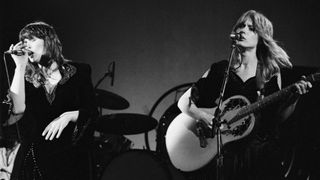 (Image credit: Bob Riha, Jr./Getty Images)
Nancy Wilson was all of nine years old when she first saw the Beatles on TV. She remembers it as her "call to Mecca moment." "That was it for me," she says. "What the Beatles were doing was so mind blowing, it just went right through me. I immediately set my sights on learning the guitar."
Her sister Ann was similarly besotted, and after much begging of their parents, the Wilson girls were rewarded with a $30 Lyle acoustic, which Nancy remembers as being nearly impossible to play. "You could not form a barred F chord on it to save your life," she says. "It was such a struggle. A little later, Ann got sick and our grandmother gave her a much better guitar. I would sneak off and play it, which made Ann furious. But I could actually play that one."
After college, Nancy joined Ann, now a lead singer, in the band that would become Heart. At their early gigs, she would hear a certain phrase: "Pretty good for a girl." "It was as if people were shocked and stunned to see a girl who could actually play with any kind of competence," she says.
"Up till then, there weren't a lot of female guitarists, and those who did play were usually accompanying themselves and doing very soft folky stuff. You just didn't see women playing rock and roll and attacking the guitar very aggressively. So yeah, when they saw me, it was like, 'Whoa! You're pretty good for a girl.'"
The backhanded compliment stung, but Wilson took it as a challenge. "I wasn't about to fade in the background and be some wimpy chick," she explains. "I made it my mission to prove myself and be a really good player – period.
"I was really serious about it. You can see it on my face," she says of early videos showing the band in performance. "I was very earnest onstage, concentrating really hard on what I was doing. I was out to prove myself, and I think I did."
Whether playing alongside Heart co-lead guitarists Roger Fisher and Howard Leese in the band's classic 1970s lineup, or with current axemen Craig Bartok and Ryan Waters, Wilson has been content to let her rhythm playing do most of the talking. "I like playing solos, but when I do, I try to make the phrases meaningful," she observes.
"Give me somebody like David Gilmour any day of the week. I'm really into that kind of lead work. But rhythm is my main thing. I like to groove. A lot of people don't take that role seriously, but it's what drives a band. I like to play percussively and get inside the song. When there's too much extra stuff going on, it can sound like clutter."
1. "Magic Man" from 'Dreamboat Annie' (1975)
"We didn't really have this song worked out before we started recording it. It was pretty much something we built in the studio. Ann had these cool words, so we found a groove for them with Mike Flicker, our producer at the time. Roger, Howard and I worked out our parts, and we left a lot of spaces for us to answer each other on our guitars. In terms of the music, this song is a real conversation between the guitarists.
"I admit I was very nervous when we recorded it. It was my first time seeing that red light come on in a studio and hearing, 'We're rolling.' I felt this immediate sense of pressure come over me, like I had something to prove. That can play tricks with you; it messes with your nerves. Your guitar is so ultra-present in the headphones, so you start worrying you're pushing too hard, speeding up. Then you start to think that you're laying back too much.
"I really had to learn how to relax while recording. It was an eye-opening – and ear-opening – experience in so many ways. After we recorded the basics and I was listening to a playback in the control room, I wondered, 'Is that how we really sound?' My guitar playing was under the microscope, and it was kind of scary at first. But that's what makes you grow and improve. You hear your mistakes and learn what you need to do to be a better player."
2. "Crazy on You" from 'Dreamboat Annie' (1975)
"I was in love with the idea that we were making a sort of a concept album, one which had a prologue, an epilogue and a recurring motif. I wanted certain songs to take you on a journey, and this was one of them.
"We already had the rock part of the song – you know, the song itself. It had a big cool riff and those poetic lyrics, and the main rhythm was inspired by the Moody Blues. They had a song called "Question," which was a definite inspiration for the strummy rhythm. But I wanted the song to have an intro, a free-floating piece.
"I always loved this acoustic instrumental piece [composed by Davey Graham] that Paul Simon played called "Anji," and I wanted to emulate it. It's a shuffle, and I just loved the way it moved. So I wrote my own take on that.
"I worked really hard on it for a couple of days. I didn't want it to sound like this tossed-off jammy thing; I wanted it to have a definite structure and for it to feel like a true part of the song. It's pretty intricate, and I did a lot of takes to get it just right. I was feeling a little less tentative than when we did "Magic Man," but I still felt pressure to get it just right.
"I borrowed this big Guild acoustic guitar that belonged to Mike Flicker. It was this big warhorse. Then I just played the intro over and over to get a complete take without any mistakes. At the end, I had some real blisters on my fingers. What's great is seeing people today learning how to play it. I go on Instagram and check out videos of people playing it. I love that."
3. "Barracuda" from 'Little Queen' (1977)
"We were opening for Queen, and one of the other openers was Nazareth. They had a hit song with a version of Joni Mitchell's "This Flight Tonight." They turned it into a real rock-metal track, and it had a really intense riff. We loved it and said, 'That's such a cool groove!' We had the idea to call a song "Barracuda," so we decided to use that groove for ourselves. We saw the Nazareth guys later on, and they were pretty pissed at us.
"Roger Fisher was really an amazing innovator, and he came up with that really muscular style of muting the strings. That's the secret to playing "Barracuda." You have to really chunk down on the strings with the flat part of your hand. There's a lot of finesse involved. I played acoustic guitar on the track, but I did add some electric guitar stuff with my red Strat at the end.
"We built the song up in sections: two bars here, eight bars there. We had a sense that it was going to be a monster song, so we took a lot of time getting it right. Every time we played it back, it sounded so huge and furious. The song was just galloping along. This was recorded in the days before automation, so everybody was riding the faders during the mix. We were all jostling for position to make ourselves louder. By the end, the VU meters were pinned red."
4. "Even It Up" from 'Bébé le Strange' (1980)
"This was during a period of transition for us. We were soaking up the new-wave vibe, getting a little more garagey and Stonesy. You listen to albums like Dreamboat Annie, and the sound is very precise. There's not a lot of slop anywhere. So we wanted to shake things up and get a little wilder, gutsier and dirtier.
"This song started out as something I was writing for another track. Annie and I were working with a songwriter named Sue Ennis, and we would go to one of our favorite spots on the beach of the Oregon coast. We had a drum machine named Ringo, and we would jam along to it. I had this intro written on acoustic, and that's how I thought the song would go, but when we showed it to the band, another idea took shape. We said, 'Let's make it raunchier! Let's have the Tower of Power horns!' The whole thing changed and it became an electric number.
"It's a lot less produced than what we had done before, but that was the idea. The guitars in the band were now played by me and Howard Leese, and I was doing a lot more leads. It was a lot of fun for me to have more freedom playing electric guitar. I was using more distortion and working with pedals. I blew up quite a few amps looking for the right sound. The whole vibe in the band was different. Annie and I were stepping out and being leaders, and that's what this track was all about."
5. "Tell It Like It Is" from 'Greatest Hit Live' (1980)
"We loved Aaron Neville's original recording of this song. We had the single on our jukebox, and we played it all the time. It's just so beautiful and melancholy. It's got everything. We would sing it around the house and at beach-fire get-togethers. I would always play acoustic to accompany Annie. Her voice just slayed on it. It was a natural that we would record it and get the horn section in on it. Annie and I were really psyched to do our own version.
"In the studio, we worked hard to make the sound groovy. Tempo was key. It couldn't drag, but it couldn't be too fast, either. The main thing was keeping a lot of space in the track for the horn players to feel comfortable in their zone. It was just a matter of feeling it and laying back, but not too much. The whole thing had to sit in a nice place.
"I've got a lot of blues in my arsenal, and I played the song enough times to know what I had to do. I used a [Gibson] ES-335 and a [Fender] Deluxe, and I had this great warm tone. I would slide up to the diminished chord, and I would put in these little bursts of air, these magical spots that really pushed the rhythm. It was a lot of fun showing it to the guys and running through it with them. They fell into it beautifully. In many ways, playing a cover is easier than when you're trying to create your own song in the studio. You're starting with something that you know you like, and you're intent on doing a good interpretation.
"We've run into Aaron Neville over the years. He always loved what we did with the song, and we've always loved what he did, so it's been great. He's a buddy."
All the latest guitar news, interviews, lessons, reviews, deals and more, direct to your inbox!
Joe is a freelance journalist who has, over the past few decades, interviewed hundreds of guitarists for Guitar World, Guitar Player, MusicRadar and Classic Rock. He is also a former editor of Guitar World, contributing writer for Guitar Aficionado and VP of A&R for Island Records. He's an enthusiastic guitarist, but he's nowhere near the likes of the people he interviews. Surprisingly, his skills are more suited to the drums. If you need a drummer for your Beatles tribute band, look him up.