Wild, Urgent and Vital: Here's Why MC5's 'Kick out the Jams' Stands as a Precursor to Punk and Defines Timeless Rock Music
If rock music is a combination of bravado and lust, MC5 left pretty much everyone in the dust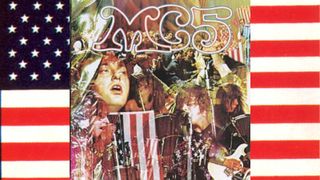 (Image credit: Elektra)
Elektra had reasons to be concerned about releasing Kick out the Jams. Between its offensive language and suggestive lyrical content, the 1969 debut album from Detroit's MC5 (short for Motor City Five) was a minefield.
Some stores banned the LP from its bins, so the label, over the group's objections, released a censored version.
In either version, Kick out the Jams is undeniably heavy. Recorded live at Detroit's famed Grande Ballroom over October 30 and 31, 1969, it stands as a precursor to punk and defines, for me, timeless rock music.
The album opens with lead singer Rob Tyner declaring in preacher-like tones, "You're either part of the problem, or you're the solution! You must choose!" upon which the band breaks into its hard-rock version of "Ramblin' Rose," a tune previously covered by Jerry Lee Lewis (not the Nat King Cole cut, as many have believed).
"Love is like a ramblin' rose," guitarist Wayne Kramer sings in a falsetto that gives me unease. "The more you feed it, the more it grows." It's followed by the title track, a churning gospel breakdown as important and vital as anything played in rock history.
The MC5 original "Come Together" seems like an extension of it, riding atop a guitar riff that's a siren song to carnality, while Tyner shouts, "Let me give tongue to it. Yes!"
"Borderline" opens side two with a blur of power chords and locomotive drums, followed by a cover of John Lee Hooker's "Motor City Is Burning."
Between their blues clichés, Kramer and co-guitarist Fred "Sonic" Smith play an interpretation of an Elmore James lick that has no reverence for the past whatsoever. "I Want You Right Now" sludges through a testament of desire before the jaw-dropping closer "Starship."
Written by the MC5 and co-credited to Sun Ra, it's an onslaught of electric guitars on the verge of feedback, with a breakdown that fuses eerie, intoning chanting with swelling guitar chords that build to a cacophony of otherworldly noises. It's a showstopper and, appropriately, the last track on the album.
You have to hand it to the MC5. Rob Tyner was a great vocalist and quintessential frontman who, here, somehow manages to remain front and center amid the band's fireworks.
Meanwhile, bassist Michael Davis throws down a thick bass foundation, allowing drummer Dennis Thompson to occasionally step out from being an atomic metronome and play creatively and reactively.
Together, Smith's Rickenbacker and Kramer's modified Stratocaster buzz, feed back and scream as they create a grooving sonic soundscape, like a toxic adhesive holding it all together. Folks wax poetic about Ron and Keith, but in my opinion, Fred and Wayne beat them to a pulp.
Rock music is a combination of bravado and lust, expressed urgently, with wild abandon and total commitment. In that respect, MC5 left pretty much everyone in the dust.
Order Kick out the Jams here.
All the latest guitar news, interviews, lessons, reviews, deals and more, direct to your inbox!
Jim Campilongo has 14 critically acclaimed instrumental records available on vinyl, CD and digital download here.