"I Play Rock, I Play Soul, I Play Funk – That's the Malina Moye Sound": With 'Dirty,' the Strat-Wielding Lefty Leaves an Indelible Record of Her Singular Style
"People always tell you to pick a lane as an artist, but I was never comfortable with that," says the pioneering guitarist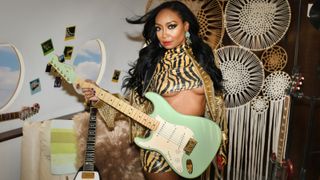 (Image credit: Isaiah Mays)
In 2010, Malina Moye became the first African-American woman to perform the National Anthem on guitar at a professional sports event, a match-up between the Minnesota Vikings and the Dallas Cowboys. She's gone on to play the anthem at other events since then, but she treasures the memory of the first time she walked on a football field with her Strat. "People were freaking out, like, 'Jimi Hendrix did that years ago. Can this girl really do it?'" she recalls. "I didn't look at it like that. I was just excited that I was asked to play. Little did I know it would be a historical moment."
On her 2009 debut, Diamonds & Guitars, Moye established herself as a forceful and imaginative singer, songwriter and guitarist, capable of blending R&B, pop, funk, hip-hop and rock in a way that sounded seamless. Her audience grew with subsequent releases, the 2014 EP Rock & Roll Baby and the 2019 full-length Bad as I Wanna Be. Now she's set to make her biggest splash yet with Dirty (WCE Records), a power-packed and musically diverse collection of inspirational originals (and one sublime Led Zeppelin cover) that suggests she's just beginning to hit her stride.
"The album is songs, stories and guitar solos," Moye says with a laugh. "It's funny, because people always tell you to pick a lane as an artist, but I was never comfortable with that. I play rock, I play soul, I play funk – that's the Malina Moye sound. I can't be in one box. It's like I always say, 'The notes don't know they're supposed to be in a box.'"
The rhythm-guitar sound on some of new album's tracks is pretty brutal and direct. It's almost got an EDM-like heaviness.
EDM – wow, that's interesting you hear it that way. The sound was a reflection of my attitude. With the first single "Say My Name," I was taking a stand for myself – "I'm here making it happen, and you will remember my name." I wanted the guitar to sound powerful: the way the chords crunch; but even the solos, I wanted them to sound hot. I used a Boss Metal Zone, one of my favorite pedals. It's buttery and thick, and it just nails it. I put that with a Fender Hot Rod DeVille 212 amp and a wah. That's the sound.
Now, with the solo on "Say My Name," I wanted it to sound like a video game. There was no way a blues situation would work with that, so I thought, I've got to come at this like I'm a metal player. That's the zone I was in.
Love that solo. Also "Over Ur Lies" and "Courage" – beautifully phrased. Do you write and demo solos, or are they improvised?
I lean toward spontaneity, but I always want to honor the song. In "Courage," I wanted to show taste, not so much flash, so my mind went, What if I were Paul Jackson Jr.? Only I'm not Paul Jackson Jr., I'm Malina Moye, so you get the vibe of both. It was about nuance. That was a one-take thing. There was a note that bothered me, but I said, Uh-uh, you're going to leave it just as it is.
You do a sweet and delightful cover of "D'yer Mak'er." I was waiting to see how you would approach that solo – "Will she quote Jimmy Page?" But you didn't.
No, not at all, and I'll tell you why: Because I'm not Jimmy Page. [laughs] I'm being honest. There's only one Jimmy Page, and he's it.
You could have covered dozens of other Zeppelin songs. What was it about "D'yer Mak'er" that spoke to you?
It actually had a lot to do with the order of the other songs on the album. Throughout the album, I was trying to show the emotional ride a person goes through before they can arrive at peace and forgiveness. With "D'yer Mak'er," I thought, "It's not about another person; it's about a thing that somebody else is trying to take away." Led Zeppelin's version was so sexual and so good, but I knew I could do it my own way and still honor them.
Have you sent your version to Jimmy Page? Do you know if he's heard it?
That would have been up to my lawyer to get the clearance. [laughs] I don't know if Jimmy's heard it. But you know what would be cool? I'd love to cover it with Robert Plant. Wouldn't that be something? Sometimes you wind up on the same shows, so you never know
You've also covered Jimi Hendrix in the past. Do you ever feel trepidation doing songs by guitar legends?
I don't think that way, because I don't put myself in their category. I'm a fan. These guys are the reason why I play. I could never do what they did, but I try to share the moment and give back what they gave me.
I don't get scared of playing their songs, and it goes back to what my dad said to me years ago. He said, "I've got good news and bad news for you. The bad news is, no matter how hard you try, you're never gonna be Jimmy Page. You'll never be Hendrix or Prince or any of those people. Now, you want the good news?" I said, "How can there be good news? Daddy, you just told me I'm not going to be anybody. You crushed my dreams." And he said, "No, no, because the good news is, they're never gonna be you. Use that." Once I took that to heart, I felt free to do whatever I wanted.
Being left-handed, you used to flip your Strat upside down. You don't have to do that anymore, right?
Not anymore, now that I've got models from the Fender Custom Shop. They've built me some really incredible guitars. When you flip the guitar upside down you'll have some issues, because of the knobs and things; you can't bear down the way you should. When Fender first built me a guitar, I said, "I need it to be a left-handed body with a right-handed headstock, and it's got to be strung backward and the nut has to be flipped." That probably sounded funny, but it worked out.
Plus, I have my own signature strings with Dean Markley. I mix up the gauges because I don't have man hands, but with these strings, I can really wail. Also, the pickups I use are important. I've got the DiMarzio True Velvet and Virtual Vintage Blues pickups, and they really make my leads sound strong. My whole thing is, the sound has to be thick. I don't want a sound that gets lost in the background. It's got to cut through and grab you.
You play a Flying V in certain parts of the "Say My Name" video. Did you use that on the album?
I did. I used it for some layering. The Strat is the main guitar, but Gibson gave me a replica of Jimi's '69 Flying V. It's a lefty and it's strung upside down. I used that on some parts. It's beautiful. The mix of those two guitars really worked great. I didn't need anything more.
Get Dirty here.
All the latest guitar news, interviews, lessons, reviews, deals and more, direct to your inbox!
Joe is a freelance journalist who has, over the past few decades, interviewed hundreds of guitarists for Guitar World, Guitar Player, MusicRadar and Classic Rock. He is also a former editor of Guitar World, contributing writer for Guitar Aficionado and VP of A&R for Island Records. He's an enthusiastic guitarist, but he's nowhere near the likes of the people he interviews. Surprisingly, his skills are more suited to the drums. If you need a drummer for your Beatles tribute band, look him up.