Listen to 'A Dynamic New Sound' – the Album That Introduced the Genius of Jazz Guitar Innovator Wes Montgomery to the World
This groundbreaking LP marked his debut as a leader and represented a giant step forward in the evolution of the electric guitar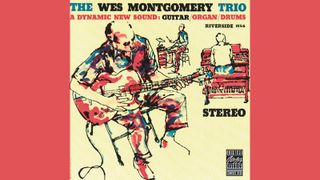 (Image credit: Riverside/Original Jazz Classics)
Wes Montgomery could be the best-known jazz guitarist of all time, and he certainly raised the guitar to new heights in the genre.
Of his many great albums, the Wes Montgomery Trio's aptly named A Dynamic New Sound is my favorite.
The trio included Melvin Rhyne on organ and Paul Parker on drums, and as a lover of the jazz organ-trio format, I listen to the album as much as any of Wes's more famous works with acoustic jazz combos.
Released on the Riverside label in 1959, A Dynamic New Sound marked his debut as a leader and represented a giant step forward in the evolution of the electric guitar.
It not only introduced his genius to the world, it also put Wes on the short list of 20th century guitar innovators.
Wes was born in Indianapolis in 1923 and started playing guitar at the ripe old age of 19.
After hearing a Charlie Christian record at a party, he began obsessively copying the guitarist note for note.
Significantly, Wes was inspired to incorporate octaves in his playing after he heard Django Reinhardt.
He initially strummed the strings with his thumb to keep his practicing volume to a minimum.
From this grew his amazing technical prowess and an identifiable sound that is both distinctive and personal.
Wes's virtuosity shines throughout A Dynamic New Sound, particularly on "Whisper Not," "Yesterdays" and, my all-time favorite Wes track, "Round Midnight," where he rips through the intimidating piece with apparent ease, making it sound as simple as a nursery rhyme.
On "The End of a Love Affair," one has to marvel at how he burns through the changes as the chords quickly gallop by.
"Satin Doll" is earthy and totally swinging, with Melvin Rhyne playing a ripping solo before Wes testifies.
Some cranky critics point out that Wes became predictable for a "three-tiered" solo structure of single notes, octaves and chords, and some musicians at the time criticized him for settling into a more commercial format.
I find any negative observations about Wes head-scratchingly unfair. His contributions to the electric guitar are significant, and I think his "commercial" records are fantastically listenable.
As a teacher and a player, I encourage doing things one way. I use hybrid picking, so I always incorporate a pick and never place it in my mouth or lap.
That said, if I play octaves, I inevitably cup my pick so I can get the Wes Montgomery sound. Octaves just don't sound right any other way. Wes once said octave soloing gave him headaches. I was relieved to discover his daunting technical ability didn't come easily, even to him.
I guess he was a mere mortal, though he certainly sounds superhuman, particularly on A Dynamic New Sound.
Order A Dynamic New Sound here.
All the latest guitar news, interviews, lessons, reviews, deals and more, direct to your inbox!
Jim Campilongo has 14 critically acclaimed instrumental records available on vinyl, CD and digital download here.