Five Reasons Kaki King Is a Guitar Legend
In King's hands, the guitar becomes a canvas for a revolutionary reassertion of the instrument's role in music and art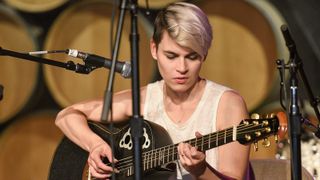 (Image credit: Grant Lamos IV/Getty Images)
Since arriving on the guitar scene in 2002, King has carved out her own path as a visionary artist, not only with her virtuoso two-handed tapping and percussive use of the guitar's body but also in her compositions and performances.
"There are some guitar players that are good, and there are some guitar players that are really fucking good," Dave Grohl once said. "And then there's Kaki King."
Here are five reasons we wholeheartedly agree…
1. She Started Playing Aged Four
She was born Katherine Elizabeth King, on August 24, 1979. Sensing her innate musical ability, King's father bought her a guitar when she was four. "I guess my dad was hipper than most," King told Guitar Player's Jude Gold in June 2003.
"Instead of sending me off to piano lessons with all the other kids, he forced me to play guitar – and I hated it. I took a few lessons and quit."
King switched to drums, but her father kept the guitar, and she occasionally picked it up and strummed it.
"Then, when Nirvana broke big, it seemed like every boy in my sixth-grade class started to play guitar. All of the sudden, it was cool to be playing, and I already knew way more than the boys did."
2. Preston Reed Was Her Mentor
While attending New York University, King began playing guitar in earnest again, studying with an instructor and busking on the subway.
Her stylistic "eureka" moment came when she attended a Swannanoa Gathering, the annual series of folk-arts workshops held in North Carolina. There, she met Preston Reed, who stood out among the crowd of Martin and Taylor players with their traditional Celtic guitar music.
"He tapped riffs, hit his guitar and, like me, tuned down a whole step or more," King recalled. "He even played the exact same guitar as me – an Ovation Adamas."
King had found her mentor and soon began incorporating his techniques into her playing.
3. Conan O'Brien Called…
During her college years in New York City, King waitressed and tended bar at the Lower East Side's Mercury Lounge, and occasionally performed on its stage. She quickly earned a fan base for her instrumental guitar work, employing jazz chord progressions, two-handed tapping and percussive body slapping.
Shortly after graduating, she signed with Velour Records and released her self-produced debut album, Everybody Loves You, in 2002.
The record and her subsequent tour brought acclaim from the acoustic guitar community, while an appearance on Late Night with Conan O'Brien landed King a contract with Sony Records, where she released her David Torn-produced sophomore effort, Legs to Make Us Longer.
The album gave her a wider audience, as did her subsequent world tour and appearance on a leg of Eric Johnson's 2005 tour.
Careful not to be pigeonholed, King returned to Velour Records and worked with a full band for her third album, 2006's …Until We Felt Red. In early 2007, Dave Grohl tapped her to perform on the Foo Fighters track "Ballad of the Beaconsfield Miners."
4. "Keep Searching"
King rarely employs standard tuning, preferring open tunings for their ability to sustain and sound harmonious. Even then, she frequently changes up her tunings to keep things fresh.
"You can become overly dependent on open tunings," she told GP. "For example, you can be in DADGAD and play lovely things forever, but eventually it's going to stop sounding interesting. The trick is to keep searching out new tunings and new ideas."
5. Signature Artist
A long-time Ovation player, King designed her signature Adamas 1581-KK model. The guitar became the centerpiece of her groundbreaking 2014 multimedia work, The Neck Is a Bridge to the Body, in which scenes of a creation myth are projected on its body.
"The guitar is a shapeshifter," King observed, "something that plays all types of music and really fills all kinds of roles. It's not always the six-string guitar that we all know and love."
Indeed it's not, and in King's hands it becomes a canvas for a revolutionary reassertion of the instrument's role in music and art.
Visit Kaki King's website for more information.
All the latest guitar news, interviews, lessons, reviews, deals and more, direct to your inbox!
Guitar Player is the world's most comprehensive, trusted and insightful guitar publication for passionate guitarists and active musicians of all ages. Guitar Player magazine is published 13 times a year in print and digital formats. The magazine was established in 1967 and is the world's oldest guitar magazine.
When "Guitar Player Staff" is credited as the author, it's usually because more than one author on the team has created the story.