"Instrumental Music Became Like a Personal Growth Thing for Me": Joe Satriani Talks Becoming an Instrumental Guitarist
"You can break it down into what you're trying to accomplish physically, artistically and economically," says Satch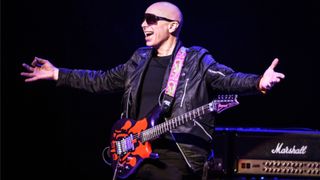 (Image credit: Katja Ogrin/Redferns)
The following appeared in the May 2020 issue of Guitar Player magazine.
"There's a great piece of advice I once got from Glyn Johns," Joe Satriani tells Guitar Player, recalling a conversation with the legendary British producer who helmed Satch's 1995 self-titled album.
"He said to me: 'It's not your job to decide what people will like or not like – it's your job to play the guitar. So go play your bloody guitar!'"
Satriani laughs at the bluntness of the directive. But, he adds, "It was just a really great, cutting-through-the bullshit statement. He was saying, 'Make yourself happy. Play what you want to play!'"
It's a credo that the 67-year-old Satriani has taken to heart over the course of his long career, during which he's released 18 solo albums (his latest being last year's The Elephants of Mars) and played with artists and acts as diverse as Mick Jagger, Robert Fripp, Blue Öyster Cult, Spinal Tap and his own supergroup, Chickenfoot.
As for whether fans will like what they hear, that's not Satriani's concern. "You might worry about that if you're, like, 18 and just coming onto the scene and you want to be very 'definable,'" Satch says. "But I've been around a long time. I've made a lot of records. And I'm riding high on this wonderful career gifted to me by the fans.
"So, if anything, the only pressure I feel is to keep exploring and delivering different creative sides of my playing and my musicianship."
Could you have ever imagined you would build a career out of playing instrumental guitar music?
It wouldn't have crossed my mind at all. But instrumental music became like a personal growth thing for me. That sounds weird. I don't mean for it to sound medical or something. [laughs]
What I mean is, it was the thing that I did to help me understand music. I loved listening to instrumental music, whether it was classical or jazz or Hendrix's instrumental stuff.
But I was always focused on being in a rock band. I wanted to be like Jimmy Page with Led Zeppelin, you know? I wanted to be in a four-piece band with a singer and to write great songs, but also be part of an ensemble.
So what happened?
As we got into 1984 with the Squares, it just got more and more dire and frustrating. And simply as a knee-jerk reaction over the Christmas holiday break, I started my own record company and my own publishing company, and I made an instrumental EP – just the weirdest record ever, as an experiment.
And I remember bringing it to the guys at rehearsal a few months later saying, "We should be doing this – doing crazy shit and we should be doing it on our own." And everyone was like, "…Nah." [laughs] And so by the end of that year, I'd left the band I'd created and I had this weird EP that people started to recognize.
I wasn't successful at all, but just the fact that Guitar Player reviewed it made me realize that this was a path where the universe was saying, "Hey, you don't have to kill yourself trying to be in a pop band. You can do this and you love it, so why not do it?"
Well, now you've made a nice little career out of this instrumental guitar thing. How do you go about keeping it fresh?
That's a good question! [laughs] It's one we ask ourselves all the time. I think there are levels in any musician's career where you can break it down into what you're trying to accomplish physically, what you're trying to accomplish artistically and what you're trying to accomplish economically.
These are all things that need to be addressed. Musicians need to be honest with themselves and ask, "Am I going to be happy just playing in a disco band, or should I get myself in a metal band, because that's what I love?" You've got to answer that.
You ask yourself, "Am I playing the kind of things that I want to play, or am I stopping myself because I've invented some set of rules or guidelines that I think are going get me more success?"
It's silly to think that way, and musicians should never think that way. You can't make people like you or not like you – it's totally out of your control. When you accept that, there's something freeing about it. But then you also have to do the hard work. If you're going to stand up in front of people and say, "I'm a musician," then they get to say, "Oh yeah? Well, show us!" You've gotta have the stuff.
You thrive off the creativity, as well as the challenge.
Yeah. I like coming off a tour and thinking, 'Oh my god, what am I going to do next?' What am I going to write? What am I going to play?
That split second where you have a moment of weakness and anxiety is actually a really fertile moment, and you fill that void with all these aspirations and things that you want to express – things you're happy about, things you're sad about, things you're mad about.
And when you finish it, you offer it up to the people. But then, you know, you move on and you go write some more stuff. You do the work.
Order Joe Satriani's latest solo album, The Elephants of Mars here.
All the latest guitar news, interviews, lessons, reviews, deals and more, direct to your inbox!
Rich is the co-author of the best-selling Nöthin' But a Good Time: The Uncensored History of the '80s Hard Rock Explosion. He is also a recording and performing musician, and a former editor of Guitar World magazine and executive editor of Guitar Aficionado magazine. He has authored several additional books, among them Kurt Cobain: Montage of Heck, the companion to the documentary of the same name.