Ten Great Robert Fripp Quotes
Tired of churning out the same old Oscar Wilde quips? Bedazzle your friends with these Frippian gems.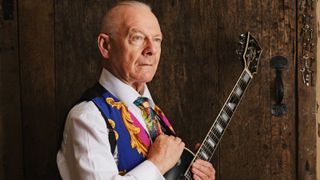 (Image credit: Adam Gasson/Future)
Interviews with Robert Fripp are notoriously rare, although a dive into the Guitar Player archives reveals some fantastic conversations with the King Crimson guitarist.
A veteran of the guitar world, Fripp has inspired countless guitarists throughout the decades with his matchless technique, inventive use of gear, and daringly creative approach to making music.
Those moments of insight he has given during past interviews are well worth revisiting from time to time.
The following pearls of wisdom originally appeared in the January 1986 issue of Guitar Player…
1) The Intangible
"Some people make music their god. I don't. But music is a very remarkable opportunity. It's a tangible way of dealing with the intangible."
2) The Musician
"It would be truer to say that the music creates the musician, rather than the musician creates the music."
3) What is Music?
"Music is a quality organized in sound. Not all of us have experience in forms of organization or producing music or singing, but we all have access to the quality of music, the spirit of music."
4) Bands
"The very best band does not reflect any of the individuals, because a band has a life of its own. It has its own identity."
5) Listening
"Very few guitarists listen to themselves or anyone else."
6) Performing
"I'm not particularly romantic about artists. A good personality, even a strong personality, is important to the performer. But it's a question of being in a relationship with it."
7) Identity
"Robert Fripp consists of a collection of impressions and experiences over a period of years that seem to have some coherence, but the level of coherence is very, very fragile."
8) Staying Grounded
"If one's head is in the clouds, then one's feet need to be firmly placed in the earth. When I came to live in New York in 1977, I had three rules: ride on public transportation, do my own laundry, and do my own grocery shopping."
9) Music First
"If one can respect the person one's working with, and the music is good, then one can put up with quite a lot. But, if the music isn't nourishing, then life becomes difficult."
10) The Music Industry
"I divide the music industry into three divisions. The first is the area with mass and popular culture; the second is where one is a craftsman who can earn an honorable living; and the third is the area of research and development."
Browse the Robert Fripp catalog here.
All the latest guitar news, interviews, lessons, reviews, deals and more, direct to your inbox!