Joe Bonamassa Explains Why His "Bludgeon" 1951 Fender NoCaster Is the Best Guitar He's Ever Owned
Cloned by Fender Master Builder Greg Fessler the treasured axe turned 70 this year.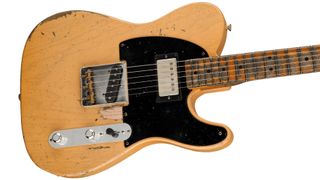 (Image credit: FMIC)
Joe Bonamassa says that in some ways he knows what makes his 1951 NoCaster – nicknamed the Bludgeon – special, and in some ways he doesn't.
"My '51 NoCaster is basically the best guitar I've ever owned in my life," he says. "I've had it for seven years and I've probably played 700 shows with it." He reveals that he found the NoCaster – so called because it was made during the brief period when Fender clipped "Broadcaster" from the headstock decal – at a Guitar Center, where it was hanging on the wall.
The moment he walked up to it, he knew he would have the guitar for the rest of his life.
Bonamassa and Fender recently announced the re-creation of the Bludgeon – "The Bludgeon" 1951 NoCaster – in a limited run of 100 pieces, all of which will be crafted one at a time by master builder Greg Fessler at a rate of one or two per month, and priced at $8,500 each.
Fessler has duplicated the aging and the feel of the neck and the patina of the metal. When we asked him about the woods and how they may have contributed to the tone of this guitar, he said, "This one was unusual because it's a one-piece body, which I never see with NoCasters, and it might have something to do with the sound of this thing.
"We use the best materials and we take our time on these guitars. The body is a one-piece ash spread, and I just try to get a nice weight and grain pattern. The neck is a plain-grain maple blank, which is common for that time period. The tonal quality varies like all wood, so I just try to pick a nice piece of maple."
If you compare Bonamassa's original electric guitar with the new Bludgeon, it's clear that there was literally nothing in the guitar's unique wear patterns that escaped Fessler's eagle eye, not even the puzzling absence of wear at the 16th fret, which neither the original owner – who played the guitar for 65 years – nor Bonamassa seems to have touched.
"We make masks to replicate the wear patterns on both the neck and body to get as authentic a look as possible," Fessler explains. "But it does take some time to get all the details right."
Seymour Duncan re-created the original flat-pole single-coil bridge pickup and the PAF humbucker that was installed at some point in the guitar's life. Fessler says he just copied the electronics on the original guitar, which includes the .05uF wax paper capacitor, to get an authentic sound.
Bonamassa calls the pickups "out of phase in a beautiful way when the selector is in the middle position," adding that songs like "No Good Place for the Lonely" were done solely on that position.
"When you find a good Telecaster, whether it's an old one or one made yesterday, they have infinite dynamics," the guitarist says. "One of the cool things about Telecasters in this configuration is you can play any genre and any style, and do it authentically.
"My original turned 70 this year, and you can enjoy this guitar for a lifetime."
Check out more Fender Custom Shop Blackguards here.
All the latest guitar news, interviews, lessons, reviews, deals and more, direct to your inbox!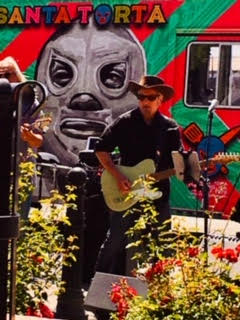 Art Thompson is Senior Editor of Guitar Player magazine. He has authored stories with numerous guitar greats including B.B. King, Prince and Scotty Moore and interviewed gear innovators such as Paul Reed Smith, Randall Smith and Gary Kramer. He also wrote the first book on vintage effects pedals, Stompbox. Art's busy performance schedule with three stylistically diverse groups provides ample opportunity to test-drive new guitars, amps and effects, many of which are featured in the pages of GP.