"Your Best Song Is Always yet to Come": Telecaster Master James Burton Names Five Career-Defining Tracks
There's only one electric instrument worth discussing, says the veteran guitarist behind Elvis, Ricky Nelson, Roy Orbison and Emmylou Harris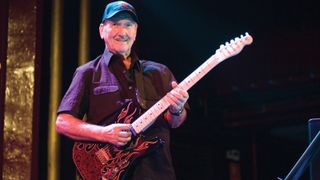 (Image credit: Getty Images)
"The first guitar that Leo Fender tried to lay on me was a Stratocaster," James Burton says with a chuckle. At 83 years, he's fit and well, with memories like very few other musicians. "I said, 'No, man, I'm not gonna take it!' The Stratocaster's for younger kids. They like the whammy bar and all."
So no Strats in the Burton collection, then? "Well, it just depends on what you prefer," he reasons. "Some people like a fretboard that's flat, but I like a little bit of roundness to it, so for me, there's only one guitar to talk about: the Fender Telecaster. You know, Leo Fender was a wonderful guy. I met him many years ago, even before I went to work with Ricky Nelson. Leo assured me that whatever I wanted, it would be no problem: he'd take care of it. And he did."
Indeed, as far back as 1961, Burton was tearing up that slightly rounded fretboard on Ricky Nelson's "Hello, Mary Lou" with a solo that left young listeners speechless. (One of those kids was the rocking knight of the realm, Sir Brian May, who regularly cites Burton as an influence.) Check out that solo below if you don't know it already: it leaps from the speakers at 1:04 with a flurry of string bends and sassy popped notes, sounding nothing like its 62 years of age.
Born in 1939 in Dubberly, Louisiana, Burton was a self-taught guitar prodigy who played on the Louisiana Hayride radio show in Shreveport as a teenager. Soon after, he moved to Los Angeles, where he began his career with Nelson and recorded numerous sessions. One of them was Dale Hawkins' 1957 hit "Susie Q," a tune Burton co-wrote and which was timed perfectly to assist with the birth of rock and roll.
He swiftly became an in-demand guitarist, songwriter and bandleader. As a young, hotshot guitarist, Burton recorded with Glen Campbell, Judy Collins, the Beach Boys, Harry Nilsson, Nancy Sinatra, Buffalo Springfield, Townes Van Zandt and a litany of other 1960s greats before he joined Elvis Presley in 1968 as leader of the TCB (Taking Care of Business) Band. Hot as a pistol after that year's televised comeback special, Elvis, the King was dominating Las Vegas with an extravagant live residency.
Burton's profile went stratospheric after Elvis began to include the command "Play it, James!" in each show, just before the guitarist ripped a spectacular solo – with no overdrive, and played with a pick-plus-fingers hybrid technique – from his custom Pink Paisley Telecaster. He remained at Elvis's side for the remainder of the singer's tragically curtailed career, although he took time out to play in Emmylou Harris's backing group and on sessions for Johnny Cash, John Phillips, Michael Nesmith, Joni Mitchell, Merle Haggard, Gram Parsons, Tina Turner, Kenny Rogers, Delaney & Bonnie, Phil Everly, Rodney Crowell and many others. After Elvis's death in 1977, Burton worked with John Denver, collaborating with the country singer until 1994, three years before Denver himself perished at a relatively young age.
In his middle career, Burton recorded and toured with Rosanne Cash, Elvis Costello ("a wonderful guy; very smart, with good ideas"), J.J. Cale, Gillian Welch, Marshall Crenshaw and others, and notably appeared in the 1988 special Roy Orbison and Friends: A Black and White Night. In the new century he has played with Matt Lucas, Jim Lauderdale, Drake Milligan and Brad Paisley, and he appeared alongside Eric Clapton on Jerry Lee Lewis's album Mean Old Man, in 2010.
In recognition of Burton's phenomenal career, Fender has long offered two signature Telecasters: a Candy Apple Red Tele based on the 1953 original and a Pink Paisley counterpart inspired by the 1969 Elvis model. The latter was redesigned in 2006 with three blade pickups, a no-load tone control and an updated switching system. A new model is on the way in 2023, with new pickups that are still being finalized as we speak.
"I'm real excited about the new Telecaster," Burton says. "We did a lot of research into the new pickups, and the ones we settled on are really good. I guess I've had thousands of guitars over the years, but the old ones are still my favorites. I don't know if you could get those tones nowadays. I guess if you had the right guitar and the right player, you might be able to do that."
In 2005 Burton launched the James Burton Foundation (jamesburtonfoundation.org), a charitable group whose aims are to support music education for those in need through guitar donations and music instruction to schools, hospitals and community service organizations. "The Foundation is doing really good," he says. "We've been able to present guitars to young kids and to veterans, and people are real excited about it. I like to be able to present guitars to the young kids and keep our music program going. You can't do too much."
The annual James Burton International Guitar Festival, held in Shreveport, supports the Foundation, and at the 2009 event, he was inducted into the Louisiana Music Hall of Fame. Two years earlier he had been inducted into the Musicians' Hall of Fame and Museum in Nashville, Tennessee, as a member of the pioneering Wrecking Crew group of session musicians.
Guitar Player spoke to Burton in May 2023 as he was about to jump on a plane to the U.K. for a show at the London Palladium, where he was supported onstage by two of his biggest fans: Brian May and Van Morrison. Considering all he's done over his career, we imagine it's a tricky task for Burton to pick out just five songs that define his legacy – although he somehow manages to do just that. "I can't count how many songs I'm on, but it's been over 500 albums, so the song titles must be in the thousands," he says. "Still, you know, it's never-ending. Your best song is always yet to come."
1. "Susie Q" by Dale Hawkins from 'Oh! Suzy-Q' (1958)
"I wrote this song when I was a young boy. I played this little guitar lick and there it was, just a little instrumental thing. I was working with a blues singer, Dale Hawkins, and Dale wrote a few lyrics to it. I think he had a girlfriend he called Susie Q. "We did the recording at a radio station, KWKH in Shreveport [in 1957. The single was released that year and the album in 1958]. I'm not even sure if we had drums in there. There was just one mic in the room. I played through a little Gretsch amp that I didn't keep very long. That was what I used before I got my Fender amp.
"I used the original guitar that my mother and father bought me: a red Telecaster. It's been on millions of records and it's a great guitar. I'd say it's my favorite guitar out of all the ones I've owned. It's still playing fine, too. It's all original: it's never needed a fret dress or anything. "Someone asked me one time, if I wanted to sell my Telecaster, what would I sell it for. I said, 'Well, it would be in the millions.' The guy reached in his pocket and said, 'How many?' I said, 'Not today!'" [laughs]
2. "Hello Mary Lou" by Ricky Nelson from 'Rick is 21' (1961)
"My buddy Gene Pitney wrote this song. I used the same red Telecaster on the recording. I remember how good the solo was. [laughs] You know, Ricky's dad, Ozzie, was a big-band leader, and sometimes he'd come to the recording sessions. I played this solo and he said to me, 'I had a saxophone player who played a lot like that,' just joking with me.
"It would have been done on the first or second take: Ricky might have done more takes for his vocals than that, but I never did more than two. You know, writing a good guitar solo is really about being smart. It's like traveling cross-country: be careful what you step on! [laughs] And remember: Being a great musician is sometimes about what you don't play. Leave space, and have an idea about what you're going to do next."
3. "Fools Rush In" by Ricky Nelson (1963 single) and Elvis Presley from 'Elvis Now' (1972)
"Remember the old [1940 Mercer & Rube-penned] standard, 'Fools Rush In'? I did two versions in whole different styles: one with Ricky and another with Elvis. Ricky's was a little laid-back; Elvis had more excitement in his version. I walked into the room playing the song, and Elvis started humming it, and he told the engineer to turn the machine on and to record it. Just like that.
"Elvis liked to do two takes, and that was it. He'd usually get it in one take, but sometimes the musicians would need another take to fall in together, because everything was recorded live from the floor back then. Elvis was a prankster and liked to joke around, so I had him practice a lot and work up the songs before he came in the studio, because I was the bandleader. The musicians had to do what I'd tell them to do. But I still believe that the best bandleader is the one who stands there and keeps his mouth shut and doesn't do anything. You gotta look at it this way: the singers key-off of the musicians. We have to be good musicians to do what we do.
"Elvis famously would call out for me to play this solo live. He just started saying, 'Play it, James!' during his shows for some reason. And then everybody else that I worked with started saying it!"
4. "Polk Salad Annie" by Elvis Presley from 'On Stage' (1970)
"I did a version of this song for a movie, Ford Vs. Ferrari [2019]. It really shows you the way I play, and my style of playing: bluesy, with a little rock and roll. Give me a Fender Twin and let me plug it in. I don't need anything else. I don't really like effects. I never use them unless something happens to be required. I don't use overdrive, but sometimes I like an amp with a little breakup that'll give you that raspy, raw sound.
"The main thing is just to be able to hear your guitar, whether that's from your amp or if you have monitors. It depends on the setup, but when you're standing in front of monitors, you have to be sure you're getting the sound you're looking for."
"This is a good one: Elvis always liked this song. James Taylor wrote it. I couldn't believe that when someone told me. I thought it was by Elmore James or somebody.
"I played this with my Paisley Telecaster when we did the Aloha From Hawaii by Satellite show, and you can see Elvis really enjoyed it. When it comes to soloing, you gotta go for it and put your hot lick on it. You gotta ad-lib a little bit, too; you don't wanna read the paper too close. I'm self-taught. God told me that's the best way. He was my teacher. It's important to know the song, but it's more important to be able to play by ear, because you're able to do more in the music field. If you sit and look at a piece of paper to play, you have to depend on that. But when you play by ear, man, you can just walk out there and do it.
"And if you want to play hybrid picking, like I do, well – go home and practice. Make sure you got the right fingers."
All the latest guitar news, interviews, lessons, reviews, deals and more, direct to your inbox!