"It's as Much About How It Feels as How It Sounds": Tone Titan Ariel Posen Talks Gear Epiphanies
The slide master reveals how he found his unique sound and style.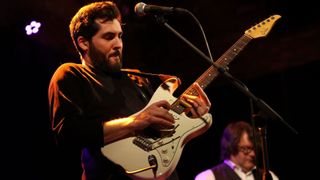 (Image credit: Harry Herd/Redferns)
Ariel Posen is one of a group of players, including Josh Smith, Joe Bonamassa, Matt Schofield, Eric Johnson, JD Simo and others, who form what you might call the Tone Titans – players known as much for their mastery of sound as for their way with a riff.
"In the early 2000s, I was listening to a lot of Stevie Ray Vaughan and John Mayer," Posen explains. "I started listening to what my playing sounded like and what it needed. I had a Boogie Rectifier, but I was playing for pop and country artists. I thought, What the hell am I doing with an amp like this?
"I realized I needed a blackface Fender sound. And then I found that, although a 15-watt Blues Junior is a great amp, it's hard to play over a band with it. I realized I needed an amp that was between 40 and 60 watts. Later, I started hearing the difference between my Fender Hot Rod amp and reissue vintage amps, like the Super and Deluxe Reverbs. It's as much about how it feels as how it sounds."
A large part of Posen's tone education lay in those epiphanies about using gear appropriate to the gig. "I started having these aha moments that told me these pedals are good but might not work for one situation, so I'm going to use them for another," he says. "That's when I started homing in on my gear."
And so it began. As someone who was largely a sideman, Posen had a host of different performing situations which he needed to match with the appropriate gear. This led him down the slippery slope to Gear Acquisition Syndrome.
"You know how it goes," Posen says. "You see a show and someone's got this pedal or amp that sounds amazing. You buy it and you're like, 'It doesn't sound like it did at that show. I still sound like me.' But you keep it anyway and start acquiring stuff."
Posen's musical destiny appeared to be preordained from birth. His parents played in a klezmer band, and the guitarist has childhood memories of his mom and dad recording in the studio. Early piano training honed his understanding of theory, harmony and reading.
"I moved to guitar when everybody in school started playing," he says. "After five or six months, it seemed they had stopped playing and I was the only one who kept going. I didn't go to college or university for music. I took lessons for a couple years when I first started and then became self-taught. I spent a lot of time on the edge of my bed, at my desk, eating dinner and going to the bathroom, all with the guitar on. It's like a part of me."
After years of working as a session player and sideman, Posen became well known through his work with the Bros. Landreth. The brothers are no relation to slide wizard Sonny, though both Joey Landreth and Posen are also masterful slide players.
Posen was initially intrigued by the technique after hearing George Harrison's slide work on "Free As a Bird," the record Harrison, Paul McCartney and Ringo Starr cut in 1995 from a 1977 demo by the late John Lennon. But it wasn't until years later, when he heard Kevin Breit – guitarist with Cassandra Wilson, k.d. lang and Nora Jones – that he decided to try it himself.
"He was the first guy I heard play sliding chordal stuff and picking behind the slide," Posen recalls. "I tuned a guitar to open E [low to high, E B E G B E] and decided I'm learning how to do this."
Eschewing other open tunings, Posen sticks to the open-E intervals but will also use them with the instrument tuned to various keys, like D or C. He's also just as likely to play in standard tuning for slide or open tuning for standard playing. "I have been getting into playing in baritone tuning: B standard," he says. "I think of all the tunings as colors. I like how they each bring something different to the table and inspire musical choices."
Posen has now become associated with slide to a degree that warrants a signature model by the Rock Slide company. It's made of brass and is long enough to cover all six strings. "I have played glass, ceramic and steel slides, but I like how brass sounds," he explains.
"When I first started playing slide, I did the thing I tell everybody not to do, which was pick up the first slide I saw. It was probably three times the size of my finger. I tried it and said, 'I don't think I'm very good at this,' threw it away and didn't play slide for a while, rather than look for a perfect fit. My favorite slide players, with the exception of Ry Cooder, have the slide on their ring finger, but mine is on my pinkie. It's what's always felt comfortable."
Various and low tunings require different sets of strings. "I use String Joy, a company out of Nashville," Posen says. "They'll do heavy-gauge custom sets for my open-D, -C and baritone guitars. For standard tuning, I typically use Ernie Ball, either .011 to .054, or .012 to .056." When not playing fingerstyle, he uses 1.14 purple Tortex Dunlop picks.
As is the case with other Tone Titans, Posen's presence looms large on YouTube, with hundreds of thousands of viewers catching his appearances on channels run by Andertons Music, That Pedal Show, Reverb.com, Carter Vintage Guitars and Norm's Rare Guitars. This worldwide exposure comes in handy, whether the guitarist is touring around Europe, the U.S. or his native Canada.
"A lot of people come to gigs because they've seen me on Andertons, or something like that," he says. "I keep telling musicians that with YouTube it's never been easier to get yourself out there. It's the modern-day TV. This is where people have gravitated.
"You have to hustle and find ways to get exposure. You don't want to limit yourself to playing gigs. I'm always thinking of the big picture and taking any opportunity I can get. I'm very grateful that people like Andertons and Norm's have me on. I don't have any issue with how someone has heard of me. I'm just flattered when anybody likes it."
Browse Ariel Posen music here.
All the latest guitar news, interviews, lessons, reviews, deals and more, direct to your inbox!