"I'm Trying to Paint a Picture or Tell You a Story, Just with the Guitar": Fingerstyle Guru Andy Mckee Talks Inspiration
The percussive fingerstyle ambassador discusses his masterfully home-recorded EP, 'Symbol.'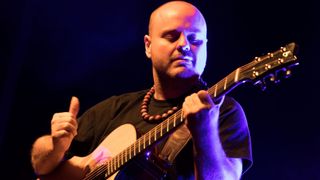 (Image credit: Andrea Friedrich/Redferns)
Andy McKee is the epitome of solo acoustic excellence, and on his new EP, Symbol (Mythmaker/Cruzen Street), the guitarist embraces his role as one of the planet's premiere percussive fingerstyle ambassadors.
Three of Symbol's six songs are covers honoring his most influential heroes, Preston Reed, Billy McLaughlin and Michael Hedges. McKee also conveys reverence for Prince, with whom he toured Australia in 2012, by milking every drop of meaning from "Purple Rain" without uttering a syllable.
McKee's rendition is actually quite straightforward considering the advanced techniques at his command, and it is majestic in its modesty. He allows the starkly exposed melody to speak for itself, and this version will surely spur other players to give it a shot.
The penultimate track pays homage to McKee's other obsession, video game music, and he renders the symphonic "Streets of Whiterun" with expansive beauty on harp guitar. The acoustics on Symbol sound deep and lush, which is particularly impressive, considering McKee recorded at home using a single Mojave Audio MA-200 microphone to capture his Greenfield guitars. The album was mixed by solo fingerstylist and former Guitar Masters tour mate Antoine Dufour.
The finale commemorates some of McKee's favorite movie soundtrack music with a medley of training scene tunes from Rocky IV, which was a formative factor in his lifelong instrumental appreciation. With original composer Vince DiCola playing everything except guitar, it's a wild sonic sea change, the dramatic nature of which is furthered by McKee's diametrically different electric guitar style.
It bears no resemblance to his percussive acoustic approach and is instead inspired by shredders such as Joe Satriani and John Petrucci. He even used an Ernie Ball Music Man John Petrucci signature model on "Rocky IV Medley."
McKee wears his modern acoustic Eagle Scout badge with honor, and he gets truly geeked up talking about instrumental virtuosity of all stripes. But what sets him apart is his pure passion for honest musical expression.
McKee relishes opportunities to preach what he practices. He recently completed his annual Musicarium guitar camp, and is touring with fellow solo acoustic icon and educator Tommy Emmanuel.
McKee's videos are infinitely popular on YouTube, and he has a relatively new TrueFire channel called "The Joy of Playing," where eager legions of dedicated disciples can browse a broad selection of video tutorials in which their guru pontificates on everything from gear to technique and influences.
What's at the heart of your deep appreciation for instrumental music, and why haven't you cut more fresh studio takes recently?
I sometimes stumble over words, so music has always been a direct way for me to connect with people. But considering all of the insanity that's been going on in the country over the past four years, what kind of music could I write that would connect?
I felt like I didn't understand people the way I thought I did. That really shook me and threw me into a tailspin. My whole desire to even try writing music anymore seemed futile.
Was interpreting a few tunes by your heroes essentially a creative way to get your mojo working again?
Yeah, it honestly was a bit. I do have original tunes written, but some of them are just so different, ranging from retro '80s-inspired electric to very meditative, relaxed music. My manager and I were talking about doing a series of EPs focused on different styles, and then I had the idea to do this covers thing, because I always like to shine a light on the people that inspired me.
Fingerstyle instrumental is such a niche style. Some see it on YouTube or Instagram for the first time and are unaware of the history. I figured that I should do a few of their tunes as well as some others that I'd done live or online but hadn't recorded and released.
The Prince cover is not a huge surprise, because you toured with him, but it is crazy to find out that you played "Purple Rain" on that tour as a solo opener and he would work you into his band later in his set. How did that happen?
Prince wanted me to do something special to open the show. I found that "Purple Rain" worked well on baritone, so I found the key and lowered it [from B, on the original, to A], as my Greenfield is a baritone lowered a step from normal baritone pitch. The lowest note is A, instead of B, and the tuning is like DADGAD with a suspended fourth, but dropped down so that from low to high the strings are A E A D E A.
I tried to keep it simple, mostly just the melody with a bit of harmonic accompaniment. With that stripped-down presentation, you can hear the melody very directly. I sent Prince my version of "Purple Rain," and he loved it. To start the show, he had an elevator lift me up through the stage; I'd play "Purple Rain," and then it would go back down until later. I'd come back up and do a medley with the band.
It ended with us doing "Purple Rain" together, and by that point I'd have an electric guitar. He played the solo. [laughs] His original idea for the stage presentation had me wearing a wild 50-foot cape. But I wasn't too into that.
How does a guy like you relate to a guy like Prince?
He brought up Joni Mitchell on more than one occasion, and I'm a huge fan as well. There was one point where I tried to relate what I do instrumentally. I do some fancy technical stuff, but I don't ever want that to be the show – you know, "Hey, look at how badass I am on the guitar!"
I try to use that stuff to write something interesting or beautiful. Like Joni Mitchell, I'm trying to paint a picture or tell you a story, just with the guitar. It's not necessarily about the theatrics, although sometimes that's fun.
Did you hear Joni Mitchell just announced the release of a long-lost performance from 1968 recorded by Jimi Hendrix, who brought his reel-toreel machine to the club?
I did. That's crazy unbelievably wild!
Michael Hedges is a Hendrix-like icon to modern acoustic enthusiasts. What's the story behind your version of "Ragamuffin"?
I tuned my signature Greenfield to DADGAD, like it is on his original recording. I'd worked on learning that tune by ear several times over the years. When it came time to do this, I thought about getting into the transcription and doing it perfectly correct, but I ultimately decided to go with my own take and play some things slightly more aggressively.
When I discovered Hedges, I was intrigued by his ability on the guitar, but his music seemed like it was from another dimension. It was so powerful. Everything he was saying with the guitar resonated with me 100 percent.
Sadly, he passed away in the car accident [on December 2, 1997] just a few months after I discovered his music, so I never got to see him play live or meet him. But he was transformational in my life, how I approach music, and what you can do with the guitar. He's a profound influence to this day and I still listen to his albums all the time.
How does Preston Reed figure into your equation of acoustic inspirations?
I originally got into fingerstyle guitar through Preston. I was 16 and playing with high-school friends, doing stuff like Metallica, Iron Maiden and Pantera. My cousin invited me to check out a Washburn clinic with Preston Reed, and I was blown away to see one guy doing so much by playing percussively on a steel-string acoustic.
I was into tapping, because I was trying to learn Eddie Van Halen and Joe Satriani solos, but Preston was using it to help cover all the bases throughout an entire piece of music. I'd never seen anything like it.
His instructional video got me going on modern acoustic guitar. I chose "Chattanooga" because it's quite sophisticated for that style. There are so many interesting things: a beautiful melody, cool key changes and a sense of forward movement. I played it on my signature Greenfield, and the tuning, from low to high, is B G D G A D.
How about the Billy McLaughlin cover, "Clockshop"?
That's a quintessential Billy McLaughlin kind of tune. He has an approach to tapping on steel string in altered tunings, using legato pull-offs with the fretting hand to create a flowing sound that's unmistakably his. Playing that way doesn't leave a lot of room for chordal work, so you've got to have a strong melody and support it with the bass line.
I've incorporated that approach to solo guitar composition into my own songs, and my version of "Clockshop" is pretty directly comparable to his with a few little differences. I learned "Clockshop" by ear, listening for open strings, and my version is in the same tuning as his: C G D G A C. I recorded it with my signature Greenfield.
Can you share some insights on how you adapted the video game tune "Streets of Whiterun"?
I'm a big video game dork. That's my main hobby and entertainment medium. I've been a big fan of The Elder Scrolls for many years. Skyrim [the game's fifth installment] came out about a decade ago. It's a big, open-world fantasy, with beautiful music that plays throughout as you visit different places.
"Streets of Whiterun" is unbelievably gorgeous. It's orchestral, so I figured the harp guitar would be my best arrangement tool, because it's the best route for me to cover really low stuff. The tuning for the guitar is an open E major: E B E G# B E, and the harp is tuned C# F# G# A B G#.
I shot a video of myself playing that tune several years ago, and people loved it on YouTube. I decided to record it as a sort of homage to video game music.
Greenfield Guitars introduced two versions of your signature model in 2020, with the Rylynn being somewhat less expensive, but they're both major investments. What is the most important aspect for those seeking the Andy McKee sound on a budget?
I can pick up any guitar and play away, as I'm not too particular about things, but I prefer the huge sound of a jumbo body. It's great for fingerstyle playing because there's a lot of low end and volume. Of the three main Greenfields I use live and in the studio, two of them are jumbos.
The harp guitar has a unique body shape, but my signature G4.2 and the baritone with the color-shifting paint are both jumbos that can fit in the exact same case. The baritone simply has a longer scale length.
Have you had any pandemic-era epiphanies about being a guitar player right now?
As I grow older, what I look for in music and guitar playing is something that comes across as genuine. It doesn't have to be flashy or have anything to do with that. There are so many guitar players out there. When you find someone that you can tell is being honest, has dove deep to discover who they really are and expresses it through the guitar, that's the good stuff. I get a kick out of hearing that these days.
Visit the official website of Andy McKee here.
All the latest guitar news, interviews, lessons, reviews, deals and more, direct to your inbox!
Jimmy Leslie has been Frets editor since 2016. See many Guitar Player- and Frets-related videos on his YouTube channel, and learn about his acoustic/electric rock group at spirithustler.com.