Joni Mitchell Unveils Previously Unheard Performance Recorded by Jimi Hendrix
By Rod Brakes published
Hendrix's recently discovered reel-to-reel recordings will form part of 'Archives' release.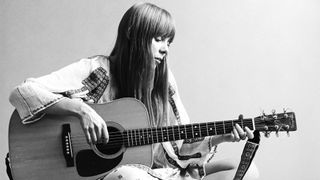 (Image credit: Jack Robinson/Getty Images)
"Talked with Joni Mitchell on the phone," reads Jimi Hendrix's personal diary (see image below). "I think I'll record her tonight with my excellent tape recorder."
On March 19, 1968, just days before the release of her David Crosby-produced debut album Song to a Seagull, a 24-year-old Joni Mitchell was gearing up to play another show at her Le Hibou Coffee House residency in Ottawa, Ontario, Canada, when she was paid a visit by none other than Jimi Hendrix.
"They came and told me, 'Jimi Hendrix is here, and he's at the front door.' I went to meet him," says Mitchell, recalling that eventful night. "He had a large box. He said to me, 'My name is Jimi Hendrix. I'm on the same label as you. Reprise Records.' We were both signed about the same time. He said, 'I'd like to record your show. Do you mind?' I said, 'no, not at all.' There was a large reel-to-reel tape recorder in the box.
"The stage was only about a foot off the ground. He knelt at edge of the stage, with a microphone, at my feet. All during the show, he kept twisting knobs. He was engineering it, I don't know what he was controlling, volume? He was watching the needles or something, messing with knobs. He beautifully recorded this tape. Of course I played part of the show to him. He was right below me."
Hendrix later described Mitchell and her acoustic guitar performance as a "fantastic girl with heaven words."
Unfortunately, the tape was stolen within a few days, and for many years, those moments captured were lost in the mists of time. However, this historical recording has recently been unearthed, surfacing in a collection before eventually being returned to Mitchell.
Now, over half a century later, Mitchell's performance (not to mention one of Hendrix's most lengthy efforts as recording engineer!) will see the light of day while forming part of the Joni Mitchell Archives Vol. 2: The Reprise Years (1968-1971).
Joni Mitchell Archives Vol. 2: The Reprise Years (1968-1971) is due to be released on October 29 as a 5-CD set (as well as digitally) while a limited edition 10-LP 180-gram vinyl set will also be available from Mitchell's website (opens in new tab).
Pre-order your copy of Joni Mitchell's Archives Vol. 2: The Reprise Years (1968-1971) here (opens in new tab).
Rod Brakes is a music writer with an expertise in all things guitar-related. Having spent many years at the coalface as a guitar dealer and tech, Rod's more recent work as a journalist covering artists, industry pros and gear includes writing hundreds of articles and features for the likes of Guitarist, Total Guitar, Guitar World, Guitar Player and MusicRadar, as well as contributions for specialist books, blogs and social media. He is also a lifelong musician.
Get the latest news, reviews and product advice straight to your inbox.
Thank you for signing up to The Pick. You will receive a verification email shortly.
There was a problem. Please refresh the page and try again.