"I'm from Britain and Grew Up Worshipping the Texas Guys": Joanne Shaw Taylor Talks Recording with Joe Bonamassa
The British blues phenom digs up rare and forgotten gems from the classic era on her latest release, 'The Blues Album.'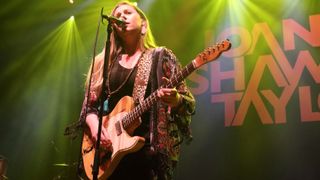 (Image credit: Keith Mayhew/SOPA Images/LightRocket via Getty Images)
British blues guitar luminary Joanne Shaw Taylor's new record is called The Blues Album (KTBA Records), which might cause her fans to scratch their heads a bit: Weren't her seven previous releases blues albums? "They were, but in a way they were not," Taylor says.
"When I think of the blues, I think of Howlin' Wolf and Muddy Waters, and my own music has strayed a bit from that kind of thing, especially songs that I write. So when I decided to do a covers album, I went for things that were more traditional, and the album title just seemed appropriate."
Taylor's choices for covers might be more in the straight-up blues guitar lane, but she didn't opt for tried-and-true selections. The 11 sparkling cuts include mostly rare gems by the likes of Albert King, Little Richard, Magic Sam, Aretha Franklin, Little Richard and Peter Green-era Fleetwood Mac, among others.
Throughout the record, Taylor's fiery and spunky electric guitar playing sparkles, but the real revelation here is the power of her dramatic and supple singing.
"That was something I really wanted to concentrate on," she says. "We tend to place so much emphasis on guitar playing with the blues, but look at B.B. and Freddie King. They were incredible singers. My voice was pretty rested from time off the road because of Covid, so I thought, 'Now's the time to show people I can sing.'"
To pull it off, Taylor turned to a good friend who knows a thing or two about both guitar playing and singing: Joe Bonamassa, who co-produced the album at Nashville's Ocean Way Studios with session ace Josh Smith.
Bonamassa duets with Taylor on a shining cover of Little Village's "Don't Go Away Mad," and both he and Smith contribute guitar parts on the remaining tracks. Other musicians include keyboardist Reese Wynans, drummer Greg Morrow, bassist Steve Mackey, and horn players Steve Patrick, Mark Douthit and Barry Green.
"Working with Joe and Josh was incredible," Taylor enthuses. "Joe and I have known each other a long time, but this was our first time doing a record together. We spent a couple of days at his house going over songs, just so I could figure out the keys, but there was nothing that didn't work. We didn't do demos. Once we had the songs all picked out, we were both like, 'Okay, we're going in.'"
During lockdown, you obviously had a lot more time to work on this record than you might normally.
I did. Usually, I'm given a week off and it's, Okay, go make an album. To be honest, that kind of helps me, because I've learned that I work best under pressure. It motivates me. So does fear of failure, which in a way was another reason for doing a covers album, because I just couldn't come up with any original material.
I was sitting at home every day and had nothing to write about. I wasn't out on the road, and I wasn't having any affairs or having my heart broken. I was just sitting at home reading the news every day.
One could speculate that would give you a lot of material for the blues.
I know, right? [laughs] But I'll tell you, having lived through everything in America last summer and everything that's going on with Brexit, I've had enough of that. I didn't want to put it into music and have to sing it every night. I'm over it. I wanted an escape from all that stuff with a bunch of great songs that I've always loved.
Did lockdown afford you more time to practice the guitar?
It did, but for the first few weeks or so being home, I didn't even touch the guitar. I needed a break. But when I got back to it, it was fun to really enjoy it again. I put on B.B. King DVDs and jammed along. That was some great practice for me.
How did you and Joe go about picking the songs to record?
It was kind of half and half. I had about five songs that I was adamant about doing, like the Little Richard ballad "I Don't Know What You Got (But It's Got Me)." There were a couple of songs I used to perform when I was 14, like Albert King's "Can't You See What You're Doing to Me." I wanted to go back and re-address that now that I don't sing like a schoolgirl.
Joe picked the rest of the album, but the two of us were insistent that they wouldn't be obvious covers. No "Sweet Home Chicago" and "Smokestack Lightning." We wanted to do our own thing, and we also wanted to do songs that pushed me as a vocalist.
Which these songs do. However, when it comes to guitar playing, were you worried about tackling "Stop Messin' Round" and facing comparisons to Peter Green?
I probably should have been. That would have been smart. But the whole point of this record was that I wasn't worried about how it would go down. I did that song because I love it. If people want to nitpick and compare my tone to Peter Green's, that's up to them.
I had one guy email me about my last album. He was furious that I didn't sound more like ZZ Top. He would email me every day about it. And it's like, "Dude, really? If that's what you want, then go and listen to ZZ Top."
Joe Bonamassa played rhythm guitar on the album. What kind of relationship do you have as players?
Probably not much of one. We've always kept our sort of personal relationship separate from work. I haven't actually played with him a great deal. I could have played rhythm on the album, but why do that when I have a more than capable guitarist right there?
He played the first solo on "Don't Go Away Mad," and I played the second one. I think we complemented each other really well. We're both inside the blues scale and the minor pentatonic, but I think our influences are quite obviously different.
I'm from Britain and grew up worshipping the Texas guys, and he's from America and grew up worshipping the British guys.
Which guitars did you use on the record? Did you play any of Joe's 3,000 guitars?
Which I think is an accurate number. [laughs] He was really annoyed with me because I only packed my main guitar, Junior, which is a '66 Fender Esquire. Joe had his whole arsenal, and he hand-selected some Teles for me to play.
What I didn't realize was that he plays really heavy-gauge strings – .011s – and he has really high action. I tried to play them, but I just couldn't. So I just used my Esquire, although I did use a couple of his amps: a Howard Dumble Overdrive Special and a '62 Fender Deluxe.
Funny thing was, Joe started to play my Esquire. I would take it to his house each night, and the more he played it, the more he got attached to it. I realized it was time for me to leave and take Junior with me. I didn't want a bidding war to break out.
Grab a copy of The Blues Album by Joanne Shaw Taylor here.
All the latest guitar news, interviews, lessons, reviews, deals and more, direct to your inbox!
Joe is a freelance journalist who has, over the past few decades, interviewed hundreds of guitarists for Guitar World, Guitar Player, MusicRadar and Classic Rock. He is also a former editor of Guitar World, contributing writer for Guitar Aficionado and VP of A&R for Island Records. He's an enthusiastic guitarist, but he's nowhere near the likes of the people he interviews. Surprisingly, his skills are more suited to the drums. If you need a drummer for your Beatles tribute band, look him up.